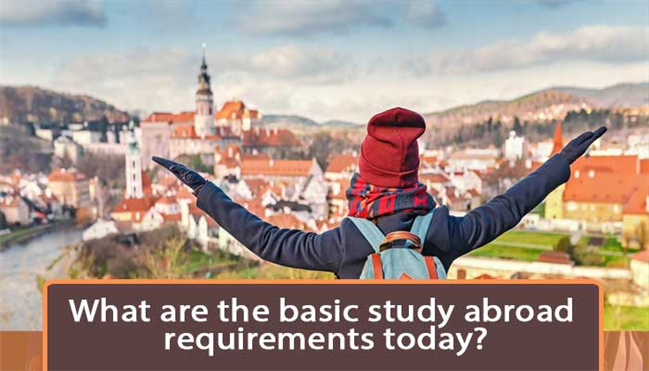 Many questions cross in the mind of a study abroad aspirant. While exploring for your study abroad destination you came across the terms such as: eligibility criterion, scholarships, visa requirements, travel expenses or free of cost education. To aid study abroad aspirants in understanding study abroad requirements, we have extracted following precise points:
Selecting study abroad destination:
After you have made up your mind to study in abroad, start exploring your study abroad options. Be sure what you are looking for in your study abroad destination. The world is open to study abroad aspirants, you will have many options but selecting the right one is crucial. (Consult our study abroad guides for detailed information about studying in Europe, USA, South Korea, Japan, China etc).
Basic Study Abroad Requirements:
Follow Deadlines of Application Submission
After selecting your desired study abroad country and course the timing of applying for admissions is most important. Sending your application as early as possible is preferable. While internet surfing Universities and colleges always note their deadline of application submission.
Look for Scholarships and Grants:
While you are internet surfing for the best foreign university for you also look for scholarships and grants for which you might be eligible. Many European countries especially offer free of cost education. Governments around the world are running scholarships to accommodate international students and encourage admissions in their universities.
Getting Acceptance Letter From University or College
The university will ask for following documents for acceptance of admission.
Valid Passport

Academic Record Transcript

Graduation Certificate

Language Proficiency Test (IELTS/TOEFL/PTE etc)

Character Certificate From Home University

Reference Letters

Student Visa Process:
Right after you get selected by a foreign university an acceptance letter will be issued by it. The next step is to start student visa process and documentation. An important point to be noted here is that consult embassy of your study abroad destination as soon as possible. They will ask certain documentation with precision and perfection which will require time for completion. You must avoid making mistakes because that will make you do the entire process all over again. It is always better to hire a study abroad consultant
Usually if you are studying for a time period of 2 to 4 years then the visa type you will attain allows part time work. It is better to get absolute information and apply for the right visa type which allows you working hours. Because after you have travelled it will be difficult to change the visa type.
Arrange for Accommodation for Living Before Travelling:
It is always better to get all the information regarding the city you are travelling towards. Consult experts and study abroad consultants they will guide you the best in this cause. Know if the university offers any hostels or dormitories to international students. If not then arrange for your accommodation because it will be difficult to do that when you reach.
X
FREE STUDY ABROAD

Free study abroad expert advice