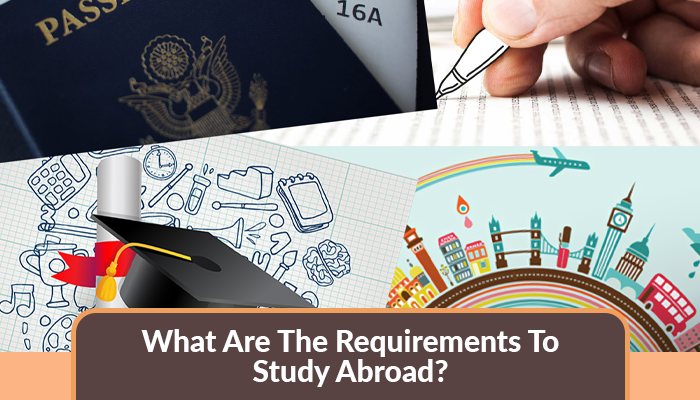 For the students who want to pursue their study in abroad countries there is always one question in their mind that what is the eligibility criteria for their selection? It is common that if student want to start studied in English speaking country then he/she should have to improve English skills. To provide proof of this skill, a number of tests held in respective countries that student can attempt easily. This may be IELTS, TOFEL and PTE. You can start your graduate, master and PhD studies at any abroad university.
General Requirements For Each Application
Answer of the question is still unsatisfactory that is it enough to get good score in English language proficiency? No the other requirement's points are here
Last degree marks percentage must not be less than 60%
Achieve good score In English language test
No gap in studies
Must be able to proof that student have enough bank balance to fulfill studies and living expenses.
Limitations Of Requirements To Study Abroad
Requirements for all colleges of all countries are not same. There are different requirements for each of university/ college of a country. Though there is description of some requirements that must be fulfil for each country to get admission there.
Main Requirements For Australia
Main requirement of this country is that there should be no gap in studies period
English language score: IELTS with minimum 6 bands
Must gained minimum 60% marks in recently passed degree
Main Requirements For England
English language score: IELTS with minimum 6 bands
Must achieved 70% marks in English subjects taught during undergraduate studies
Student must be a fresh graduate means there should be no gap in studies
Main Requirements For Canada
To provide proof of English language score students can choose CELPIP test instead of IELTS.
CELPIP, which stands for Canadian English Language Proficiency Index Program, is a general proficiency test used to measure the candidate's English speaking, writing, reading, and listening skills.
Minimum required passing scores of last degree are 70%
Main Requirements For Korea
Requirements in each college of Korea is changed, one thing which is common is requirement of English language score or Korean language
Minimum required passing scores of last degree are 70%
Required Documents To Study Abroad
List of documents which are mandatory to attach vary according to planned study program, country and college selected for studies. Some compulsory documents which have to be there at the time of application for abroad university / college
Application Form
Last academic transcripts
English language proficiency certificate
Motivation Letter
Reference letter
Resume
Experience letter if any
Photographs
Passport/ Visa requirement
Requirements To Study Abroad With Full/ Partial Scholarships
Finance is always an issue for students plan to stud abroad. A number of scholarships awarded each year to international brilliant students who aim to get education from foreign universities. Scholarships for the year 2022 are open now. Some of the scholarships cover 100% tuition fee while partial scholarships are also available for international students.
Some universities consider the applicant admission as for scholarship while some required separate application for the scholarship. Different universities have different requirements to apply for the scholarships.
Opportunities For Students Who Get Degree From Foreign Countries
Mostly students go abroad for their studies and after completion of their degree, they start their career in abroad. Number of countries provide work permit facilities to their graduates.
X
FREE STUDY ABROAD

Free study abroad expert advice