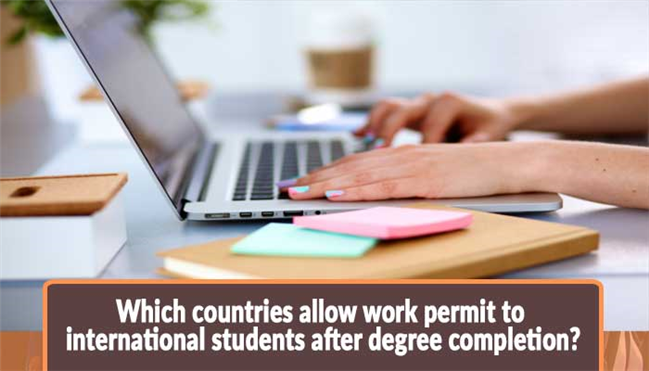 >After spending few of the most important years of one's life in abroad, mostly students prefer to settle down there permanently. The reasons behind it can be monetarily, high standards of living, career scope or vice versa. Here is the list of countries that easily allow work permit to international students after their degree completion:
Germany:
After getting graduated from any German University, the international students have option to extend their visa up to 18 months. In this time span they can do job hunt as opportunities in multinational German firms are plenty. Upon finding a job they can easily convert their visa type to work permit. (Visit Visa Guides)
Australia:
Australia is allowing an 18 months extension of post study work visa if the graduate has certain working skills. The MRes or PHD students can have even 4 years work permit. But the condition is only applied for those who have certain skills or working experience. The students doing engineering programmes and courses have more career scope and visa extensions probability in Australia than others. You can take guidance from Consultants for detals.
New Zealand:
After completion of degree from a NZ University the international students are allowed to have post study work permit of 12 months on condition of having NZ$4,200 security proof in the student's account. During the duration of this 12 months the students can do job hunt and upon finding a job they can convert their students visa to work permit that can be up to 2 to 3 years.
Canada:
Canada is friendlier and easiest to international students intending to extend their stay or settle down in Canada. Post-Graduation Work Permit Program (PGWPP) is a program initiated to accommodate such international students. Under this program a visa extension of three year work permit is allowed. During this while it is inevitable to not find a job, upon success in finding the job the students can easily apply for Canadian Experience Class (CEC) program which allows permanent residence in Canada.
Ireland:
Ireland allows its foreign graduates a visa extension of up to 24 months. It is a recent breakthrough. During this stay, students can look for their desired employment, land a job, extend this work permit and moreover apply for a green card. But this is only for masters and PhD students.
France:
The students having acquired a master's degree or degree of level I by the "Conference of Grandes Ecoles" are eligible to avail Temporary Residency Authorization (ASP) which allows stay of 12 months duration post-graduation. During this stay the students can attain job related to their relevant field and the work permit will be allowed according to the type of job they attained.
The United Kingdom:
The non-EU students are allowed to extend their visa up to just four months. During this stay they must land a job paying starting salary of at least £20,800. On this term they will be allowed to convert student visa to work permit called Tier 2. So the students studying in UK should start job hunt during the final year of their degree if they are resolute to attain UK work permit.
X
FREE STUDY ABROAD

Free study abroad expert advice