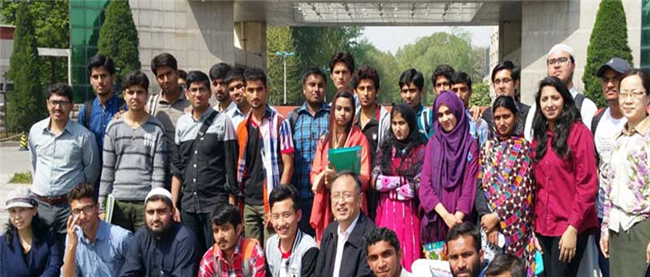 Why more and more Pakistani students want to study abroad?
Every year, more than 10,000 Pakistani students acquire study abroad visas to study in several countries worldwide. Most of these students travel to United Kingdom, United States and European Countries like Germany and Sweden. Living abroad inserts multitude of benefits and awareness in the lives of students. There are plenty of reasons behind the increasing rate of Pakistani Students deciding to study in Universities abroad; some of these are as follows:
1- Opportunity to see the world
The students, who travel abroad for study purpose, get an opportunity to see the world as well. The opportunity to see a new landscape, sceneries, museums, historical monuments and favorite visiting spots of the country you have travelled to. Moreover, you are not restricted to stay only in the country you are studying; you can travel to neighboring countries of your study abroad destination.
2- Quality of Education
Regretfully, no Pakistani University is in top 100 Universities of the world. The quality of education and exposure to more updated and globalized teaching techniques is available in Foreign Universities. The students who study abroad have feasibility to achieve better career and job options.
3- Personal Growth
Travelling and studying in a country abroad has undeviating effect on shaping of well mannered and dynamic individual development and growth. The attitude and traits configured through living against odds and accepting challenges of change while living abroad mould the students into most tolerant and progressive human beings.
4- Nourish your Communication and Language Skills
While living abroad, the two main tools for survival are supreme communication and language skills. The most effective and optimum communicative skills can only be learned while living in a foreign country because there you have to fit in any cost, you will become your best expressive self possible. You will learn the right accent and usage of correct lingual pattern of native language you are living in while studying abroad.
5- Financial Reasons
Pakistan is a developing country, people are trying to progress and upgrade their lives gradually. Studying abroad is a potential promising step of successful career. Besides, while living abroad, especially if you have chosen to live in a developed country, the students can earn enough money by working in part times jobs to support their fees, living cost and also send some amount back home.
6- Contribution to Your Native Land
By acquiring best knowledge and skills from globalized study standards of foreign Universities, the students can contribute a lot to their native land upon their return back home. They can share the mastery and cognition of their field with the people of their native country and contribute in its development.
7- Exposure to Learn about Diverse Cultures
Students belonging to multiple cultures, nations, sects and religions are gathered together under same platform in foreign countries. You get to learn a broader vision of life by living with them and learning about their cultures and outlook of life. It definitely is an experience of a lifetime that the students cherish all along their lives.
X
FREE STUDY ABROAD

Free study abroad expert advice