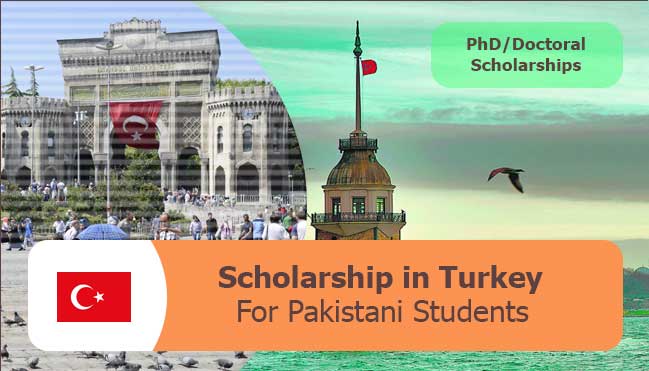 Turkey has come a long way academically by implementing various reformative procedures and financial investments. For quality insurance and curriculum design in higher education sector, Turkey follows the bologna process as other European countries to meet the international standards of education. Turkish university's offered degree programmes have recognition in Europe and countries beyond. Turkish universities own dignified reputation worldwide for IT, Engineering and Business Management Courses. Turkey is an exceptional choice for Pakistani students because of living and study expenses and part time job and study opportunities and scholarships in Turkey for Pakistani Students.
Top Scholarships in Turkey for Pakistani Students 2023
| | | |
| --- | --- | --- |
| NO. | Scholarship Name | Apply Date |
| 1. | Ali kusku science and technology scholarship Pakistan | -- |
| 2. | Turkey Burslari Scholarship for International students | -- |
| 3. | Türkiye Scholarships for International Students | Feb |
| 4. | Postgraduate Scholarships In Turkey's Near East University | feb |
| 5. | International Students Masters/Ph.D. Scholarships at Eastern Mediterranean University in Turkey | -- |
| 6. | Scholarships for International Students at Yeditepe University, Turkey | varies |
| 7. | International Students, Near East University Scholarships in Turkey | september |
| 8. | Foreign Students Fatih Sultan Mehmet VakIf University Scholarships in Turkey | july |
| 9. | MS and Ph.D. Scholarships in Turkey | july |
| 10. | Success and Support Scholarships for International Students in Turkey | october |
| 11. | Ozyegin University Undergraduate Academic Merit Scholarships ,TURKEY | vary |
Top Universities in Turkey which Offer Turkey Study Abroad Scholarship
Cankaya University

Koc University

Hacettepe University

Sabanci University

Bilkent University

Bogazici University

Ozyegin University

Istanbul Technical University

Istanbul University

METU Middle East Technical University
Scholarship Opportunities in Turkey for Pakistani Students 2023
Turkey shares strong bilateral ties with Pakistan and for strengthening it more, there are several scholarship for International students in Turkey opportunities being offered by governmental and private institutions of Turkey to Pakistani students. The study abroad scholarship programmes in Turkish universities for Pakistani students are for under graduate and post graduate levels both in diverse and wide range of courses in English medium of instruction. Turkish education system is merger of old and newly established higher education institutions that have exceptional track record and excelling teaching facilities which are internationally commended. Studying abroad in Turkey is giant opportunity for Pakistani students with considerable low cost tuition fee and flexible admission requirements.
Get Scholarships in Turkey Updates via Email:
Study abroad.pk concerns about better future of Pakistani students and assists them regarding studying in abroad information at all levels. We have sketched the scholarships section for greater benefit of Pakistani students who aspire to study abroad in Turkey on scholarships. This page is being updated on regular basis and provides detailed information about any emerging scholarship opportunity for Pakistani students. You can sign up at our website by providing your email address and study level details and leave it on us to keep you updated regarding scholarships in Turkey. We will send you personalized scholarship alert with latest information of scholarship. By clicking in any of the below mentioned scholarship programme offered by Turkish institution to Pakistani students, you will access eligibility criteria, scholarship award, admission deadlines and documents requirements to commence preparing for your application.

Get Latest Scholarships in Your Email
Get a regular scholarship alert. We'll deliver important and latest scholarships to your email
Sign up
for free
scholarship
alert
| Scholarship Name | Country | Education Level | Apply By |
| --- | --- | --- | --- |
| | Turkey | Undergraduate, Post-Graduate | 31 Mar 2023 |
| | Turkey | Doctoral | 20 Feb 2023 |
| | Turkey | Undergraduate | 20 Feb 2023 |
| | Turkey | Undergraduate | 20 Feb 2023 |
| | Turkey | Undergraduate | 31 Aug 2022 |
| | Turkey | Undergraduate | 31 Aug 2022 |
| | Turkey | Undergraduate | 31 Aug 2022 |
| | Turkey | Undergraduate | 10 Jun 2022 |
| | Turkey | Undergraduate | 31 Aug 2022 |
| | Turkey | Undergraduate | 31 May 2022 |
| | Turkey | Undergraduate | 31 Aug 2022 |
| | Turkey | Undergraduate | 15 May 2022 |
| | Turkey | Undergraduate | 15 Apr 2022 |
| | Turkey | Undergraduate | 31 Jan 2022 |
| | Turkey | Undergraduate | 15 Sep 2021 |
| | Turkey | Undergraduate | 31 Aug 2021 |
| | Turkey | Undergraduate | 27 Sep 2021 |
| | Turkey | Undergraduate | 14 Aug 2021 |
| | Turkey | Undergraduate | 13 Aug 2021 |
| | Turkey | Post-Graduate | 31 Aug 2021 |
| | Turkey | Post-Graduate | 23 Aug 2021 |
| | Turkey | Undergraduate | 30 Jun 2021 |
Latest Universities in Turkey
View All Universities
| | | | |
| --- | --- | --- | --- |
| | MEDIPOL UNV-ISTANBUL | Kavacik Kuzey Campus, Kavacik Mah. Ekinciler Cad. No: 1934810 Beykoz-istanbul, Turkey | |
| | Istanbul Okan University | Istanbul Okan University Tuzla Campus, 34959 Akfirat - Tuzla Istanbul, TURKEY | |
| | Koç University | Koç University, Istanbul Turkey | |
ScholarShips Tips for Turkey
View All ScholarShips tips
X
FREE STUDY ABROAD

Free study abroad expert advice