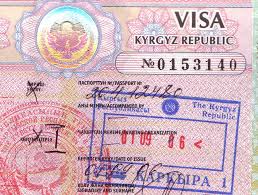 A foreign student can enter the Kyrgyz Republic using a passport with a valid Kyrgyz visa. Kyrgyzstan has non-visa regime agreements with some countries. Depending on your citizenship, in order to enter the Kyrgyz Republic you have to either,
Not need a visa to enter the country - Non-Visa Regime Countries.

Need a visa, but will not need a visa-support letter to receive one.

Need a visa and require a visa-support letter to receive one.

Pakistan lies in the list of countries for which you will need a visa-support letter.
Citizens of all other countries that need a visa-support letter to receive a Kyrgyz visa, AUCA can provide a visa-support letter for you. Depending on your citizenship

It will take two to six weeks to process the letter.
Required Documents
Application form.

Passport size photos.

Valid Passport.

Letter of acceptance from educational institution.

Required receipts of all paid fees.

Proof of sufficient funds that you can support yourself in Kyrgyzstan.

Letter of institution or organization if expense of studies will be covered by a scholarship or loan.
Applying for Student Visa
After you provide Student Visa and Registration Coordinator with the necessary information and fees, you will receive a number that corresponds to your visa-support letter. Please note that consideration of the documents for visa-support letter lasts for two to three weeks at MFA. Use this number when you apply for your visa. Please note that you will have to pay additional visa-processing fees, around $30 at the Kyrgyz embassy or consulate where you apply for the visa.
Student Visa Extension
Visa extension is a time consuming process, be sure to apply at least a month before the expiration date on your current visa by bringing your passport to the Students. The fees for the visa extension are set by the Government of Kyrgyzstan in soms and are subject to change every year.
Visa for 3 months , 1025 soms (about US $23)

Visa for 6 months, 1525 soms (about US $33)

Visa for 1 year, 2525 soms (about US $55)

Registration fee, 100 soms (about US $5)
X
FREE STUDY ABROAD

Free study abroad expert advice