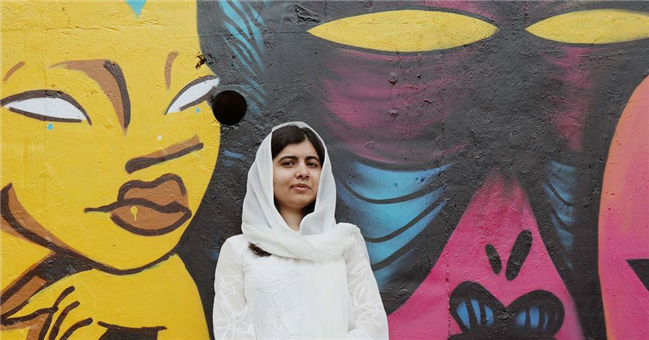 Malala Yousafzai is a well known name for Pakistanis. The current student of Oxford University was formerly a school student of Swat Valley in Khyber Pakhtunkhwa. She rose to fame for her book which she co-authored with her father, I am Malala, an international best seller. She is a Nobel Peace Prize, winner at the age of 17 making her youngest ever Nobel Prize laureate.
On 9 October 2012, a Taliban gunman shot Yousafzai when she was on her way to school. A gunman asked, while she was sitting in her school, Who is Malala?, upon replying, she was shot with one Bullet, which travelled 18 inches from the side of her left eye, through her neck and landed in her shoulder".
She has her treatment done in UK and she is currently residing in UK with her family. Malala has penned down her emotions regarding her Life in Oxford University. She has written, "At 11 years old, I woke up one morning and could not go to school because the Taliban had banned girls' education in Swat, the region of Pakistan where I was born. I am so pleased that I spoke out and for my years of campaigning that have followed. Now 21, I am able to study at a prestigious university — but I want to live in a world where every girl is able to weigh her future career options in the way I hope to when I graduate".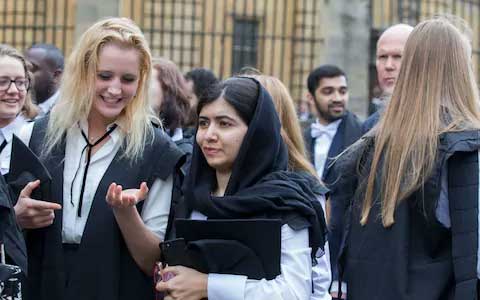 Further, "Last year, I would find myself running between classes, study groups, cricket matches and meetings with extracurricular groups. I would go to a friend's room or they would come to mine to chat after dinner; when I would look at the clock again, it would be three in the morning! A few – well, many – times, I started an essay at 11pm the night before it was due."
Apart from Malala , Former Prime minister Benazir Bhutto , Hussain Shaheed Suhrawardy, Former Prime Minister of Pakistan, Malik Sir Feroz Khan Noon, Former Chief Minister of Punjab, and Former Prime Minister of Pakistan. Also former Ambassador of Undivided India to UK. Also Former Foreign Minister of Pakistan, Malik Amir Mohammad Khan (Nawab of Kalabagh), Former Governor of West Pakistan,Nawab Akbar Bugti and Sardar Asif Ahmed Ali, Former Foreign Minister of Pakistan were former Oxonians.
Right now a large number of Pakistani students are living in UK for study purpose. UK government is providing scholarships to foreign students on financial and academic basis. The part time work policy by UK is also very flexible, which is one the reason making UK favorite study abroad destination.
UK government has facilitated many scholarships programmes for Pakistani students such as:
Charles Wallace Pakistan Trust Scholarships. ...
Bristol University International Scholarships. ...
University of Birmingham International Postgraduate Scholarships. ...
Cardiff University Elite International Scholarships. ...
Clarendon Scholarships at University of Oxford.
X
FREE STUDY ABROAD

Free study abroad expert advice