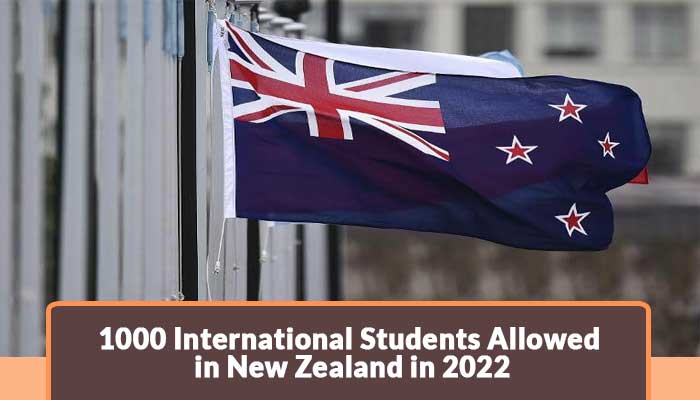 International students who wished to study abroad will be delighted as New Zealand reopens borders encouraging bright students to apply for new zealand student visa 2022. Pakistani students can also apply towards new zealand universities as they offer various attractive study programs catered towards international students.
International Student Allowance
New Zealand government announced border class exception allowing 400 trainees, 300 degree level students and beyond and 300 students having sub degree level to arrive in New Zealand. Further information regarding education will be provided to prospective students as it provided.
Nominated Student Candidates
The Ministry of Education will work collaboratively with the international education sector and government agencies including Te Pūkenga, New Zealand Universities, PTE sector and New Zealand Aviation to oversee identification of eligible international students as getting in touch with the nominated students.
New Zealand government explained that students must contact their preferred education provider to signal their interest for studying in New Zealand as the students will be contact to discuss their eligibility at the right time.
Student Quarantine Program
As the upcoming month of December 2021 and New Year January 2022 are reserved for citizens of New Zealand; international students getting visa approval may not be eligible for managed isolation quarantine for the time being.
New Zealand Travel Guide
Students who want to travel to New Zealand are required to be double vaccinated. International students not being New Zealand citizen will have to be vaccinated through recognized government vaccine programs.
Vaccine Dosage
International students must receive their vaccine dose at least 14 days before their arrival stated the New Zealand Government. Director of University of Auckland expressed that "University will work along side government to determine procedure for contacting students who are nominated in the upcoming weeks".
Nominated Students
Nominated International students who get new zealand student visa 2022 and are selected for the cohort will be traveling and arriving in New Zealand by going through MIQ system while being fully vaccinated in the upcoming month of March 2022.
The new cohort plan is part of wider government response towards reconnecting citizen of New Zealand towards the rest of the world including announcing new traffic light framework regarding risk management after 90% vaccination levels.
Auckland currently stand at 74% for double vaccination which are expected to increase to 90% in early December 2021 enabling international flight operations from rest of the world towards New Zealand.
New Zealand Scholarships
New Zealand has always been one of the hotspot for quality education and has seen booming interest from Pacific and Asian countries due to various scholarships for international students.
Being famous for its beautiful natural landscapes, numerous sheep and kiwis furry or green. Due to New Zealand unique topography, culture and biodiversity the universities provide specialized study courses that attract students from all over the globe.
Tertiary Scholarships
New zealand universities offers various full tertiary scholarships towards postgraduate and undergraduate international students every year. Students applying for scholarship have a higher change if they select their country's Ministry of Foreign affairs recommended subjects. Students can also explain their how gaining certain skills and knowledge will help in their country's development. Some scholarships are mentioned below
International Student Excellence Scholarship program(University of Auckland)

International Excellence Scholarship (University of Waikato)

New Zealand Commonwealth Scholarships
So Pakistani students must not waste their time and apply through their local recommended consultants in order to increase their chances for getting new zealand student visa 2022 and getting approval by the concerned University officials.
X
FREE STUDY ABROAD

Free study abroad expert advice