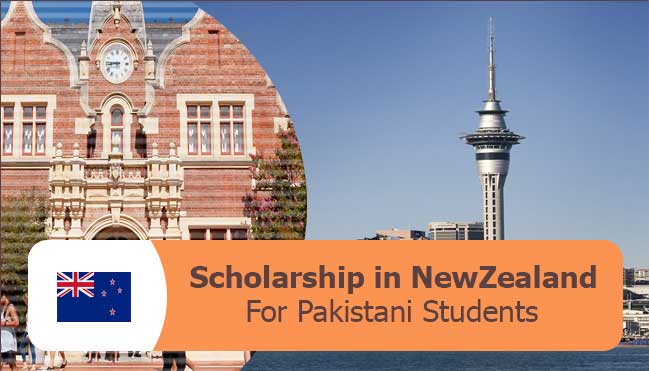 New Zealand ardently invests in A performers international students with an aim to build future leaders and endows them with skills and knowledge to benefit their family and home country.
The OECD's Programme for International Student Assessment, a valid assessment parameter, has ranked New Zealand's education system as the seventh best in the world; with students excelling in mathematics, reading and science. In an analysis released this February, it has been reported that a typical university graduate can earn on average about $1.6 million for lifetime.
Pakistani students should screen the prospects of earning their Degrees through New Zealand best Scholarships for the following exceptional benefits.
Top Universities in New Zealand for International Students:
University of Auckland

University of Otago

Auckland University of Technology

University of Canterbury

Victoria University of Wellington

University of Waikato

Lincoln University

Massey University
Financial benefits of New zealand Scholarships for Pakistani Students
The Government of New Zealand provides extra-ordinary financial assistance to all the national and international students. The government doesn't only provide financial aid to their students but also sometime offers job opportunities to the eligible international candidates.
• There are plenty of aid programs available for international students; you can get this aid from your country, from the institution you attended, scholarships or other valid resources.
• Fully funded tuition
• 15-days living allowance to contribute into basic living expenses
• an establishment allowance to cope the accommodation expenses, text books and other study-based expenses
• effective medical and travel insurance policies
• incentives and aids to complete research
Traveling Facilities:
You can travel to and from your home country - at the start of the scholarship, and to return to your home country at the end of your scholarship. Home leave or reunion travel options for some scholarship are also available.
Accommodates Family members:
New Zealand is a landmark in the field of educational facility provision as this country allows you to accompany your immediate family members and is ready to help you in hunting jobs for them .In addition New Zealand government offers essential health care and educational facilities to the members of the student's family. Moreover, if you take family members with you can be entitled to get a dependent allowance for the duration of your scholarship.
Safe Atmosphere:
New Zealand has set standards to guarantee their international students that they are safe, and are properly cared for by their prospective institutes.
Exceptional Learning opportunities:
New Zealand universities lie under the top 3% of global universities by QS World University Rankings. They are currently ranking as top 50 in 19 subjects like agriculture, finance, and engineering.
Some Popular International Scholarship Program in New Zealand
New Zealand Pacific Scholarships

New Zealand ASEAN Scholar Awards

New Zealand Regional Development Scholarships

New Zealand Development Scholarships

New Zealand Commonwealth Scholarships

Short Term Training Scholarship
Dispersed campuses:
The university and polytechnic campuses are dispersed all around the country .Whether it is a big city or remote area the institution is equipped with same contemporary amenities
Permission to work during studies:
New Zealand educational system allows international students to work for 20 hours per week during the semester and 40 hours per week during the Christmas and New Year's break. You are not allowed to work during the break in between semesters because is if you are enrolled in any internship as part of your educational program you might breach it which leads to serious consequences like getting deported from the country.
English is the medium of communication:
English speaking infrastructure, is the most facilitated reason to study in New Zealand
Comprehensive and Flexible Study programs
Generally universities and polytechnics in New Zealand offer both degree and professional diploma courses, with flexibility to change the subjects, program or duration of study.
Globally Recognized Qualifications:
The qualifications are well-recognized internationally and open the gateway to countless career options.
Work -permit opportunities:
Moreover, if students get a job in New Zealand after completing their course, they can apply for a work permit and stay on. This is a major incentive for study in this verdantly green and clean country
World-class New Zealand Universities granting International Scholarships
Auckland University of Technology

Lincoln University

Massey University

University of Auckland

University of Canterbury

University of Waikato

Manukau Institute of Technology
Read the information at New Zealand website to look for the subject, level and types of Scholarships to decide which is the best option for you?
You can take help from these listings:
Education Undergraduate Qualifications Examples List

Education Postgraduate Qualifications Examples List

Health Undergraduate Qualifications Examples List

Health Postgraduate Qualifications Examples List

Get Latest Scholarships in Your Email
Get a regular scholarship alert. We'll deliver important and latest scholarships to your email
Sign up
for free
scholarship
alert
| Scholarship Name | Country | Education Level | Apply By |
| --- | --- | --- | --- |
| | New Zealand | Undergraduate | 31 Jan 2024 |
| | New Zealand | Undergraduate, Post-Graduate | 31 Jan 2024 |
| | New Zealand | Undergraduate | 15 Dec 2023 |
| | New Zealand | Undergraduate, Post-Graduate | 01 Dec 2023 |
| | New Zealand | Undergraduate | 01 Feb 2024 |
| | New Zealand | Undergraduate, Post-Graduate | 30 Nov 2023 |
| | New Zealand | Doctoral, Post-Graduate | 30 Oct 2023 |
| | New Zealand | Doctoral, Post-Graduate | 15 Nov 2023 |
| | New Zealand | Post-Graduate | 01 Nov 2023 |
| | New Zealand | Doctoral, Post-Graduate | 31 Oct 2023 |
| | New Zealand | Undergraduate, Doctoral, Post-Graduate | 30 Oct 2023 |
| | New Zealand | Undergraduate, Post-Graduate | 31 Oct 2023 |
| | New Zealand | Post-Graduate | 31 Oct 2023 |
| | New Zealand | Undergraduate, Post-Graduate | 31 Oct 2023 |
| | New Zealand | Undergraduate, Post-Graduate | 31 Oct 2023 |
| | New Zealand | Undergraduate | 15 Nov 2023 |
| | New Zealand | Undergraduate, Post-Graduate | 31 Dec 2023 |
| | New Zealand | Undergraduate | 31 Dec 2023 |
| | New Zealand | Undergraduate, Post-Graduate | 21 Nov 2023 |
| | New Zealand | Undergraduate, Post-Graduate | 30 Nov 2023 |
| | New Zealand | Doctoral | 01 Aug 2023 |
| | New Zealand | Undergraduate, Post-Graduate | 31 Mar 2024 |
Latest Universities in New Zealand
View All Universities
| | | | |
| --- | --- | --- | --- |
| | Auckland University of Technology (AUT) | 55 Wellesley St East Auckland, New Zealand | |
| | Lincoln University | Ellesmere Junction Road Lincoln Lincoln, New Zealand | |
| | University of Waikato | Te Whare Wananga o Waikato Gate 1 Knighton Road Hamilton, New Zealand | |
| | Massey University | Massey University Tennent Drive Palmerston North, New Zealand | |
| | University of Canterbury | University of Canterbury Private Bag 4800 Christchurch, New Zealand | |
X
FREE STUDY ABROAD

Free study abroad expert advice