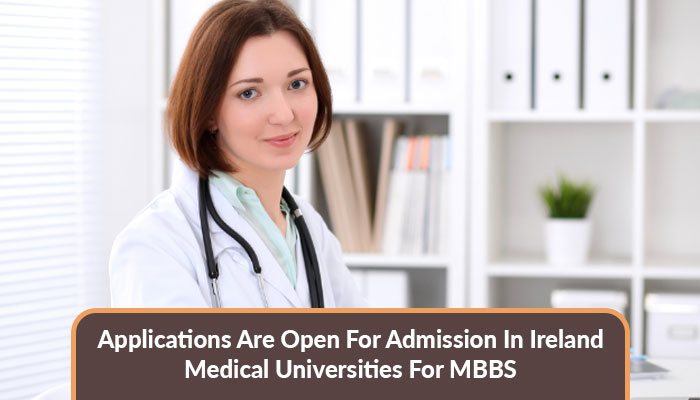 Every year, a number of students move to abroad universities for MBBS after 12th and Ireland is one of those countries that is most preferred for medical aspirants. Universities are recognized by PMC and WHO and providing excellent education in the country.
Duration Of MBBS In Ireland
The duration for MBBS in Ireland is 6 years which includes 1 year of internship.
There are other variety of medical courses at different universities and colleges which can be of 1 year, 2 years or 4 years duration.
Accreditation Of Irish Medical Universities
Irish medical universities are recognized by
Foundation for Advancement of International Medical Education and Research (FAIMER)
ECFMG - Educational Commission for Foreign Medical Graduates
World Federation for Medical Education (WFME)
United Nations Educational, Scientific and Cultural Organization (UNESCO)
Pakistan Medical Commission (PMC)
Cost Of Study MBBS In Ireland
An estimated cost of MBBS course in Ireland is 3000 to 7000 Euro/ year and living cost vary from 2000 t0 2500 euros per month.
Career Options For MBBS Graduates
After completion of MBBS in Ireland students have a lot of options such as
Can start practice in private and government hospitals
They can move to other European countries for job
After USMLE clearance, can start medicinal practice in USA
Students also have option to start medicinal practice in Pakistan after NLE exam
Post- graduate Options For MBBS Graduates
Students also have option to start post graduate degree (MD) from Irish medical universities or from other Europeans countries.
Admission
To take admission at Irish medical universities for MBBS course, students have to fulfill the following eligibility criteria
Age must not be less than 18 years
Must have a valid HPAT score
Must have minimum 80% marks in intermediate
Must have English language proficiency certificate (IELTS/ TOFEL)
Application Process
Online applications are accepted to secure admission of international students, these steps have to be followed by the candidate for application
There is centralized online application system (CAO), through which applicant have to apply
Students have to register themselves at CAO portal
Fulfill all requirements
Upload all the educational documents
Submit the application
Documents Required At The Time Of Application
Matric and Intermediate educational transcripts (must be legally authorized)
Birth certificate
Passport
Bank statement
IELTS test scores
HPAT test score
CV
Recommendation letter
Passport size photographs
Motivation letter
Intakes For MBBS
Intakes start in September and proper classes start from October. Applications are open from February to April for students who want to pursue MBBS.
X
FREE STUDY ABROAD

Free study abroad expert advice