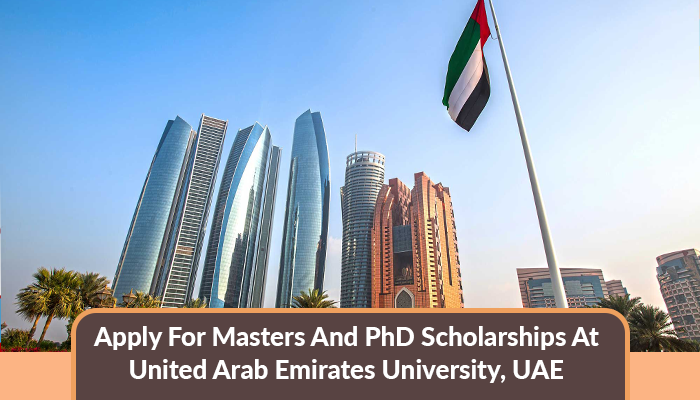 UAEU is a top leading university in UAE and aspires to become the most research oriented university. Presently university is selecting brilliant and outstanding students for post graduate studies in certain majors and provide them with full and continuous financial support.
Details About Scholarship
It is a fully funded scholarship for international students that is funded by Government of UAE. It is an excellent opportunity for those who want to explore research in third richest country of the world. This scholarship grant will provide research in many areas.
Expenses Covered By UAEU Scholarship
Grant, awarded by UAEU will cover the following expenses
Full tuition fee waiver
Monthly stipend
Health insurance
Extra bonus of
Up to AED 3000 from supervisor's external research project
Up to AED 2000 from supervisor's internal research project
Watch video for details
Fields Of Study
Scholarship is awarded for following described study fields taught at United Arab Emirate University
Humanities and Social sciences
Science
Education
Business and Economics
Law
Food and Agriculture
Medicine and Health Sciences
Information Technology
Eligibility Criteria For Scholarship
Candidates must fulfill the following criteria before applying to scholarship
Must be an international student
Students applying for masters must have 3.0/4 GPA in bachelor's degree
Students who are applying for PhD must have 3/4 GPA in master's and 2.5/4 in bachelor's degree
Applicant must have IELTS score 5 and 6 if applicant's instruction language is Arabic and English respectively
Documents Required At The Time Of Application
Though the application process is online, the following documents have to be uploaded by student at time application submission
Completed application form
Copy of passport
Certified educational transcript's copy
Official copy of IELTS score certificate
Two recommendation letters from professors of previously studied institute
Copy of CV
Statement of research experience and interest if applying for PhD program
Application Process
Applicant have to follow the described steps for online application process
Sign up on UAEU admission portal by creating an account
Fill out the application form, upload all documents and submit application
Deadline To Apply For Scholarship
The last date to apply for scholarship is 31st March 2022
X
FREE STUDY ABROAD

Free study abroad expert advice