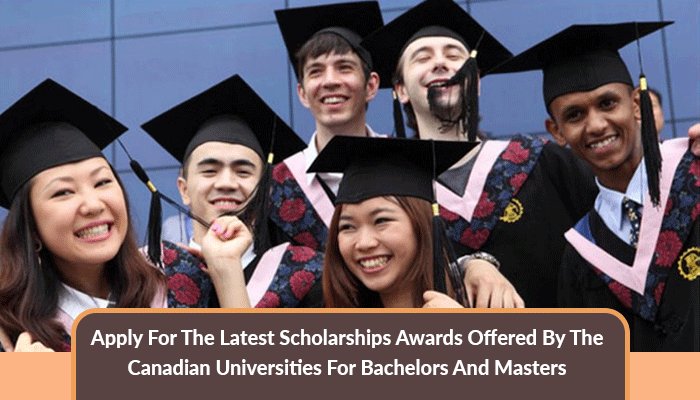 Canada has placed among world's leading study destinations. A number of international students each year go to Canada for their studies either for graduation or for post graduate degree program. There are more than 26 universities in Canada of which three are in world's top 50 universities and 11 are in top 300.
Undergraduate degrees in Canada take three to four years to complete and post graduate (masters) degrees last between one and two years. It all depends upon type of degree program that is selected by international student.
Why Canada
Why Canada is one of the most popular destination for international students? Top reasons are here
Canada's co-op education system helps student learn outside the lecture halls
Students can work during their studies
After graduation they are allowed to stay and work in Canada for three years
Canada is a hub of top international universities
A number of scholarships are available for international students
Scholarships In Canada For International Students striving
Whether you are determined to earn a scholarship for a full time degree or a short term course in Canada, there are many opportunities from private organizations, universities and government sectors. Each scholarship programme has exclusive eligibility criterion. List of available Canadian scholarships for the year 2022.
International Students Endowment Scholarships
Details: These scholarships are for undergraduate and graduate degree programs announced by University of the Fraser Valley.
Award: will cover tuition fee
Requirements: Students must have completed Canadian Grade 12 or its international equivalent degree
Must have IELTS/ TOFEL valid score
Last date: The last date to apply for the scholarship is 15th June 2022
Application: Online applications are open
International ASEAN Language Excellence Entrance Awards
Details: These scholarships are for post- secondary degree programs announced by Fanshawe College
Award: Will cover all educational funds
Requirements: Must have IELTS/ TOFEL valid score
Last date: The last date to apply for the scholarship is 1st October 2022
Application: Online applications are open
International Entrance Awards at Langara College
Details: These scholarships are for undergraduate degree programs announced by Langara College
Award: Will cover tuition fee
Requirements: Applicant must have completed Canadian Grade 12 or its international equivalent degree with B+ grade (3.33 GPA)
Must have an admission/ offer letter from the university
Must have IELTS/ TOFEL valid score
Last date: The last date to apply for the scholarship is 31st May 2022
Application: Online applications are open
Perimeter Scholars International Awards
Details: This award is for masters study program announced by University of waterloo
Award: Annual stipend of $30,000
Requirements: Applicant must have bachelor's degree in science
Must have IELTS 6.5 bands
Last date: The last date to apply for the scholarship is 1st June 2022
Application: Online applications are open
Excellence Scholarships at Kings University, Canada
Details: Excellence Scholarships for undergraduate for the academic year 2022-2023. This award is announced by Kings University
Award: Annual stipend of $2000
Requirements: Three courses of grade 12 must be standard and 1 additional standard or non-standard course
Must have IELTS/ TOFEL valid score
Last date: The last date to apply for the scholarship is 15th June 2022
Application: Online applications are open
X
FREE STUDY ABROAD

Free study abroad expert advice