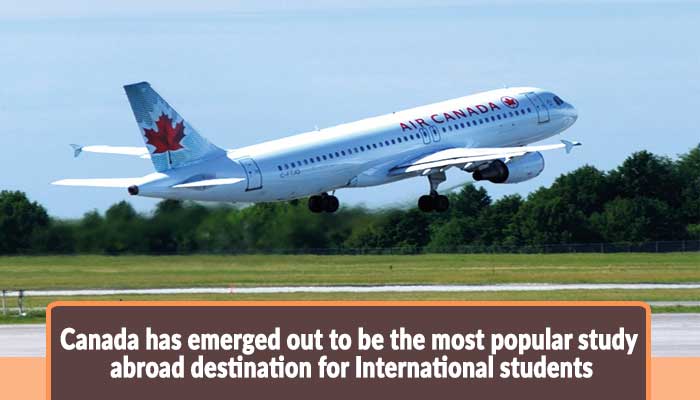 With more than 1.1 million international students United States of America, has always considered to be the top priority for international students when it comes to study abroad. But recently both Canada and UK has overtaken USA in being the two most popular study abroad destinations for international students.
Several surveys were conducted among the international students in order to understand their opinion on international study programs. These surveys suggested that students are now more interested to study in Canada and UK rather than studying in America, the major reason being the drop in America's international student population that made it lose its top spot and now it is standing at number three in the world ranking of the most popular country to study abroad, the first spot is occupied by Canada as predicted.
By January 2018, America was constantly stealing the number one spot when it came to international students studying in America, However recently, in October 2020 America has been placed two spots down and now has become the third most popular country for study abroad.
During this time period from July 2018 to October 2020, there have been many factors which were contributing in this decline, including the difficult visa process, High tuition fee in American colleges and Universities, as well as the tough political environment which led them to feeling unwelcome in this immensely diverse populated country. And at last the way the American Government dealt with the international students during the Covid-19 Pandemic was the last piece in the puzzle which led to a dramatic decrease in international students in America.
During the last two years the percentage of international students who have preferred to study in Canada increased from 10.1 to 13.8 percent, whereas UK saw an increase from 12.7 to 15 percent. Whereas USA colleges and universities saw a 43% decline in international student enrollments in the last four years.
Why international students prefer Canada?
There are many factors which are contributing in this regard. When it comes to study abroad the cost of study and living, language, culture and the global reputation of the education system play a very important role and Canada seems to fulfill are these requirements. Tuition fee in Canada for different study programs is very affordable, and the standard of education in Canada is quite high. Canada is home to a few top ranking universities whose degree programs are acknowledged globally. Canada also provides a safe and serene environment to its international students.
The other reason why international students prefer Canada is the lenient work opportunities post-graduation. America has very strict visa policies for international students. It does not easily allow student to work after graduation, and applying for a work visa is very difficult in America as compared to Canada. International graduates in Canada can apply for Post-Graduate Work Permit, it is an open work permit that allows the fresh graduates from Canadian universities.
View this link to get more information on study in Canada and how to apply for Canadian Universities.
X
FREE STUDY ABROAD

Free study abroad expert advice