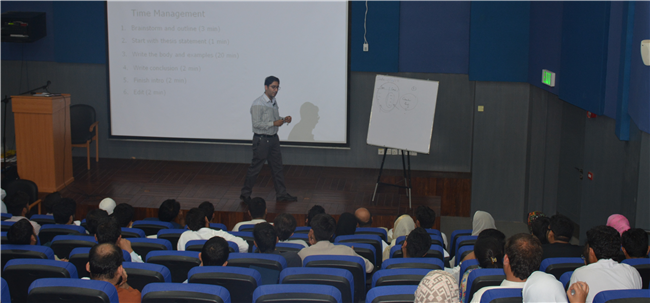 The Higher Commission of Pakistan (HEC) will provide coaching to 6,000 students in collaboration with the United States Education Foundation in Pakistan (USEFP). This coaching project is part of Talent Farming component of the US-Pakistan Knowledge Corridor.
The coaching will be provided to 6,000 shortlisted candidates for admissions in PhD courses at US universities under the US-Pakistan Knowledge Corridor. The coaching team will travel to various cities of Pakistan to give classes to the selected candidates for Graduate Record Examinations (GRE) and Test of English as a Foreign Language (TOEFL).
Passing GRE and TOEFL tests is an essential requisite for admissions in PhD courses at US universities. HEC is pondering upon the idea of opening a virtual technology in order train these candidates for foreign language tests sitting in their own locality.
The candidates trained under this HEC coaching program can get scholarships funded by HEC itself or directly facilitated scholarships from a US university upon selection. Every year, the Talent Farming by US-Pakistan Knowledge Corridor is organized four times under the title of "Call for GRE Training" at provincial capital cities of Pakistan.
This year, GRE Training was also held at University of Agriculture, Faisalabad, University of Azad Jammu & Kashmir, Muzaffarabad and Mirpur University of Science & Technology, Mirpur, Azad Jammu and Kashmir. The candidates for Gre training are selected by HEC itself on the basis of excellent academic results.
The idea of establishing the US-Pakistan Knowledge Corridor was discussed during the official visit of the Prime Minister of Pakistan to meet with President Obama and other US officials on October 22, 2015. The leaders decided to establish this corridor in order to strengthen the bilateral ties between Pakistan and US. In this first phase, which was finalized on Jan 25, 2017, 1500 scholarships will be financed through Public Sector Development Program (PSDP).
"As per this plan, ten thousand (10,000) Pakistani scholars will join US universities in next ten years as an effort of the Government of Pakistan to train its faculty resources in identified subject areas". According to eligibility criteria for the admission and scholarship program announced by HEC in its official website, "the scholars who have already secured admission or enrolled in PhD program in QS ranked US universities (Overall Ranking) will be preferred and also those scholars who have obtained tuition fee waivers from ranked US universities."
HEC will fund, travel cost, living cost, medical insurance and fees of scholars who are admitted to US Universities for maximum of 3 years. The candidates can take admission for doctorate studies in fields such as: Engineering & Technology, Physical Sciences, Social Sciences, Medical & Allied Health Sciences, Agriculture, Veterinary & Food Security, Business Leadership development, Emerging Technology - Micro-electronics: Computer Science, Telecommunications, Man-made Materials, Robotics, Bio-technology: Nanotechnology and Water Resources & Energy.
According to QS rankings 2019, following are the best universities in US.
Massachusetts Institute of Technology (MIT).
Stanford University.
Harvard University.
California Institute of Technology (Caltech).
University of Chicago.
Princeton University.
Cornell University.
Yale University.
X
FREE STUDY ABROAD

Free study abroad expert advice