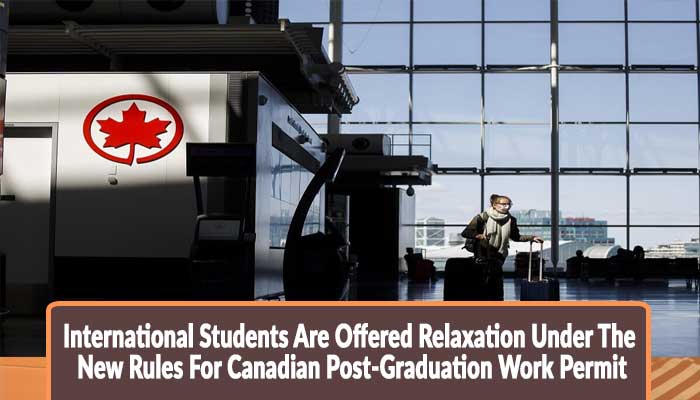 Immigration, Refugees, and Citizenship Canada (IRCC) comes with the good news for international students that they would get further relaxation in the online study rules related to the criteria for the Canadian post-graduation work permit. Canada immigration declares that the international students who are outside of Canada and are studying remotely will be able to count this time towards the duration of their post-graduate work permit, PGWP. This supersedes the previous immigration rules for the international students intended to apply for Canadian PGWP.
According to the details that have been taken by the ICCR statement, the international students can count the time since the spring 2020 study session to now. International students who would live outside Canada until April 30th, 2021 would not face the time deduction problem from the length of their post-graduate work permit.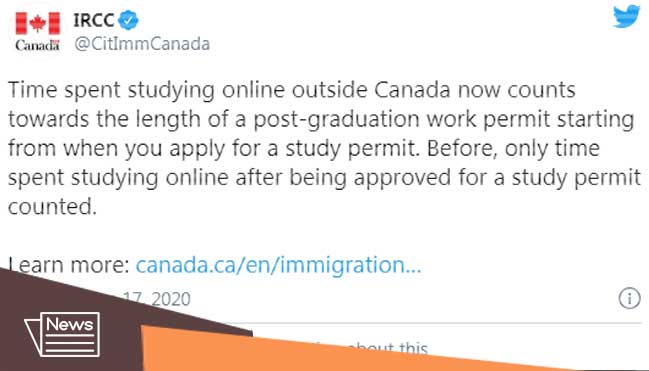 Who Is Applicable For This New Rule
All the students who cannot travel to Canada and are studying online are eligible under this new PGWP rule.

Any student with the valid study permit of Canada is eligible.

Students whose Canada study permits have been approved are eligible.

Students who had applied for a study permit before any semester of 2020 academic sessions are eligible.

Applicants who are going to apply for a Canadian study permit in January 2021 study program are also eligible.
What Are The Benefits Of This New Rule
International Students are getting the following major benefits of this new PGWP system:
Students can start an online program while living outside Canada and they can complete 100% of their program from their home place and they still will be allowed to apply for PGWP.
Two conditions will be applied to the students, first, the program should be 08 to 12 months and this must have started between May and September 2020. Secondly, students have to complete half of their course online until April 30th, 2020 in case they have completed half of their program in Canada.
Canada Post Graduate Work Permit, PGWP
The government of Canada allows international students to obtain a work permit after completing their graduate studies. This work permit allows students to do work in Canada full time to get valuable working experience in Canada. Students with the status of PGWP are allowed to work full time in Canada for up to 03 years. However, the ultimate duration of the Canadian work permit depends upon the timeframe under which the individual has completed studies at the Canadian designated learning institutions, DLI.
Well, it is just a reminder for the international students that, before this pandemic, the PGWP wasn't permitted to the students who studied online or students who were not enrolled for a full-time study program.
Apply For Study In Canada
Those students who are thinking to get benefited from the higher education experience from Canada and are looking to apply for the 2021 session of study in Canada, they are recommended to file your case today. However, studyabraod.pk helps in securing your admission through a safe admission application. So, do not feel any hesitation and start your Canadian admission application today with the best Canadian study abroad consultants.
X
FREE STUDY ABROAD

Free study abroad expert advice