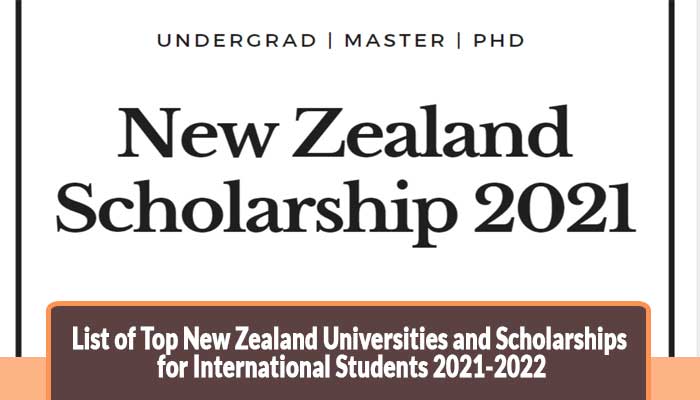 New Zealand offers many undergraduate, postgraduate and master program scholarships for Pakistani students who wish to study abroad. Some of the top New Zealand scholarship are listed as follows.
Victoria University of Wellington Scholarships
Tongarewa Scholarship
This scholarship is targeted towards international students perusing masters, postgraduate and undergraduate programs. Scholarship is provided to foreign Pakistani students pursuing admission in postgraduate or undergraduate program for 1st year. The scholarship covers one year partial tuition fee waiver for the accepted international students. The student's scholarship value ranges from $ 5000 up to $10000.
Scholarship Eligibility
International students

Students paying complete international tuition fee

Students who have started their 1st year postgraduate or undergraduate degree
Scholarship documentation
Applicant student's personal statement comprising 500 word outline high lighting your merits and academic goals as to why you wish to study at the University of Wellington

Applicant student academic documents and transcripts

Applicant offer letter of place from University of Wellington
Scholarship process
Applicant student applying for New Zealand scholarship must provide their application along with student's documentation by 4:30 pm upon the closing date for the application to be considered.
Scholarship Deadline
Applicant student must apply as last date for Trimester 1, 2022 is 30th November.
International Excellence Scholarship
This scholarship targets postgraduate, undergraduate programs ranging from any subject area. The student scholarship offered to international students who have displayed excellent academic records during their study program.
Scholarship Value
The scholarship value is offered up to NZD $10,000 for the accepted international students.
Scholarship Eligibility
Student must be new applicant in undergraduate or postgraduate study program

Applicant student must have B+ equivalent GPA

Applicant student must not be enrolled at the University of Waikato

Applicant student must fulfill Waikato's English language requirement

Applicant student must commit to study program of minimum of 12 months at the University of Waikato
Scholarship application deadline
Students can submit applications for scholarship at any time
This scholarship targets international students who wish to apply in the doctorate program comprising Doctorate of Health Sciences, Doctorate of Education, Doctorate of Musical arts and Doctorate of Juridical Science.
No of Scholarships
The University of Waikato provides up to 75 doctorate scholarships every year to candidates possessing excellent academic record.
Scholarship value
This scholarship provides international student stipend of $ 25,000 every 12 months or in monthly installments covering three year period
Scholarship Eligibility
Candidate student must study full time

Candidate student must be applying for first time for doctorate program

Candidate student be applying for their DHSc, PhD, SJD, EdD and DMA doctorate programs
Scholarship application deadline
Candidate students must submit scholarship application by 30th September to be considered for the doctorate program.
Lincoln University International Undergraduate Scholarship
This scholarship targets international students having excellent proven academic record who wish to peruse international undergraduate programs in Lincoln University.
Scholarship Value and number
This scholarship covers candidate student who is seeking New Zealand study abroad scholarship by providing NZD $3000 towards student tuition fee account by credit method upon successfully enrolling in the undergraduate program.
Scholarship Eligibility criteria
Candidate student must be applying towards undergraduate program

Candidate student must pass all requirements by immigration for study

Candidate student must fulfill all English language and academic requirements for successful admission
Scholarship Tenure
The scholarship is only applicable for the commencing first semester of the candidate student study period.
Scholarship application deadline
Candidate students must apply for their scholarship program before 31st October to qualify for admission in summer school program.
Lincoln University Undergraduate Vice-Chancellor's Scholarship
New Zealand scholarship for International students applicable towards candidates perusing bachelor degree at Lincoln University.
Scholarship Value
This scholarship provides candidates with total value of NZD $ 5000 credit deposited in the candidate student tuition fee account.
Scholarship Criteria
Candidate student must meet English language and the academic requirements

Candidate student must not have studied in any academic programs at Lincoln University before

Candidate must comply all requirements of immigration to study
Scholarship Application Deadline
Candidates must apply before 31st October to be eligible for the Summer School program.
X
FREE STUDY ABROAD

Free study abroad expert advice