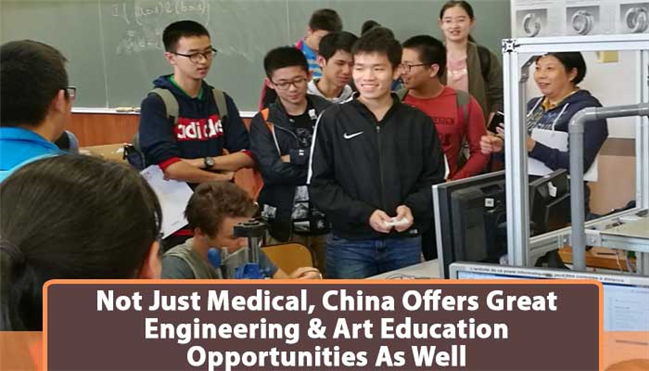 It's not just M.B.B.S, Students seeking a degree in China have several options in different fields of study like engineering, social sciences, arts, economics, information technology, architecture etc.
More and more students are travelling China to study medicine. The reason is that, medical schools in China are built in public universities under the supervision of the Chinese Government. All of them are recognized and the graduates are eligible to attend internationally recognized medicine exams like USMLE, PLAB, PMDC, etc. Moreover studying medicine in China is 75% more affordable than western nations. However, the students who have not taken medicine or biology as their majors can also study their degree programs in high ranked and affordable Chinese universities both on personal finance and Chinese study abroad scholarships.
Engineering and Other Courses in China
Many Pakistani as well as international students takes engineering subjects to pursue their career. Many Chinese universities nowadays offer all types of engineering courses for international students. These are specifically English-taught programs. The duration of a bachelor degree course in engineering discipline took 3-4 years, while a master degree is completed in 2-3 years. However a period of 3-5 years is required to complete the doctoral program. These engineering courses in china are open in spring and autumn like September and April every year. The average annual tuition fee is between 12,000 to 20,000 Chinese yuan. This figure varies according to institutes and cities. However many scholarships are also available for Pakistani students to pursue their engineering and other Arts degrees in china.
Valuable English-taught Engineering Universities and Courses in China Zhejiang University of Science and Technology (ZUST)
Zhejiang University of Science and Technology (ZUST) is a reputed Chinese university which renders multi-disciplinary courses in the fields of engineering, arts, sciences, economics, education and management. Located in the beautiful Hangzhou city, the university is in fact affiliated with German Applied Science Universities .ZUST welcomes international students in many of its degree courses.
The Bachelor's in Civil Engineering at ZUST is a four year English-taught program for international students. ZUST also offers The Bachelor's in Food Science and Engineering, a four year program taught in English for international students. The tuition fee is same for both programs that is, RMB18000 per year. Moreover, Zhejiang University of Science and Technology (ZUST) also render The Bachelor's in Digital Media Technology -four year program in English for international students. The fee structure is same as of civil and food science engineering programs. ZUST also offers Master and Doctoral programs in engineering and other disciplines.
Jiangsu University
Jiangsu University located in the picturesque southern bank of the Yangtze River – Zhenjiang. This comprehensive teaching-and-research university renders courses for both local and international students in engineering, medicine, science, management and humanities. Some reputed courses offered to international students in English include
International Economics and Trade (IET)

Computer Science and Technology (CST)

International Economics and Trade (IET)

Civil Engineering (CE)

Chemical Engineering and Process (CEP)

Food Science and Engineering (PSE)

Materials Science and Engineering (MSE)

Mechanical and Electrical Engineering
Besides these two universities, there are many other Chinese reputed universities offering Engineering programs at bachelor, master and doctoral level. All these programs are taught in English and per year tuition fees ranges around 24000 RM
• South China University of Technology – Guangzhou
B.Eng. in Computer Science and Technology
• Nanjing University of Aeronautics and Astronautics –
B.E Aeronautical/Aerospace Engineering
• Northwestern Polytechnic University
Astronautics Engineering
• China University of Petroleum - Beijing
Petroleum Engineering (Oil and Natural Gas Drilling, Developing and Ocean Engineering)
• Liaoning Shihua University – Fushun
Petroleum and Gas Engineering
Scholarships for International Students
Chinese Scholarship Council has also offered an effective series of scholarship in China programs for international students, teachers and scholars in Chinese universities. These Chinese Government Scholarships caters international students, teachers and researchers to pursue degrees at all levels like bachelor's, master's and PhD. As well as these scholarships are also offered in non-degree research oriented study programs. For example,
Fully Funded Shaanxi Normal University International Student Scholarship Program in China, 2019-20 for

masters

degree or doctoral program.

Shanghai Government Scholarship for Bachelors, Master and Ph.D. Students in China, 2019

Scholarships for 2019 B.A. International Politics and International Affairs and International Relations Programs
China Degree Programs for International Students In Miscellaneous Fields Of Study.
Chinese institutions also offer meaningful study programs in humanities and arts .There are many universities in china that are offering such courses in English to international students like
United International College located in the Xiangzhou District, Zhuhai, offers the following courses for international students
Bachelor of Social Science (Hons) in Government and International Relations

Bachelor of Arts (Hons) in Applied Translation Studies
In this four year course, students will gain concept and practical skills to organize and interpret political, economic, and social data. They will be able to research and critically analyze current situations from a wide range of sources. Students become confident to develop coherent arguments and proficient in problem-solving capabilities.
WEBSTER LEIDEN CAMPUS- WEBSTER UNIVERSITY USA
B.A. Psychology

B.A. Media Communications
X
FREE STUDY ABROAD

Free study abroad expert advice