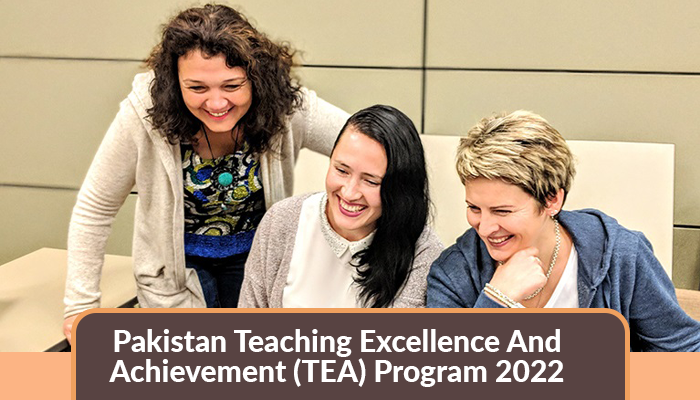 A fully funded exchange program for 50 Pakistani English Teachers working as a government employ to USA is announced. Teachers of secondary level (grade 6-10) employed in Government schools or foundations who run schools can submit application for this fully funded exchange program.
Organizations Involved In TEA Program
Regional English language office (RELO), US embassy in association with Vision building future and the University of Nebraska at Omaha has organized this Teaching Excellence and Achievement Program for the year 2022.
Duration Of TEA Program
TEA is providing in- service secondary school English Teachers with six week academic training at a University in USA.
Eligibility Criteria For TEA Program
Must be a permanent citizen of Pakistan
Currently working as English teacher at secondary level in Government school or foundation school.
Must have two years teaching experience as English language teacher
Minimum qualification must be Bachelors graduate (BA or BS) preferably in English subject
Once selected, he/she will sign a commitment to serve in teaching in Pakistan after the completion of TEA program
Must have good English writing and speaking skills
Applicant have to submit a complete application form referred and signed by school management
Fellowship For Winners
Selected candidates will enjoy the following fellowships
J-1 Visa support
Orientation in Pakistan before leaving for TEA training
Two way air ticket and allowance to travel within US
Academic program fees will be covered
Accommodation and meal allowance
Free medical facility
Travel allowance for cultural destinations around Nebraska
A trip to Washington DC
An organized re-entry seminar in Pakistan
Opportunity to apply for TEA alumni small grants
Documents Required At the Time Of Application
Copy of latest academic transcripts/ degrees
Reference letter signed by school management
Privacy policy signed b applicant (attached with application form)
Last Date To Submit Application
6th March 2022 is the last date to apply for TEA program
Application Process
Download application form
Fill the from and upload scanned documents on the www.tea.org.pk site
X
FREE STUDY ABROAD

Free study abroad expert advice