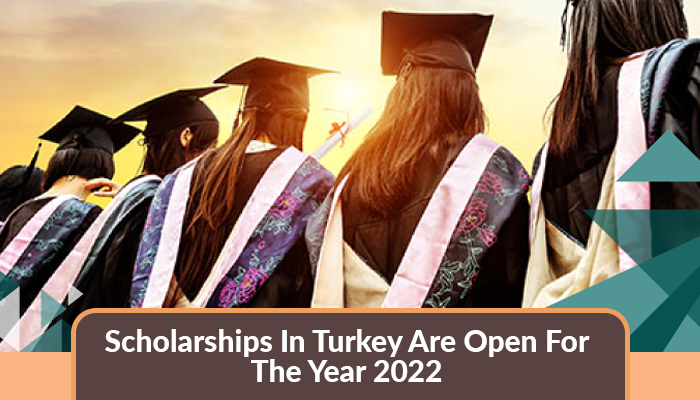 Turkey not only provides education opportunities for brilliant international students but also offers a number of scholarships to students for higher education in most prestigious universities of Turkey. From the last 10 years there is almost >75% increase in number of international students in Turkish universities. From 200,000 international students of Turkey, 2000 students are getting their higher education with scholarships. Turkey considered as the country accepts largest number of international students.
Scholarships Offered By Turkey
Fully funded and competitive scholarships that are achieved by outstanding students and researchers for their higher education in Turkey
Turkey Government scholarships
Turkey Burslaris scholarships
Turkey Success scholarships
Turkey Government Scholarships
Applications for Turkish government scholarships are open now for the year 2022.
Programs And Level Of Study
This scholarship is announced for each study level so international students who want to start their bachelor, master's or any short course degree can apply to avail this opportunity
Scholarship Coverage For Undergraduate, Postgraduate And Short Courses
A wide range of benefits are provided by the Turkish Government scholarships that attracts the brilliant international students to Turkey universities. Key features of Turkish Government Scholarships are here
Free accommodation
Full fee wavier
Free medical
Travel expenses (Two free air tickets are given to students)
Turkish language course for one year
700 TL stipend / month for undergraduates
950 TL/ month for masters and 1400 TL/ month for PhD scholars
The students get admission in short courses with duration of 3-10 months are awarded with 3000 TL/ month. No accommodation and other amenities are provided to them
Apply for the Turkey Government Scholarship
Turkey Burslari Scholarship
The thing make it unique and different from all other Turkish scholarships is that with the support of tuition fee and accommodation, Burslari scholarship also provide academic, social and cultural facilities to the students.
Programs And Level Of Study
This scholarship is for undergraduate, postgraduate and short courses
Scholarship Coverage For Undergraduate, Postgraduate And Short Courses
Scholarships awarded by Turkey Burslari program will cover
Accommodation
Full Fee waiver
Off- return flight tickets (Once throughout the study period)
One year Turkish language course
Health insurance
Monthly stipend of 700 TL for undergraduates
950 TL/ month for masters
1400 TL/ month for PhD
Eligibility Criteria
Academic: Undergraduates must have 70% marks in previous degree and for masters and doctoral applications they must secure 75% marks
Age: Undergraduates: not be more than 21 years
Masters: not be more than 30 years
PhD: must not be more than 35 years
Countries: All international students are eligible to apply except Turkish
Rounds of applications started from 1st April, 1st July and 1st October each year
Turkey Success Scholarships
Turkey success scholarships are now open for all international students who want to study abroad for free. Main aim of this scholarship is to create successor, impart the education system and build a smart correlation with other countries.
Programs Offered By Turkey Success Scholarship
Scholarship is awarded for each level of study in the following programs
Social Sciences
Humanities
Health sciences
Music
Fine arts
Benefits Of Turkey Success Scholarship
One year language course
Two way airfare
Health insurance
Accommodation
Monthly stipend of 800, 1100 and 1600 TL for undergraduates, masters and PhD respectively
Requirements To Apply For Turkish Scholarships
For each type of scholarship, there are almost same requirements which are
Valid passport
Recent photographs
National exam score
Certificate of last degree graduation
Academic transcripts
International exams score (GRE or GMAT if required by the selected university)
English language test scores (If required by the chosen university)
A research proposal if you are applying for postgraduate degree
X
FREE STUDY ABROAD

Free study abroad expert advice