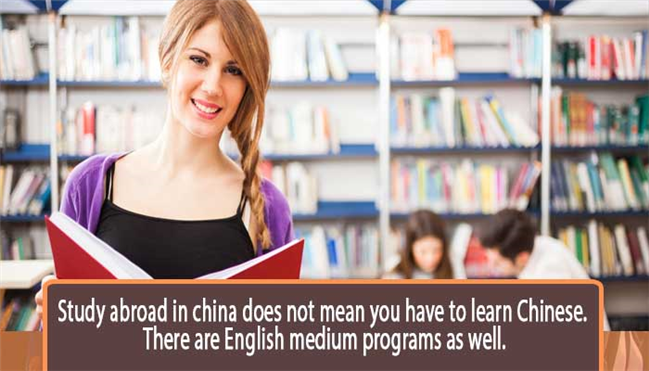 China, the third largest country in the world has now become the desired study abroad destination for international students, especially from Pakistan. Since the last few years, China has shown undefined growth in the education sector. This growing trend of the Chinese education system highly attracts foreign students. Pakistani students also prefer China to study their degree courses because China is their closest neighboring country and is competing with the western nations in various fields. Currently, more than 22,000 Pakistani students are studying in different Chinese universities. Among them above 1,000 Pakistani students are studying under scholarship programs for the academic year of 2018-2019.
Introduction of English as the Medium of Instruction in Chinese Universities
Previously tertiary -education institutes in China do not render courses in English. In most institutions, nearly all courses were taught in Chinese. It was therefore mandatory for every international student to learn basic Chinese language if he/she wants to study in China.
As the Chinese economy recently experience a growing shift, the educationists in China realize the worth of English-taught courses in Chinese universities. Now there are many English-taught courses in China's prestigious universities where study programs at undergraduate, master and doctoral level are taught in English. It means that the Chinese government and institutes have potentially accepted the crucial need for English taught courses. According to the Chinese Ministry of Education, in 2009, English language tuition was available in more than 250 programs at 38 universities.
English Taught Courses in China
There are two categories of English taught programs in China. First is the English taught degree programs for International students provided by the local universities in China. This type of program is compiled only for international students. These programs do not enroll local students. The second type of English taught programs are run by foreign universities in China. These programs are designed with the international curriculum and students will receive foreign university academic credits and degrees. English taught foreign universities have reputed campuses based in China. Besides international students, these universities also give admissions to the local Chinese students. These foreign campuses are known as SINO-FOREIGN COOPERATIVE UNIVERSITIES In China. Some SINO-FOREIGN UNIVERSITIES in China are:
The University of Nottingham, a British university

New York University Shanghai

Wenzhou Kean University

The Chinese University of Hong Kong,

Shenzhen University
English-Taught M.B.B.S Courses in China for International/Pakistani Students
Recently many Pakistani students are flying China to complete their M.B.B.S program. China Education Ministry has introduced an English Medium MBBS program fully taught in English. Many medical bodies around the world such as USMLE, PLAB, PMDC, etc have recognized Chinese medical degree. In China today, 49 accredited medical universities admit international students for the English-medium MBBS program.
Other Popular English Taught Courses:
English is the medium of instruction in the following courses taught in Chinese Universities
International Trade/Business

Business Administration/Management

International Politics/Relations

Finance

Computer Science & Technology

Mechanical and Manufacturing Engineering

Economics
Scholarships Offer To Study In China
Fortunately, good scholarships are also offered in the English-taught program. You can search for latest scholarships in China on the web. The Chinese government offers different scholarship programs for international students, teachers and scholars to study and conduct research in Chinese universities. The Chinese University Program provides fully-funded scholarship which covers tuition fees , accommodation, and medical insurance. Most English taught Chinese government scholarships are given in the Masters or Doctoral program. However, there are university-based scholarships available for undergraduate students in English taught courses. Like
Scholarships at Central South University in China
International students who want to apply for or English-taught programs, at Central South University in China, have to submit their TOEFL 85 or IELTS 6.0 scores.
Beijing Normal University (BNU) also offers (CGS) and the Beijing Government Scholarship (BGS)
The scholarships are given to international high academic achievers. BNU has offered "English-Taught Master Programs" for international students in the field of Education, Social Development and Public Policy, Environmental Studies, and Economics and Business Administration.
Low-cost universities in China
If you are looking for low-cost universities in China then it is better to find a small city outside the eastern zone. However, a great budget university in Beijing is Capital Normal University, charging around $5000 per year. Moreover, if you are looking for an institute in Shanghai then the best low-cost university is Tongji University. Some other on-budget Chinese universities include Beihang University, Hunan University, Guangxi Normal University and Sichuan University.
X
FREE STUDY ABROAD

Free study abroad expert advice