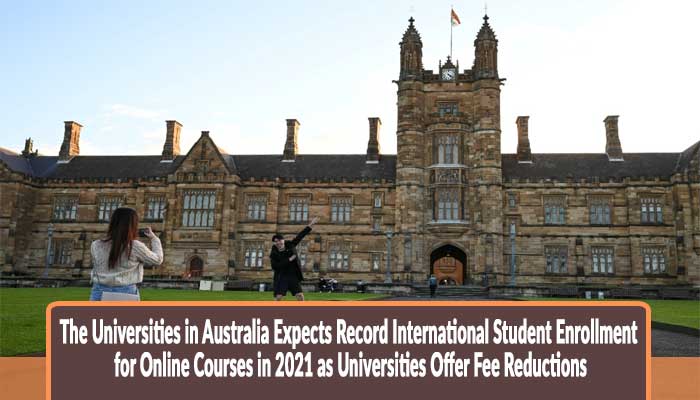 Despite an increase in Corona virus cases and border closures, Australia's higher education institutions are inundated with admission applications from foreign students. This increase in student enrollments is largely due to the tuition fee discounts which are offered to international students by many educational institutes of Australia.
A report suggests that Australia's University of Queensland (UQ) has seen a record amount of international student enrolments in 2021 for online courses. The universities of Adelaide and Newcastle are also offering up to 20% reduction in tuition fees for foreign students. Charles Sturt University is giving a 30% grant to foreign students who study in Australia but they have been impacted due to the Covid-19 border closures.
Almost 17,956 international students have enrolled in University of Queensland (UQ) for the first semester of 2021, this number is significantly higher than 2020 as only 14,000 international students enrolled in UQ for first semester of 2020. The research indicates that by 2021, the number of international students from China enrolling at University of Queensland has risen to 50%, even though there were many speculations that the Chinese government is prohibiting Chinese students from enrolling in Australian universities.
The University of Newcastle, on the other hand, has said that providing a 20 percent fee discount to foreign students has proven to be very fruitful for the institute, with enrollments increasing dramatically for the academic year 2021. Domestic postgraduate enrolment at Australian universities has also increased.
Border Restrictions in Australia
Due to the border restrictions in Australia, the University of Queensland has decided to facilitate the students, as international students are now eligible for a 12.5 percent tuition reduction at UQ. The university has ensured the students that they can study online until the border ban is lifted, once the restrictions end students will be able to come back to Australia and resume the courses in UQ. While addressing the current situation, Professor Deborah Terry, Chancellor of University of Queensland said that "The current numbers may be a trend they were witnessing prior to the pandemic. Last year, some students deferred their admission but now they have started to realise that they cannot bide their time. They are studying online with the hope that borders will reopen and they can experience on-campus learning. However, if the borders continue to remain closed, their viewpoint might change which might lead to decline in the number of students in the next semesters"
A report by QS has cautioned that the spike is due to pent-up demand from students who were unable to enrol in universities of Australia in 2020. It is also believed that if boundaries stay closed, the figures will fall in the future.
Study in Australia.
Australia is home to a number of world-class universities, many of which are included in the QS World University Rankings 2021. Australia promises a fantastic academic experience to international students. Moreover learning in a multicultural community encourages innovation, imagination, and critical thought. Here at studyabroad.pk you will find all the necessary information regarding study in Australia.
X
FREE STUDY ABROAD

Free study abroad expert advice