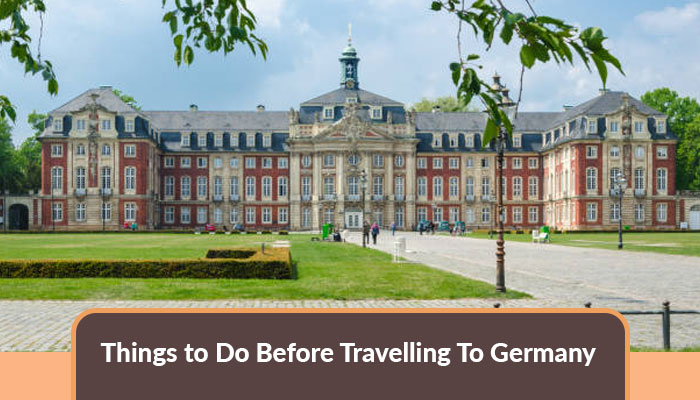 You finally got your German Student Visa? Excited to begin your study abroad journey in Germany? But wait, there are a few things you should take care of before departing for the Germany. In today's article we are going to discuss some things you should really do before travelling to Germany. Making these preparations will definitely help you during your stay in Germany. You won't face any difficulties and will be able to fully enjoy your study aboard trip by taking care of the following factors:
Book Your Flight Ticket
Book your flight tickets as soon as you get to know your academic program's starting date. Since ticket prices can sometimes be relatively high, you should find options that are within your budget. You must book your flight to the Germany at least two weeks before your class commencement date. You'll be halfway there after booking your travel ticket to Germany.
Plan Your Accommodation
You can find two kinds of accommodation in Germany as an international student. The economical option is student's residence halls and private housing, which can be more costly than the on-campus housing option. Like many international universities, German Universities do not promise students that accommodation will be available upon their arrival, they offer it strictly on a first-come, first-served basis. If you are planning to accommodate in student's residence halls we suggest to you apply as soon as possible by contacting your university in Germany. On the other hand finding an affordable private residence is not so easy. You should explore the private housing option over the internet before departing for the Germany.
Order Your ISIC Student Card
Before leaving for Germany order your ISIC Students Card, it usually takes 3 to 4 weeks for your ISIC card to arrive. The International Student Identity Card (ISIC) is a proof of your student status, it can get you discounts on your travelling tickets, insurance and lifestyle in almost 133 countries worldwide. If you are enrolled in a full time study program in any German university, you can order your ISIC Students Card by just providing your
Recent passport size photograph

Scanned copy proof of identity (CNIC or Passport)

A copy of full-time student status proof (University's acceptance letter or certificate of enrollment)
Download Essential Apps
Before heading to Germany, you should be aware of Germany's trends, weather, language and currency rates. You can download helpful apps on your mobile phone to save your money and time in Germany like
Download the map of Germany so you don't get lost there

Download the currency exchange and price-comparing apps to stay within budget

Download the translator app so you can understand and learn the German language

Also, download the money transferring apps; they will help you manage your fees and dues transfers.
Health Check
It's always better to get your health checked to avoid any health related issues during your journey, so meeting with a doctor before travelling to Germany should be on your list. You can get information about your overall health from the doctor, who can tell you if you need to take any vaccines or medications before going to Germany.
Packing For Germany
Packing is the most essential thing to do before any trip. Of course, you can't take everything with you even if you go to Germany for a long time. Pack smart!
Only pack essential items like your books, important documents, mobile phone and laptop.

Pack only a few clothes; you can buy extra clothes from Germany according to your need.

Avoid packing irrelevant stuff like decorations, sharp objects (scissors or blades), too many toiletries and jewelry etc.

Also, pack according to your hostel or dormitory's rules and regulations.
Inform Your Bank That You Are Going to Study Abroad
If you have a bank account in your home country, tell them you are going to Germany to study. By this, they will see whether you can use your account in Germany or not and if not, they will inform you of your options and the procedures that might be followed.
Contacts And Communication
Make sure that have all the essential contacts stored in your mobile phone before leaving for the Germany.
This will allow you to talk and communicate with your loved ones even from Germany.

Pakistan time is 4 hours ahead of Germany's time. Due to this time difference, it would be difficult for you and your family to communicate easily, so you have to decide an ideal time to talk to your family before departing for Germany.

Also research that which sim card and apps work in Germany, even though WhatsApp, Skype, Viber, Facebook Messenger works in every country but still it's good to have a backup.
Plan Your Transportation From Airport
Planning your transportation from the airport to your destination before departing for Germany is better. It will save you time and money. You can check the distance of your destination from the airport through online maps and decide which means of transportation will benefit you. You can book a cab or train ticket to reach your destination from the airport, although cabs always costs more than a train ticket. However, keep in mind that, fair also depends on how far you destination is from the airport.
Read Blog Posts Of Other International Students
Thousands of students go to study in Germany every year, meaning numerous students have been through the same experience as you are going to. It would be best to read those kinds of blogs online and not what former students have to say about their experiences studying in Germany and also note their tips because most of them never hesitate to offer advice.
X
FREE STUDY ABROAD

Free study abroad expert advice