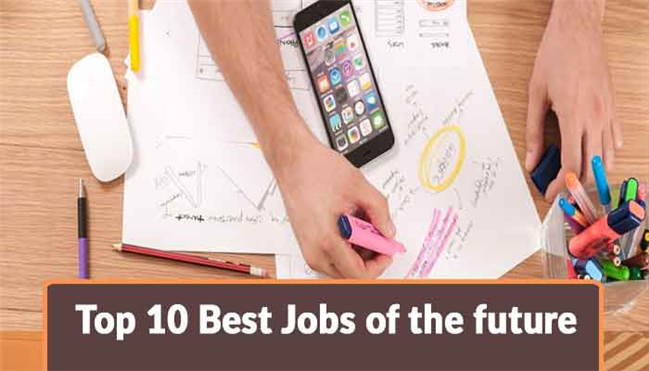 The major question asked by students that which field has a wider scope and what should I do to get the best Job. It is not necessary the jobs popular today remain popular for our youngsters. We should try to hunt the degree which is going to be the most popular in the future. Start your career building today and prepare for tomorrow. Studyabroad.pk is sharing the top 10 best jobs of the future and the importance of those jobs which are increasing day by day.
IT Experts:
This is an era of information technology. IT Experts are the most paid employees of this era. It is true that the IT industry is developing and in the future. Mobile application developers, UX designers, and other software developer jobs are increasing. It is estimated that more than 1million new jobs will be created in the IT industry for new graduates in 2020. Search top IT universities at studyabroad.pk
Marketing and Business development Jobs:
Every business now needs a marketing analyst and business development officer to grow their business. It is still the best Job and will remain the best job in the future. Every company needs marketing agents for the growth of the company. Marketing agents are highly paid in the companies.
Specialists doctors:
The world is facing many health issues. It is reported that even in a developed country like America, there is a lack of medical specialists. Medical specialists' doctors are highly paid throughout the world even in Pakistan and will remain highly paid in the future and will be future jobs.
Climate and environment control engineers:
Industrialization in the 20th century creates harsh effects on environments. Developing countries like India and Pakistan are facing the worst environmental conditions. To combat these conditions, every country is hiring an environmental specialist to analyze and control pollution. Find best upcoming careers at studyabroad.pk
Physical Therapist:
Physical therapy is a rehabilitation science. It is the most emerging field and the need for a physical therapist is increasing in the world. Many peoples are facing pain while movement and need proper health care and exercise. It is estimated that a physical therapist will enjoy the best jobs in the future. Find top scholarships of medical field here.
Cyber security specialists:
As the growth of information technology, cyber-attacks and hacking are increasing. Cybercrimes also include a factor of terrorism and scams. That is why every IT firm is hiring cyber security experts. Cyber security is a big issue of major organizations and government departments. So, a large number of cyber security specialists will be required by every company and will become top future jobs of the world.
Data Analysts:
The transactions in a large group of companies are so high that they need proper software to deal with it. A Data analyst needs to collect data, process it and find out the probabilities and demand of its customers. Data Analysts will be the highly paid employee in the upcoming year due to the rise in population and business. Data analysts will make best career in demand for the future.
Nurse practitioners:
Nursing is a highly demanded profession in the world. If you are a registered nurse, then you can easily get a job in any hospital or organization. Due to increasing health complications, Nurse practitioners demand is increasing. As per statistics of Labor, A nurse earns an average $107,000 yearly. Studyaboad.pk offers best scholarship opportunities abroad.
Biomedical technicians and Engineers:
The need for biomedical technicians and engineers are increasing due to the increase in technology. Now, nanotechnology and new surgical techniques are introduced in operations. The revolution in the medical industry increases the demand for biomedical engineers and operators. More than 2million new jobs are expected to be created until 2022 for these professionals.
Veterinarian:
Due to increase in population, the demand for milk and meat is increasing. Many people keep a pet at their home as family or status co. The need for veterinarians will increase in jobs due to the increase in meat and milk demand. Veterinarians will enjoy top future job opportunities.
X
FREE STUDY ABROAD

Free study abroad expert advice