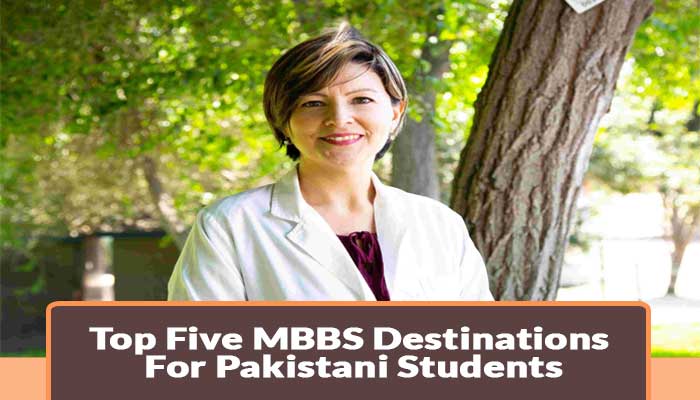 WHY STUDY ABROAD?
Getting an MBBS degree from abroad is a very common practice among Pakistani students. This is because an MBBS degree is universally accepted. Students in possession of an MBBS degree from abroad have ample job opportunities because their degree is accepted worldwide and they are certified to practice anywhere in the world. This increases the chance of getting much more exposure and experience, which will, in turn, increase their income. Moreover, studying at a university abroad offers students an opportunity to experience the diversity of cultural and ethical values, they also participate in various new activities and get to learn a lot. In this way, they start adapting to the new environment and gradually learn to adjust to different circumstances which enrich their lifestyles. Hence, they ought to serve their country much better.
THINGS TO KEEP IN MIND.
High tuition fee it is commonly perceived that studying abroad will be very costly. Although it is costly, it isn't as high as studying at a private university in Pakistan. If we see the amenities provided, the high-quality infrastructure and labs, etc. then this sort of investment isn't a bad deal! On average, the tuition fee in a local university will be $6000, whereas that of in an overseas university it will be $18000. Furthermore, the investment return is much more, and if you pass the initial screening test some cost-effective countries like Germany and Italy may provide free of cost medical education.
Cost of living; if you think that living abroad is not affordable, then you are wrong. There are some countries where the living cost is not high, and if you get a scholarship from your university then living won't be an issue. The living cost primarily depends upon the country you choose to study in, so do enough research before selecting your university and make a wise decision.
TOP FIVE DESTINATIONS TO STUDY ABROAD.
Here are some of the best destinations for Pakistani students, from where they can complete their MBBS degree and step into a world of a very bright future.
"Give Wings to your Dreams! Fly Abroad-Study and Succeed"
CHINA
China is among the most popular MBBS destination for students. China's degree is not only valid across the globe, but is also cost-effective. China offers two types of medical programs; 1) undergraduate program of 5 years + 1 year of internship. 2) 3 years program of MD (Doctor of Medicine). China's top-notch medical institutions are recognized by WHO, PMC, IMED, etc. the average cost of a 6-year program from China, for the year 2022 is about $4700. The accommodation facilities are also very affordable and are also available on campus.
China is indeed the best place to complete your degree because the country is equipped with the latest and modern technology and technically advanced teaching methodologies. Moreover, the language barrier is also not an issue because the medium of teaching there is English. Some of the top universities in China are; Jilin University, China Medical University, etc.
TURKEY
MBBS from Turkey is a low-cost study option for Pakistani students. Turkey is also a good option for Pakistani students because students remain in Asia, and near to their Islamic values since turkey is a Muslim country. On average you can study from turkey within a budget of $6000. Universities of Turkey are recognized by PMC and UNESCO. A degree from Turkish university is a gateway to a bright future. The Ankara University and Uludag University are some of the first-class universities of Turkey.
KYRGYZSTAN
MBBS in Kyrgyzstan is of 5-years long. In these 5 years, students attain not only theoretical knowledge but are also exposed to the practical world and various internships. Kyrgyzstan is also a cost-friendly place to study as the study expenses are not more than $500-$600. Moreover, the medium of instruction is English and the degree is recognized by PMC and WHO. The main attraction for students is that no entry test is required by the universities. The top universities include Asian Medical Institute, IMU, etc. Hence Kyrgyzstan is considered the center of excellence for education in Central Asia.
UKRAINE
The duration of the MBBS degree from Ukraine is 6-years, where students are exposed to the best theoretical and practical education. Ukraine is an affordable study destination for Pakistani students because of the low study cost and easy accommodation. The scholarships offered are also quite effective The average tuition fee per year is $4000. The degree is recognized by PMC, MCC, WCFMG, etc. some of the top medical universities are; N. Karazin Kharkiv National University, Kharkiv International Medical University.
Germany also offers quite budget-friendly medical degrees to its foreign students which are worldwide accepted. A regular MBBS course from Germany is usually of 6-years. Studying at a government university in Germany is very affordable, so the accommodation costs, usually range up to $300. Some of the top medical universities are; Heidelberg University, Lübeck University, etc.
X
FREE STUDY ABROAD

Free study abroad expert advice