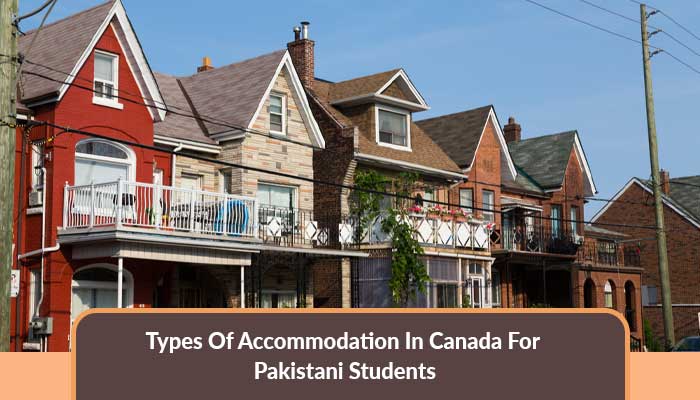 Canada is a popular destination for students looking to study abroad due to its high-quality education system, welcoming culture, and diverse student population. Finding safe and secure accommodation in a foreign country can be challenging, but it is essential for international students. Having a comfortable and secure place to live will help students feel safe and ease their shift to a new country. Same goes for Canada, many Canadian universities and colleges offer assistance to international students in finding a suitable accommodation for them in Canada. There are several accommodation options available for international students studying in Canada but they all sum up in two main categories:
On-Campus Accommodation

Off-Campus Accommodation
On-Campus Accommodation
Typically, on-campus accommodation is provided by the institution and is reserved for students who get admitted for the study program at that university or college. First year students often choose to live on-campus because it makes them feel secure and help them to make new friends. Many universities and colleges in Canada offer on-campus housing options for students such as
Dormitories

Shared apartments

Single rooms
Benefits Of On-Campus Accommodation
On-campus accommodation is located within the university grounds that's why it is easy to access the library and other campus facilities, and participate in campus activities.

International students who live on-campus can save a lot of time and money since they don't need to commute to campus.

Many on-campus residences have security features such as key card access, security cameras, and on-site staff, which can help international students feel safe and secure.
Way To Find On- Campus Accommodation
As an international student, you should contact the college or university's international students' office. They can help you find the best on-campus accommodation according to your requirements. If you like any on-campus accommodation option provided by your university, it is advised to book it in advance; there is no guarantee that the on-campus accommodation you like will be available when you arrive in Canada.
How To Apply For Accommodation In Canada
Follow the described steps for student's accommodation in Canada
Research universities/ colleges: Start by researching universities and colleges in Canada that offer on-campus accommodation for international students.

Check the accommodation options: Check the different types of accommodation available on campus, such as dormitory rooms or apartment-style suites.

Submit application for accommodation: Once you have identified the university or college that offer on-campus accommodation, apply for accommodation as soon as possible.

Pay the accommodation deposit: Once you have been accepted for on-campus accommodation, you will typically be required to pay a deposit to secure your spot.

Plan your move-in: Once you have secured on-campus accommodation, plan your move-in date and prepare for your arrival. Some institutions also offer orientation programs for international students to help you settle in and adjust to life on campus.
Off- Campus Accommodation
This type of accommodation can include rental apartments, shared houses or apartments, private residences, or any other housing option that is not owned or operated by the educational institution.
Benefits of Off-Campus Accommodation
Living off-campus gives you more independence and flexibility than living on-campus. You can choose your own living arrangements, set your own rules, and have more control over your daily routine.

Off-campus accommodation can offer more space and privacy than on-campus options. You may be able to rent a large apartment and have your own bedroom, kitchen and bathroom.

Depending on the location of your off-campus accommodation, you may have access to a wider range of amenities and services, such as nearby grocery stores, restaurants, gyms, and entertainment options.

Living off-campus can also give you more opportunities to connect with the local community, which can be beneficial for your personal and professional development.
How to Find Off-Campus Accommodation in Canada
To find a suitable off-campus accommodation in Canada for yourself from Pakistan, you can get help from the following given websites:
X
FREE STUDY ABROAD

Free study abroad expert advice