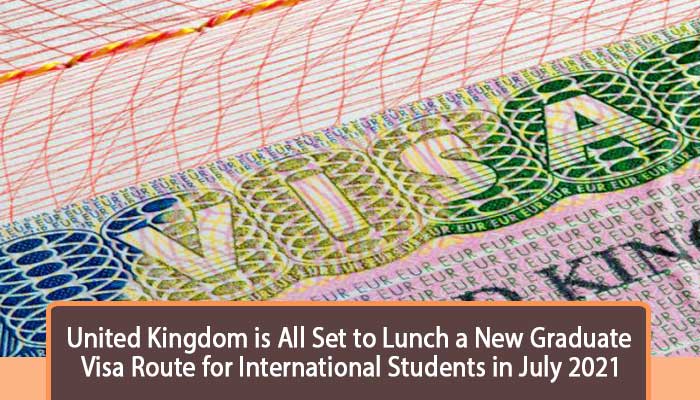 Studying in United Kingdom open up great work opportunities for you not only in England but anywhere else in the world. There are a lot of work options available for international students in United Kingdom, however if international students want to work in UK after graduating they might need a UK work visa or work permit which allows them to work in England for a specific period of time.
Thus, in order to facilitate and expand employment opportunities for overseas students, the United Kingdom has decided to launch a new graduate visa route for international students beginning July 1, 2021.
What is the Aim of the New Graduate Visa Route?
This scheme is part of the UK Government concession which they are providing to those international students who already have or who will be applying for the UK Student Visa to study in England in light of Covid-19 pandemic.
From 1st July 2021, international students who have successfully completed their Undergraduate, Master's or PhD degree from any higher educational institute of United Kingdom will be able to benefit from this scheme.
International students who have finished their undergraduate and master's degrees will be eligible to work in the UK for two years under this new graduate pathway, while PhD graduates would be permitted to stay and work for three years in the United Kingdom. During this time, students will be able to switch onto the skilled work visa if they find a job which meets the skills requirements of the UK Government.
What are the Details of the Graduate route?
In order to apply for this program, you need to have a valid UK student visa at the time of the application, in addition to this you must also have successfully completed your Undergraduate, Master's or PhD degree from any institute of UK.
If you are a student who will be graduating from any university of the United Kingdom after 1st July 2021 or started your studies in 2021-22 academic year, you will be able to apply for the New Graduate Visa Route.
Those students who are about to complete their degree in Summer of 2021, but owing to the Covid-19 travel restrictions they are unable to travel to England right now, such students have still not lost this opportunity as they are still eligible to apply for the New Graduate Route if they arrive in United Kingdom before 21 June 2021.
Your student Visa is not accepted for this program, as the Graduate route requires its own Visa application which is only possible to apply from inside the United Kingdom. You will also be required to pay the Visa application fee which is around £700 and the Immigration Health Surcharge at the full rate of £624 per year. Students will also need to know the Confirmation of Acceptance for Studies (CAS) they used for their most recent Student application in order to apply for the Graduate Route.
X
FREE STUDY ABROAD

Free study abroad expert advice