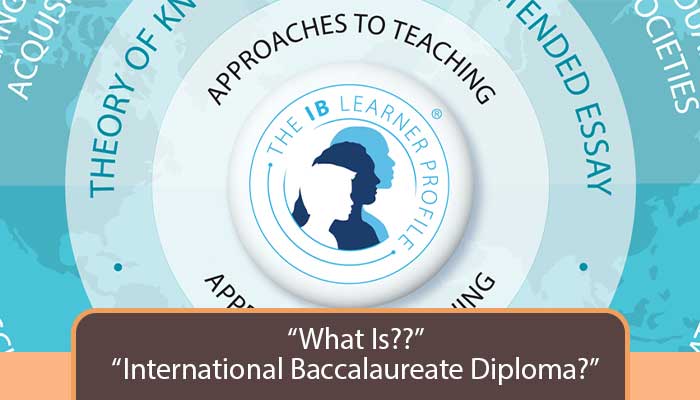 International Baccalaureate Diploma is a program that was established in 1968 and it is a program that has an age requirement of 16-19 years with the proclamation of completion in 2 years. This diploma program provides credibility internationally and an opportunity to have a recognized degree on per international basis.
The basic element is to provide the opportunity of good quality and internationally recognized higher education that is submitted as a worldwide range. Switzerland was the first country to welcome the International Baccalaureate Diploma with the guidance of some international educators.
140 countries teach the International Baccalaureate Diploma program. This diploma program is to make students vigilant and allow them to create eligible bases for themselves. International Baccalaureate Diploma has the beneficial authority to make their students excel and develop strong academic, social, and emotional characteristics. These Students often perform well due to the strong curriculum and creative impact.
Curriculum Of International Baccalaureate Diploma
This diploma promotes liberal arts and has certain advances with few statements, as this diploma proceeds with 6 subjects and candidates study 3 subjects concerning the credibility of higher level and other 3 at the subsidiary level.
The curriculum also has 3 essential components as follows:
Theory of knowledge

The extended essay

Creativity, activity, service
Subject Areas for International Baccalaureate Diploma
Studies in language and literature

Language acquisition

Individuals and societies

Sciences

Mathematics

The arts
Career Opportunities After International Baccalaureate Diploma
There was a time when Liberal arts was not considered as the Prior consideration, nowadays it's among one of the most recognized apprehensive. The quality of liberal arts studies has extended positively due to the diverse range which is implicated by the education departments.
International Baccalaureate Diploma has provided more diversity and expansion for liberal arts. There are many career opportunities to avail after the IB diploma and these career opportunities are available worldwide as this degree is internationally recognized. Here are some of the following careers that are applicable after the International Baccalaureate Diploma:
Teaching is known to be one of the most respected professions and it has a lot of diversity as many organizations acquire a teacher with beneficial credibility. You can opt for being a teacher in a school or college, you can also opt for education foundations, which work with a different education curriculum. You can also expand with a few years of experience. International Baccalaureate Diploma creates students with extensive knowledge abilities and subjective apprehension because they focus on a certain subject and its various aspects. Teaching is a source of eligible earnings.
There are many things in society that need attention and social workers are prone to work for the welfare of our society. Social workers are taught how to improve the well-being and life quality of vulnerable groups like children, youths, homeless people, or minorities. Here are many organizations that acquire social workers and you can also start your foundation. The salary basis of a social worker depends on the organization, some might pay a handsome salary while others might pay the need only.
Freelancing has been one of the fast-growing phenomena and it is altering our future with a good employment authentic abbreviation. Many organizations require freelance writers, or you can find clients through different applications. There are many work bases in freelance writing such as copywriting, scriptwriting, article writing, and many more. Freelancing writers earn an excellent amount.
The International Baccalaureate Diploma program teaches you several skills and one of them is critical thinking and analysis, which can help you in being an editor or publicist. You can always pay the most attention to the novel or poetry and edit it accordingly or as a publicist, you can accommodate the writer about the essential changes. Editors earn well with certain jobs, being a publicist requires some years of experience and expansion but it also provides an excellent economical outcome.
International Baccalaureate Diploma Program Develop Success In Employment?
Here are a few benefits of doing an International Baccalaureate Diploma in terms of employment:
You hold a strong ground on linguistic proficiency.

Your critical thinking and analytical skills advance.

Your social and communication skills also create a vigilant space.

You indulge in a strong work ethic and time management with responsibility and maturity.
Countries That Recognize International Baccalaureate Diploma Program
There are 75 countries that recognize the International Baccalaureate Diploma program and some universities also give out scholarship opportunities for students worldwide.
Here are a few countries that recognize and offer International Baccalaureate Diploma programs:
Australia

Canada

United Kingdom

Sweden

Austria

Russia

Spain

Philippines

Italy

India

Hong Kong

Peru

Finland

China

France

Germany

United States

Turkey
Cost Of International Baccalaureate Diploma
The general cost of an international Baccalaureate diploma is estimated to be 9000-11,650 dollars, depending on the variation and requirements of the country.
Each country has a different cost range and you can also avail scholarship for this program.
X
FREE STUDY ABROAD

Free study abroad expert advice