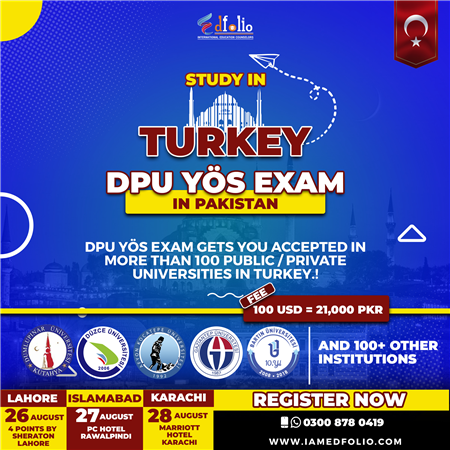 *DPU YÖS Exam*
The YÖS Exam is an entrance exam for Turkish Universities and almost all Public Universities require this exam for admission. DPU YÖS Exam is accepted by 100+ Universities. https://iso.dpu.edu.tr/…/dpuyos-2022yi-kabul-eden-ve-yosu-k…
Every University in this list will have different score requirements according to their programs. Students who are planning to study Medicine, Engineering, Arts, Business or any other program in Public Universities (Minimum Fee is60,000 PKR per semester) should take the DPU YÖS Exam.
The exam will be held in Pakistan on August 26th, 27th & 28th in Lahore, Islamabad and Karachi.
Registration fee for the exam is 100 USD = 21,000 PKR.
Consultant Info
X
FREE STUDY ABROAD

Free study abroad expert advice