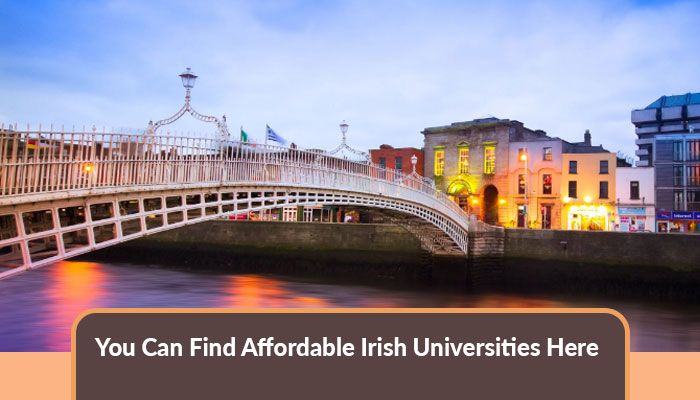 Ireland is one of the most stunning nation of the Europe and established its name by taking a special position in the British Island. The choice to study in Ireland is also a best option for many Pakistani students as Ireland universities offer each study course in affordable tuition fee structure.
Contents
> Why Ireland?
There are many reasons why Ireland is considered as best study destination apart from the fact that Ireland has universities with affordable fee. Some of the reasons are listed here
Education sector in Ireland is the main contributor to Ireland's improved economy.

Irish universities ranked among the best universities in the world

Almost 7 universities of Ireland ranked among top 10 QS ranked universities

Educational curriculum of Ireland rated 20th in the world

Programs offered for studies are diverse and have excellent international performance expectations
The forefront areas of rassrrch are
Social sciences

Economics

Electronics

Classics
> Benefits of Studying In Ireland
There are many benefits for international students who want to study in Ireland some of them are listed below
Ireland is enriched in affinity of nature, traditions, cultural values and literature.

Dublin has its special position in Ireland as it links with many other European areas and give an open access to students for other European schools.

There are 9 main government universities in Ireland

A number of good universities and schools are there in Ireland for higher learning

Along with tuition fee, living expenses in Ireland for international students are also very reasonable, students can expect to pay 600-1000 Euro per month.
> Application Process For Irish Universities
Student's age limit to apply for admission is 18 years

Admission process in Irish universities is not competitive, though different universities have its own admission requirements and criteria

Online applications are accepted

Teaching medium in Ireland is English, so students have to provide the proof of English language proficiency certificate (IELTS/ TOFEL)
> Top Five Affordable Irish Universities
University of Limerick
University College Cork
Dublin Business School
Griffith College Dublin
Trinity College Dublin
> University of Limerick
University of Limerick is one of the most popular affordable/ cheap university in Ireland. Some key facts of university are
Tuition fee: 1200 Euro
Total number of students: 16,000
International students: 2400
No of offered courses: 100 degree courses
QS World Ranking: Ranked among 500 universities
Key research departments: Engineering and Technology, Culture, Social Science, Education, Medical Science
> University College Cork
Tuition fee: 10,000 Euro
Total number of students: 20,000
International students: 2500
No of offered courses: 100 degree courses
QS World Ranking: Ranked among 500 universities
Key research departments: Faculty of Nursing and Wellness, Arts, Architecture, Trade and Legislation, Liberal Arts
> Dublin Business School
Tuition fee: 5000 Euro
Total number of students: 9,000
International students: 2000
QS World Ranking: Ranked among 500 universities
Key research departments: Areas of Law, Economy, Taxation, IT, Leadership and Neuroscience, Crafts and Film Studies
> Griffith College Dublin