IELTS test date and details of Peshawar is available here. Book your Test date in Peshawar online
IELTS Test Dates in Peshawar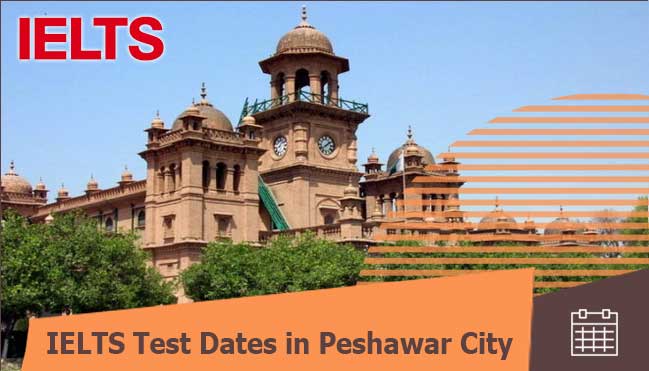 IELTS Test Dates in Peshawar
Our valued Pakistani students would already be occupied with study abroad planning and documents arrangement, for their aid we have enlisted the upcoming IELTS Test dates of the British Council in Peshawar and AEO upcoming test dtaes in Peshawar in the list below with details of fee.
Tips on booking IELTS Test Date
IELTS Test preparations take 8 weeks at most, so book your date after complete and absolute readiness for the test.

Booking for IELTS Test date in Peshawar can be made online or by visiting the test center.

There is a great chance of IELTS Test dates already being booked 15 days before the date's arrival.

Book your IELTS test date in Peshawar at least one or two months before your admission application deadline.

Cancelling the test date will cause you fine.

Your IELTS Test results will be ready within 12to 15 days for you to check online and your test taking agency will send the score to your university or professional institute or Embassy within more 12 to 15 days so book the test date according to the schedule of your requirement.

If the IELTS Test date is being already booked, you will have to wait in queue for another two weeks.

IELTS Test dates are taken on Thursdays and Saturdays, the Saturdays test date is always crowded and frequently booked.

There are two IELTS Test Formats such as Computer based and paper based, mention your chosen format of test clearly while booking for the IELTS coming test date in Peshwar.

IELTS Test pattern and value of certificate offered by both the British Council and AEO are equally accepted and recognized, it does not matter which organization you pick.

The IELTS General Training in Peshawar Version and Academic Test in Peshawar have different Test dates make sure for which one you have prepared and book the date according. The General Training IELTS Test Dates have occur fewer times in the year.
X
FREE STUDY ABROAD

Free study abroad expert advice