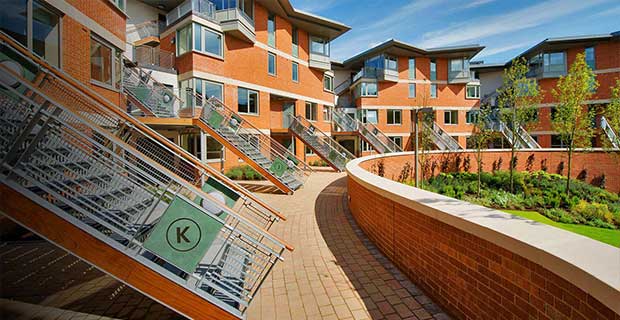 When Pakistani students have decided to study in China give a through consideration and time to search the right accommodation for your stay. The accommodation you choose to live will be your home abroad for few most important years of your life; you will make memories of lifetime and most probably it will be your first self managed home. China is densely populated country; there are suburban, exurban and rural areas. Each locality has its own renting costs and facilities but rest assured the costs will be reasonable and easy on your pocket. We have gathered required information in the guide below to give an overview of types of accommodation in China for Pakistani students:
On Campus Housing in China for Pakistani Students
China is not new to international students. Thousands of students travel abroad to China for academic purposes and Chinese universities do their best to accommodate them in any way possible. On Campus housing is the most suitable and affordable type of housing. Especially for the students who are visiting an unknown country for the first time. The on campus housing usually has two categories such as: Halls of Residence and Hostels.
Halls of Residence
The universities in China have arranged a well managed accommodation plan for international students. The halls of residence are usually built purposely to meet the requirements of students belonging from different countries. The halls of residence are located near to university campuses and you will be living among your fellow faculty mates.
Facilities in Halls of Residence
Furnished rooms

Free Internet

24/7 security

Air conditioning, heater, electric water heater in each room

Private bathroom in each room

TV set

Meals can be self catered or university provided
Communal Facilities
Kitchen and laundry room in each floor for all students

Study room

Parking lot
Single or Shared Room facility
The students are offered to rent a single bedroom or have shared bedroom facility in halls of residence. The rent will obviously be different but the facilities will be the same.
Cost
A single bedroom will cost 21900 RMB per year and shared room will cost 10950 RMB per year. The cities like Beijing, Shanghai and Guangzhou are expensive most in terms of housing. For booking, the authorities will ask for your Temporary Resident Permit of China.
Hostels
Hostels have almost similar facilities as halls of residence but they are managed by private student accommodation organization and have commercial purpose but they are affiliated with Universities and Colleges. You will find students belonging from different universities in one hostel. Since, they are management by private student accommodation organizations; you must be assured of aesthetically designed rooms and modern furniture in hostels. The hostels are also located near to major universities and colleges of China but not as near as halls of residence. To book a room at hostel, you can take assistance of your hosting Chinese University's accommodation department or rent it on your own. You will be asked to deposit rent of 3 months in advance as a security. The hostels have typically atmosphere of a dormitory but with less scrutiny of managers.
Facilities
Furnished rooms

Free internet

Gas, Water and Electricity bills will be included in rents

Meals self catered

Air conditioner, heater and electric water heater

Private bathroom in each room
Communal Facilities
Laundry (paid)

24/7 security

Group study rooms

Parking lot

Kitchen in each floor for use of all students
Single Room and Shared Room Facility
Similar to dormitories the students can take shared rooms or single rooms in Hostels. The rooms will have similar facilities but the rent will be half in shared facility. If you will enjoy company of a roommate and it is not odd for you renting shared room will save your money.
Cost
The cost of renting a single room may vary according to the location of your hostel and city in China. But on average the cost of single room will be ?50 RMB per month and ?25 RMB for shared room.
Off Campus Housing
The international students enrolled in post graduate programmes are allowed to live in off campus housing facility. To search an off campus housing facility, there are websites, real estate agents and even the international student department of your hosting Chinese university will assist in this pursuit. The location and city of your intended stay will be the factor behind monthly rent. To live in off campus housing facility knowing the city well is extremely important, it is not for those who are travelling to China for the first time. But if you want to stay off campus you must either know someone in China, have a friend or relative known to whereabouts of the country or you must stay in hotel for short term and then search for off campus housing. There are private flats, studio apartments and home stay options in off campus housing each has different facilities and monthly rents. After knowing China and making new friends that are reliable and trustworthy, many international students book an off campus housing facility with their friends and share monthly bills. That way they can divide their home chores, cut the cost to half and live independently.
Private Flat
A furnished three bedroom flat in cities like Beijing and Shanghai is expensive deal. To find one you can take services of your Chinese friends, real estate agents, and websites and news papers ads. Private flat is for those students who prefer private atmosphere and want silence to focus on their education. In on campus housing, the atmosphere is obviously crowded and there is limited freedom. But it has its own benefits. In a private flat you will definitely have freedom to do things according to your desire. Invite your friends at any time of the day or night you want. There is no restriction on your arriving and departing timings but the security is your own responsibility. You can cook your own meals per week and refrigerate it and do stuff according to your own wishes.
Facilities
Furnished rooms

Sitting area

Attached Bathroom with each room

Private Kitchen

Balcony

Laundry room
Cost
The costs of a private flat with one bedroom will b around $ 435 per month in urban cities of China. The bills of electricity, internet and gas are not included in rent. Besides monthly rent the students have to deposit 3 months' rent in advance and also pay certain amount to real estate agent as commission.
Studio Apartment
China is a fast paced and economically growing country. The infrastructures of the cities are modernly designed owing to the needs of working class people. You can find contemporary designed studio apartments in China quite easily.
Facilities
Two bedrooms

Sitting room

Balcony

Furnished house

Equipped kitchen and laundry room
Cost
The cost of renting a studio apartment in China will be around $ 435 /Month to $ 573 /Month. The internet, electricity, gas and water bills are not included in the rents
Home Stay
Home stay is in another off campus housing option for international students in China. The home stay ads for home stay accommodation will be found in websites, news papers and real estate agents can also assist you in finding one. Home stay accommodation is for those students who would prefer living in family atmosphere and can follow rules and regulations set by their hosting family. It is a great way to learn culture of China and hone your Chinese language skills. But before booking home stay accommodation keep in mind your privacy will be compromised and you cannot invite friends over to your place frequently as it might disturb your hosting family.
Facilities
Furnished bedroom

Private bathroom

Meals (depends on your hosting family)
Cost
The rent of home stay accommodation will be around $23 to $40 USD per night. The utility bills of electricity, water and gas will be divided from total bills according to your usage.
Tips to Book Accommodation in Abroad While You Study
Compare the rents in different locations of city and types of accommodation before finalizing

Don't commit to an accommodation that does not suit your living habits

Read the rental contract and terms and conditions carefully before signing

Confirm there are no hidden charges involved except than offered deal

Ask the real estate agents or student accommodation services to let you survey your accommodation before you make payment

Make sure the accommodation you have chosen contains your required facilities

If you are booking an accommodation which involves roommates ask the accommodation services to fix your meeting with your roommate so that you may know the person you are going to share facilities with

Make sure the area you have chosen to live is secure for an expat

Make sure the accommodation is near to public transport and central city

Keep the rental contract copy in a safe place.
Top Discussions on Study in China jasim - Malakand - 13 Jan 2018 Mehr Ullah - - 05 Jun 2018

Soft Consultant - Lahore- 14 Jun 2018 ali haider - Ghotki - 01 Feb 2018

StudyAbroad Admin - Lahore - 21 Feb 2018
X
FREE STUDY ABROAD

Free study abroad expert advice