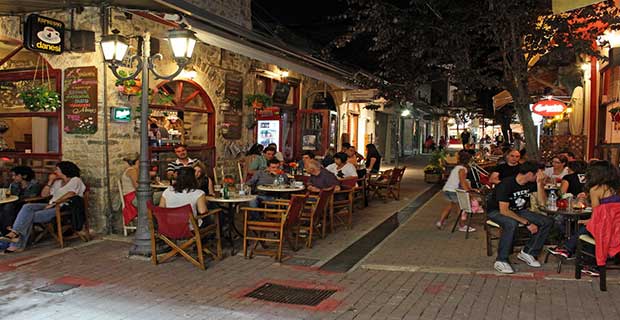 living: living section contains the options for the student of living and its cost
Choosing Greece as your study abroad destination is not that easy as before due to the financial crisis the country is experiencing. Non-EU Citizens have to face a lot of restrictions and limitations. Still, the country offers many bounties to international students. Hard working and genius students can survive comfortably with a lot of living benefits.
Student Cities in Greece
The best student cities include Athens and Thessaloniki which resides in many educational institutions. These institutes render the most classic and top-notch academic environment to the students. Moreover, these institutes and the city itself provide every facility to the study abroad students.
Pleasing Destination
Greece is a safe and secured country in the world. Furthermore, the pleasing climate of Greece has made this country one of the most favourite tourist destination around the world as well as the study abroad country.
Living Cost in Greece for Pakistani Students 2023
Living costs in Greece are also affordable if the student remains in its budget. It also depends on where the student is living. Big cities like Athens and Thessaloniki are expensive than smaller cities and towns. On average, a budget around €500 and €1,000 per month is required to spend an average life in Greece.
Accommodation Options and Cost
International students can choose their accommodation in Greece. The students should have to consider the following options like the distance, space and facilities available. These accommodations can be booked independently or through Greece university assistance. Students who want to live independently and want to interact with other foreign students, student residences/houses options are the best choices. These residences are available in varied dimensions on location. This accommodation, in fact, resides students of all ages and nationalities. This is the most economical option available
The average prices for student accommodation as follows:
Studios or one-bedroom apartment= 220-350 €

Two bedroom apartment=350-450 €

Three bedroom apartment=450-550 €
Health Care
The non EU international student requires a reciprocal agreement for free medical care with Greece. Before your departure, students have to purchase private health insurance. A good health insurance policy will cover you in every crucial period. However, EHIC cardholders can access the same healthcare as Greek citizens for the same price. In fact generally, it is free. Students who do not have an EHIC card should have to buy a health insurance policy that is valid for the duration of your studies in Greece. Health insurance will cost around €200 and €600 per year.
Student's Life in Greece
Life for International Students in Greece is pretty enjoyable. Students can benefit from a wide range of both on-campus and off-campus activities. There is no local or international criterion to enjoy these activities. These students are enrolled in various cultural and sports activities offered by the Universities. Most Universities have their own Sports Centers with gyms and everything is available at no cost. Popular activities include Tennis, Football, Basketball, Swimming, Dancing, Aerobics, etc.
Cultural Activities
Most universities reside in Cultural Society Clubs. These clubs encourage students with some artistic talents. These groups have found their cultural societies which include theatre, dance, cinema, photography, fine arts, music, chess, etc. These societies organize various cultural events like theatrical plays, music concerts, art exhibitions etc.
Student Activities
Every department of the university has a Student Union and all students belonging to the department have the right to register as members. These student unions cater to students' problems related to academic life or other issues The Student Unions are responsible to organize activities like debates, workshops, conferences, etc.
Transportation
Students in Greece generally hold an Academic Identity as the "Release Ticket": Through this ticket, students can avail
50% discount on the normal fare on all routes of the faculty cities

50% of the normal fare on road intercity routes between their place of residence and their city-based faculty

25% discount on travel by train (OSE).

25% discount on ferry tickets
Student Refractories
Higher education institutes have their own refractories and dining rooms. These refectories offer meals to their students. International students holding a scholarship can have this food for free, however other students can also have these meals at a very low price.
Cinemas and Excursions
Both national and international Students are eligible to receive a discount on cinema tickets. All they have to do is to show their academic ID at the theatres and cinemas. Moreover, these students can also avail discounts on their visit to Historical monuments in Greece and the Greek islands date. All these excursion sites across Greece provide usually free or reduced admission for all students.
Self-Financed Living in Greece
For students who are living independently or for graduates who are seeking jobs or have a nominal job has to bear the following expenses. Foreigners can experience both familiar and unfamiliar food in Greece. Foods, include cheese, olives and flatbreads. However, gigandes (lima beans in herb and tomato sauce), dolmades (vine leaves stuffed with rice) or saganaki (fried cheese in breadcrumbs) and Gyros are Greek specialties. A meal for two people generally cost 32 Euros, regular coffee is available for 3 Euros, water bottle for 0.5 Euro, I litre of milk for 1.5 euro and a dozen eggs cost around 3 Euros. The normal monthly transportation pass cost 30 Euros while apartment utilities will cost around 150 Euros per month. While an average monthly salary for a month is around 750 Euros.
X
FREE STUDY ABROAD

Free study abroad expert advice