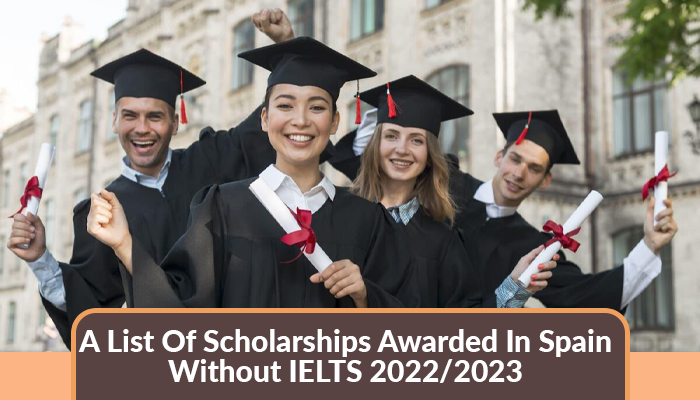 It became more difficult to apply for study abroad when there is lack of sufficient information. A number of scholarships has been announced in Spain which do not require IELTS/ TOFEL.
Quite a number of people around the world wish to get scholarship to start their study in abroad universities but simultaneously they have problems in getting these scholarships because several scholarships require IELTS to be eligible for certain scholarship. For the students who cannot meet the required criteria to get scholarship because of lack of IELTS scores. Here is a list of those scholarships in Spain which do not require any English language score.
Why Students Prefer Spain For Education
Spain is an affordable and ideal country for students, the reason behind this is its valuable education methods and facilities provided to students. Spain has a number of universities allocated as world's top ranked universities. So the students seeking admission in these top ranked universities can avail several opportunities in Spain.
Scholarship Awards Without IELTS
These scholarships are for each study level though it is bachelors, masters or doctoral degree. There are three categories of scholarships awarded in Spain.
Spanish Government Scholarships
Spanish Studies organizations
AIFA- American Institute of Foreign Studies
List of scholarships awarded in Spain is described here
CRG Internship Awards In Spain
This internship is for those international students who wish to complete their research in Spain on scholarship. For all the duration period of thesis and research, selected applicant will get 600€ per month. No IELTS is required for this internship award and educational transcripts will be required at time of application process.
Scholarship Offered By Atlantic University
It is a collaborated scholarship especially for undergraduate degree. Scholarship covers 100% tuition fee for those students who get admission in Spain in the field of computer science. Total number of awards decided for this are 20. Online applications are open now for this scholarship that doesn't require any proof of English language.
Granada University Scholarships
There are number of scholarships awarded by Granada University without requirement of IELTS. Some of scholarships are enlisted here
Visiting Scholars Program
Talentia scholarships
ERASMUS student scholarships
Spanish Ministry of Education's scholarships
Agha Khan Scholarship Programs Offered In Spain
Each year this scholarship provide full tuition fee waiver and living expenses to all those international brilliant students who are no able to get higher education because of financial issue of their developing countries. This scholarship is provided only to limited number of students for the start of their postgraduate studies without IELTS.
Scholarships Offered By Spanish Government
Government of Spain provide scholarship grants to international students. This grant is awarded for each study program either it is bachelors, master or doctoral study. Students who meet the criteria of admission for any degree at Spanish university get award of scholarship for their studies.
ERASMUS Mundus Joint Scholarship
This joint scholarship program invite international students to submit applications which do not require IELTS to get admission for masters programs who have done their bachelor's degree. Duration of this Scholarship award is two years. Scholarship award cover selected student's tuition fee along this provide stipend for health and accommodation. This scholarship is mostly announced by university of Granada.
Application Process For Spanish Scholarships Without IELTS
There is always an online process to apply for scholarship. Different universities which offer several scholarships have different requirements to apply. All educational and experience transcripts are compulsory and number of scholarships in Spain have no English language requirement.
X
FREE STUDY ABROAD

Free study abroad expert advice