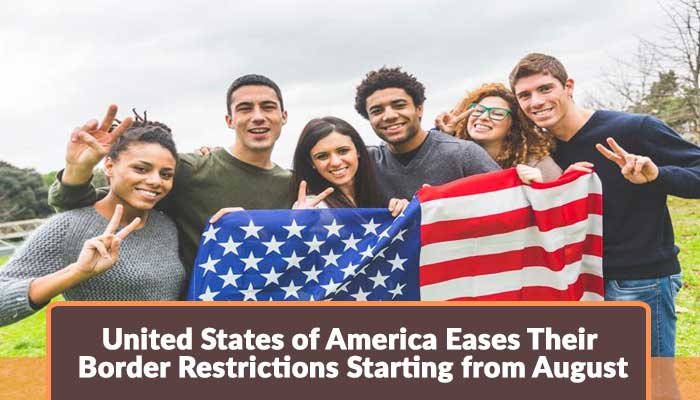 The Covid-19 pandemic has brought the whole world to a halt, and International education has been one of the most severely affected sectors by the pandemic. Since March 2020, all the international universities forced the students to return back to their home countries. Since the United States was one of the hardest hit nations by the pandemic, it enforced strict border policies for international students and citizens. However, border restrictions for international students have been eased in the United States. Beginning August 1, international students will be exempted from all Covid-19 travel restrictions, according to the US Secretary of State.
These exemptions will be available to international students from all countries with a valid F-1 and J-1 exchange visitor visas who intend to begin or continue an academic program in the United State beginning on or after August 1, 2021. This decision will immensely favour thousands of international students who are stranded due to travel restrictions.
How will this decision benefit the education sector of US?
United States was among those countries that saw a significant decline in the number of international students during the pandemic as the international enrollments dropped by 43 percent. However Juan Tavares, who is director of the Center for International Services at Syracuse University, has said that, "The news that the U.S. government relaxed travel restrictions in this fashion is benefiting a tremendous number of our students."
Currently, thousands of international students from different universities of United States are completing their courses by online learning while residing outside of the United States; however, it is now expected that students will be able to return to campus for a full in-person semester. This decision has been applauded by the international students, who reported that due to the academic pressure and a lack of proper guidance regarding their return to universities were negatively impacting their mental health. However, the issue remains for those students who are yet to apply for student visas, as they will be unable to take advantage of this chance to return to their ideal university life.
Study in United States of America
The United States of America offers a plethora of career opportunities for its international students. Being home to the highest number of international students, this country has rightfully earned the title of the best study abroad destination for international students. Quality education, a creative and unique curriculum, a multicultural atmosphere are only a few of the reasons why many international students choose to study in the United States. Here at studyabraod.pk you will be able to find all the necessary information regarding study in USA. Many study abroad consultants are available here to guide you about visa, admission applications and cost of studying and living in the US.
X
FREE STUDY ABROAD

Free study abroad expert advice