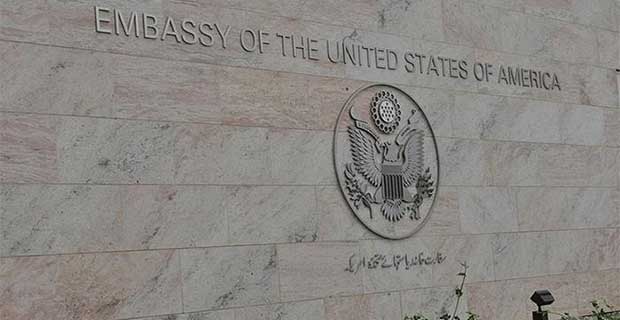 USA Study Visa From Pakistan
United States is the most popular destination chosen by the international students in order to pursue their education. However, once an admission is secured in a graduate or postgraduate program in an American university the next step is to obtain a student visa.
Types Of USA Student Visas
There are three types of visas and a student has to determine that he is need of which visa to obtain. Here is the description of all visas:
| | |
| --- | --- |
| Visa Types | Definition |
| F-1 Visa | The F-1 student visa is a type of nonimmigrant visa for individuals who wish to study in the U.S. as a full-time student. |
| M-1 Visa | The M-1 visa is a type of nonimmigrant visa in the United States that allows students to pursue vocational or nonacademic programs, including training in technical or mechanical fields. |
| J- Visa | This type of study visa is for participation in USA exchange programs. |
Whether you require a F-1 visa or a M-1 visa depends on your intended course of study and the kind of school you intend to attend like
F-1 Visa

M-1 Visa

For University/ College

Language training institute

Vocational and other non-academic training institutes except language training

Students need an F-1 visa if their course of study is more than 18 hours a week.

To be eligible for an M-1 visa, the student must be enrolled in an approved program, have sufficient funds to support themselves without working in the US, and have a residence abroad to which they intend to return.
Requirements For USA Student Visa Application From Pakistan
To apply for the F-1 or M-1 visa, students must submit the followings
Non- immigrant visa application form (DS-160)

Passport with at least 6 months validity

One (5*5 cm) photograph

Fee receipt of paying non-refundable 160US dollar visa application fee

An approved I-20 form issued by US university

List of siblings
Validity Of Student's Visa After Break In USA
If a student misses more than five months of class, they should apply for and be granted a new F-1 or M-1 student visa before they can resume their studies.
How To Apply For US F-1 And M-1 Study Visa From Pakistan
Complete the non- immigrant visa electronic form (DS-160)

Pay the SEVIS fee of US$ 350

Pay visa application fee: Pay the application fee of US$160 in any Allied Bank

Schedule/ book an online appointment, need followings for appointment confirmation

Your passport number

Receipt number from visa fee receipt

10 digit barcode (find it on the DS-160 form)

Go for interview to US embassy Islamabad on the given date and time
USA Study Visa Interview
Lastly the applicant is required to visit the United States Embassy or Consulate at the given time and date of the interview. Students need to be prepared for interview questions asked by US embassy member. However, there are certain documents which are mandatory for the applicant to bring along with themselves which includes the following:
Copy of appointment letter

DS-160 form

I-20 form

One photograph

Passport (current and old)

Original visa fee slips

Documents stating your financial status

Photocopy of ban statement

Academic documents
Here is a sample of US study visa fee receipt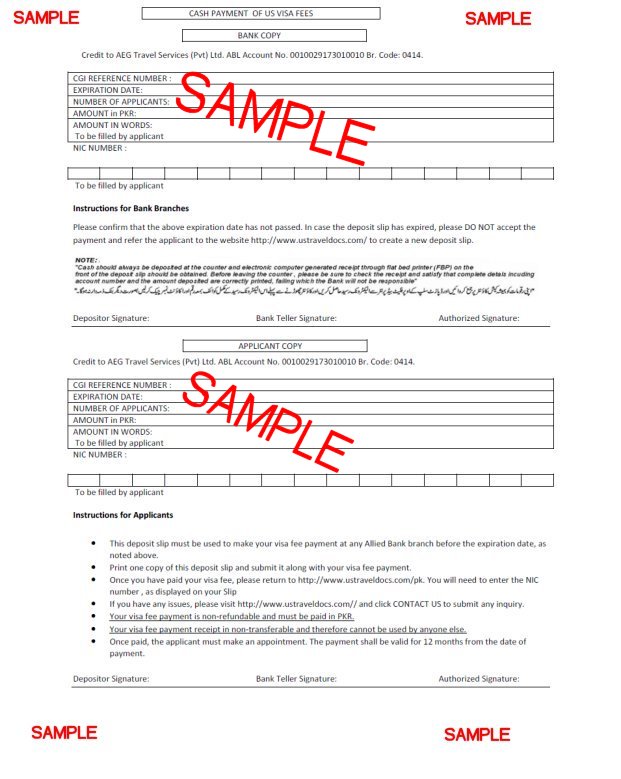 USA Study Visa Fees For Pakistani Students
All applicants must pay the $350 student and exchange visitor program (SEVIS) fee prior to submitting an application for a US study visa. To support the program office and the automated system that monitors students and exchange visitors and makes sure their status is maintained while they are in the US. As of US embassy in Pakistan updated the student visa fee for the year 2023, and the fee for a US student visa (F-1 or M-1) from Pakistan was $160. It is important to note that visa fees can change, and it is best to check the most up-to-date fee information on the US embassy or consulate website.
USA Study Visa Appointment Time
The U.S. Embassy or Consulate works to process all applications as quickly as possible and minimize the wait time for appointments. Having said that, the earlier you schedule your appointment, the more probable it is that you will be allowed to choose the date and time of your interview.
USA Study Visa Processing Time From Pakistan
Although the average processing time for a visa is five working days, processing times for particular cases can vary depending on the circumstances of the applicant and any additional special requirement.
Additional Information
What is Form DS 160?
Form DS -160 is a nonimmigrant visa application which is electronic. It is the mandatory online application form which is used to collect all of the integral information for those who are seeking nonimmigrant visa for temporary visit to US. It is submitted online to department of state through online portal subsequent to which the information filled in the firm is utilized by the consulates for the progression of the visa application. The information which is provided in this form is co related with the information gathered at the interview by the applicant.
X
FREE STUDY ABROAD

Free study abroad expert advice