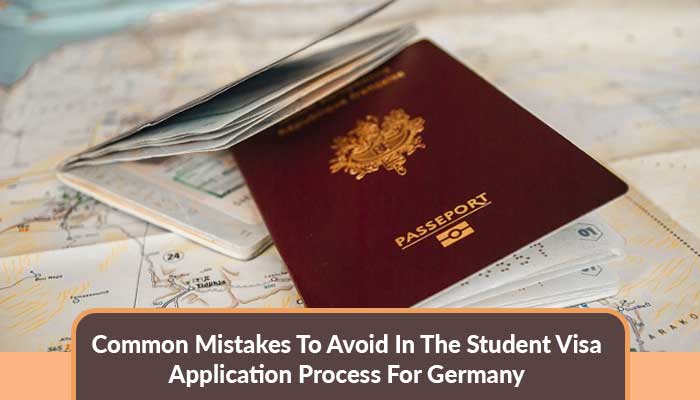 Germany is one of the many countries known for studying abroad. Due to its proven academic excellence and befitting career opportunities, it has become a popular choice among students. Students who look forward to studying abroad in Germany are required to provide a list of documentation which includes student visa applications as well. A student visa application grants you legal permission to live and study in a foreign country for your degree duration.
However, a student visa application has certain requirements for applicants. Candidates who apply for student visa applications must know that the university reviews their applications, and a decision of acceptance or rejection is made accordingly. Sometimes visa applications are rejected due to some minor mistakes. In this article, we would like to inform our readers of some common mistakes and how they can avoid getting their student visa applications accepted.
1. Incomplete Documentation
Applicants are required to fill in their student visa application clearly and attach all the mandatory documents. Each of the document required in the visa application holds a great importance which is why it is highly essential to keep the list of documents in check. One of the easiest ways to keep all the documents is to make your own check list of the documents for Germany student visa application. You can keep track of the documents by staying organized this way. You do not want to get your visa application rejected by missing any one of the documents.
2. Poor Academic Performance
Germany is one of the highly regarded countries when it comes to education. Students must be informed that they are required to be skilled enough to get the enrollment chances higher. However, when you apply for the Germany student visa there is not much you can do to change your previous grades however, you can perform well in your visa interview at the German embassy. You can deliver your best and prove the embassy that you are motivated and encouraged enough to study at one of the finest places in Germany. If you are able to impress the embassy during the interview you could get your chances higher for student visa acceptance.
3. Not having enough expenses
When you are applying for a student visa application in Germany one of the basic requirements is to give a proof of your finances. The country you are applying for requires proof that you have enough expenses to be eligible enough to cover your fees, accommodation, and all other finances during your studies. When it comes to Germany, students are required to open a blocked account. Not having enough expenses is one of the requirements that could lead to visa rejection, which is why you must ensure that you fulfill this requirement and avoid financial instability.
4. Language Requirement Barrier
Germany offers degree programs mostly in German language which is why candidates are required to submit their proof of their language test. Since, German is required in the universities it is expected that your interview might be conducted in German language as well. However, if you are not able to communicate well during the interview you might be disregarded from getting that student visa application for Germany. Candidates can simply avoid this by practicing German language and must be able to communicate well in English as well to stand out. And score the required score in their language tests.
5. Selection of a Degree Program
The degree you apply for plays a vital role in our acceptance as well. If you are applying for a master's degree that is not well relevant to your former education the embassy might have to rethink your application. As not continuing your former education might seem that you are not confident of your career choices which can lead to our student visa rejection. However, if you have some authentic reasons for not pursuing your former education you must provide authentic and credible reasons during the interview to avoid visa rejection.
6.Poor performance during the Interview
The Interview is the most essential steps to get the student visa application accepted. However, if you fail to answer the questions or fail to impress the visa officers you might get your student visa rejected. To avoid this, applicants are advised to talk to some people who have been through the same process to get some ideas. Furthermore, you can practice the most common questions to be well prepared.
* To sum it up, candidates are required to fulfill their visa application with all the authentic and complete information and must not miss any mandatory documents. It is one of the vital steps which could define your future, which is why you need to avoid all the mistakes and get that visa application accepted.
X
FREE STUDY ABROAD

Free study abroad expert advice