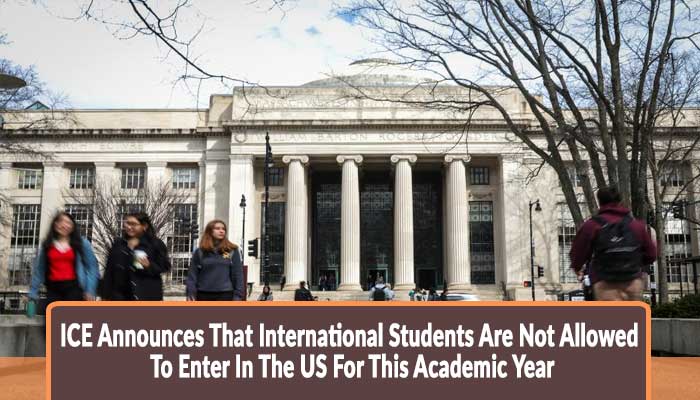 International students who are enrolled in the US universities, that are offering only online courses, are not allowed to enter the US for this current academic year, said by ICE. According to the latest guidance announced by The US Immigration and Customs Enforcement's (ICE) agency, it's been confirmed that international students with the status of nonimmigrant students in new or initial status after March 9 are not allowed to enroll them in the US schools for the fall semester to start their full course of study that is entirely online.
The agency warned against the designated school officials dispensing Form 1-20s to foreign students residing outside the USA and are planning to take fully online classes.
Universities Preparation For International Students
The US universities have confirmed their plans for the fall semester. However, Harvard University has already declared the decision of conducting fully online classes. It has seen that on July 23rd, there are four million confirmed Covid-19 cases were recorded in the US and from 50,000 to 70,000 cases are increasing on a daily basis. Under these circumstances, it would be difficult for universities to arrange in-person classes for international students. The decision is taking under the fear of the further spread of the virus among the large community of international students.
International Students Preparation and Decisions
Most of the international students who were planning to start their studies in the fall semester are thinking of deferral their studies until the January semester because they are not willing to start online classes. A consultant who is offering overseas education consultancy and career counselling said that undergraduate students may accept the option of starting online classes for the fall semester, however, graduate students are not so willing.
He further said that undergraduate students, who will complete their studies in four years, do not mind to start online classes. This is because if they would study online classes for the 6 months then they have three years and six months more to pursue in-person studies. Although, postgraduate students are not so satisfied with this decision.
Besides these situations, students are also worried to travel in such a country which is at high risk due to Covid-19. Moreover, there are travelling and healthcare issues are also facing by international students. Under this situation, most of the students are thinking to postpone or delay their fall semester to get a full study abroad experience.
Bottom Line
Well, it is not so confirmed that to what extent the international students would suffer from these harsh circumstances. But, it is hoping that from the next academic year or January semester the things will be revised and students would be allowed to enter the US to pursue undergraduate and postgraduate studies. For all other updates regarding study in the USA and immigration policies for USA student visa, all the students are advised to keep visiting Studyabraod.pk, where they can get all the updates daily.
X
FREE STUDY ABROAD

Free study abroad expert advice