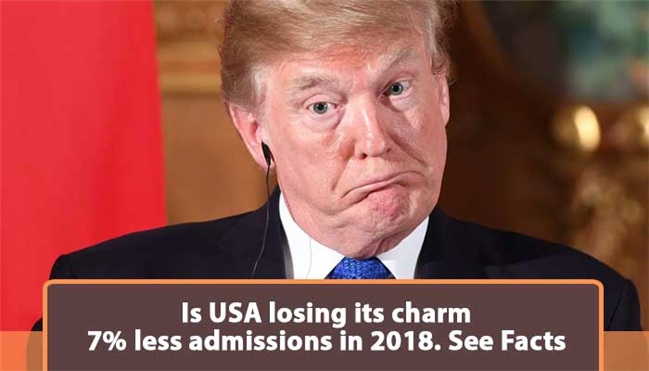 According to the recent survey in America, last year a deficit of 7% in the numbers of international students occurred in higher educational institutes. It is still the continuous process in this year too, American Higher education colleges and universities are facing a constant deficit in the number of international students. Due to this reason, the American Economy faced a great loss of 42 Billion USD.

Simon Marginson, an expert about foreign students' relations, from Oxford University says that "Trump Management" is the only reason behind this decrement.

Political Environment
For this purpose, International Institute of Education that does surveys every year on interests of foreign students' asks "What reasons do not allow you to apply for enrollment in American Universities?" political affairs, practicality issues, and affordability were the main reasons shown by them.

Strictness in Visa Application was known to be one of the major issues. But, most of the people said that political and social behaviors are also core reasons behind this deficit. People were also claiming about affordability and non-safe environment of America. Countries from which students are losing their luster to study in America, including India, South Korea, Mexico, and Saudi Arabia.

But, western students are not exceptional in this case. Anyhow, England, Germany, and France, the American Collaborative countries, are also listed.

The most vivid element, in this case, is that from the past few decades the constant tendency of foreign students towards America is going to be falling.
Soft Power
America has been the most dominant one to attract foreign students for higher education for years. During the 80th century, there were only 50 thousand foreign students counted. From the 8th century, continuous growth comes to see after year and year. This growth was ten times more in the 20th century and there were 5 lac students were counted in this era. In the year of 2015, American and Foreign students reached 10 lac in numbers.

It bestowed worthwhile financial benefits to America. Besides this, it helps America a lot to show its great influence and it becomes one of the most precious and prominent countries around the globe.

Another reason behind students' tendency towards America is the specific schemes which allowed foreign students to stay there for at least 03 more years after the study. Students were allowed to earn money and experience both during this stay.
Dependency on China
From the last two years, there occurred a great decrement in the number of international student in America. It could be more if there were no Chinese students in America. Now, Chinese students are large in numbers as compared to other foreign students.

Within the duration of 2000 to 2018 Chinese Students have reached from 60,000 to 3 Lac and 60,000. The subjects for which Chinese students are showing keen interest are comprised of Science, Technology, Mathematics, and Business etc. Chinese students are adding billions of dollars annually in the American economy.

According to Marginson, director of the Center for Global Higher Education, if the controversies about immigration and business wouldn't be stopped, it will lead to a great disaster for American higher Educational Organizations.
X
FREE STUDY ABROAD

Free study abroad expert advice