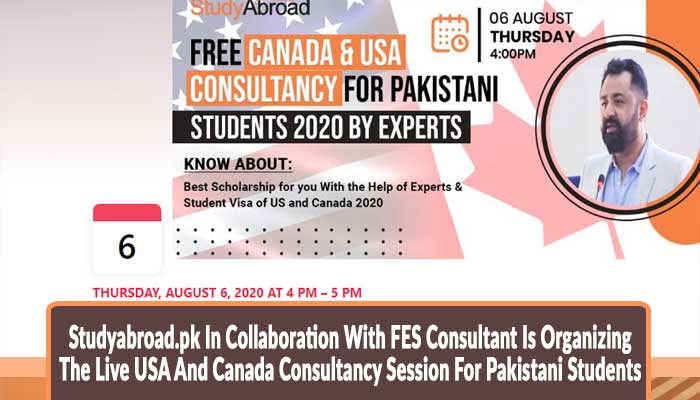 Studyabroad.pk in collaboration with FES consultant is going to organize a live consultancy session on Facebook. In this session, the experts will discuss the USA and Canada study applications procedure for the Pakistani students who are looking to start their study sessions in the USA and Canada in this upcoming study session.
Studyabroad.pk has the aim to facilitate the students through proper consultancy who are interested to start their higher education in the worlds' renowned study abroad destinations. Due to the Covid-19 pandemic, the study abroad processes are revising by the authorities and, at the same time, students are still under the ambiguity that how to secure their admissions in USA universities and Canadian universities.
How To Join This Live Session
Students are advised to join the session through the official Facebook page of Studyabroad. The session will be begun on Thursday, August 6th, 2020 at 4 PM.
Why Join This Live Session
By joining this live session students can kill several ambiguities that are making them unclear regarding their study in the USA and study in Canada. The CEO of FES Higher Consultants Pvt. Ltd. will be the main spokesperson who will guide students in many aspects to secure their study applications. During this live session students can freely ask about the following ideas:
Students' Profile Status

International Universities

Study budget for USA and Canada

Study visa Process and Visa Cost

Undergraduate and Postgraduate Scholarships 2020

Student Residency

Work Permit while Study

PR and Citizenship Criteria for International Students

IELTS and IELTS score

USA and Canada Dealing with Covid-19 situation for International Students
Apply For the USA And Canada Study Applications
FES is one of the main and leading study abroad consultants in Pakistan. The experts through this platform are not only making the students aware of the study process for the USA and Canada but they are also working to apply safe applications of studies to secure their admissions in their desired study programs in their desired universities. So, join Studyabroad today to make the destination of your dreams true.
X
FREE STUDY ABROAD

Free study abroad expert advice