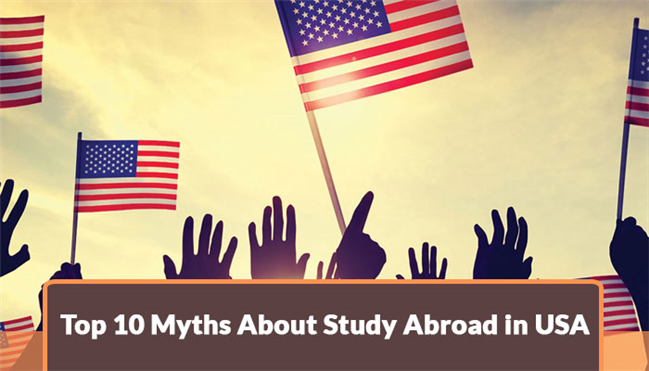 Every student in Pakistan dream to get admission in USA, but there are certain myths due to which his fear not let him to do anything. We are discussing here at studyabroad.pk, the top 10 Myths about study abroad in USA which create problem for the student who wants to study abroad.
Myth1:
It is too difficult to get admission in USA: Many students think that it is not even easy to enroll their choice of course in universities of USA, this is the top myth due to which many students failed to apply in USA and lose their hope to study in USA.
Myth2:
Study in USA is much expensive: There are many scholarships available in USA which can be availed by any student. Many universities also offer 50-80% tuition fee waived. Living expenses can also be overcome by part-time jobs. So it is not much expensive as we thinks.
Myth3:
I don't have Good IELTS or TOEFL scores: IELTS scores matters a lot but some universities also compromise if you have 7 or 7.5 Bands. You can easily get admission in USA in any good institute. You just need to pass your IELTS then search universities which match with your score.
Myth4:
Living in USA is dangerous: The recent wave of racism in USA make students fear about studying there, but you will overwhelmed to know that 5% of world international students study in USA. You need not to worry as you will find students from every race in USA.
Myth5:
Only study after bachelor can go in USA: Many students thinks that we can go in USA if we have bachelor that is a common myth, everyone can apply to USA even after Intermediate. You just need to score well in your IELTS and then apply in your desired university.
Myth6:
International students in USA not supported outside classes: It is another myth about studying in USA which is totally wrong. In USA, every college has its international offices which support its international students, even there are many seminar arranged in universities to create harmony between local and international students.
"Study in USA helps finding friends from all over the world."
Myth7:
I will be alone there: Studying in USA is nice experience for every student. You not only meet there with your Pakistani fellows but also students from all over the world. Making friends from all over the world is possible only in USA.
Myth8:
Studying in USA is party rather than study: Many students think that course of study is much relaxed in USA that you choose your choice of subjects and even attendance choice is also yours that mostly students there party more rather than study. Fact is that they play with the psychology of students and groom students in such a way that student participate fully in its studies as well as extra-curricular activities.
Myth9:
On-campus hostels have too many rules: It is another myth which is wrong. On-campus hostels in USA have same rules as in other countries or nations. Rules are made to provide learning environment to students and also protect the rights of all the members of the university. These laws are as same in any Pakistani on-campus hostel. So, one should not be afraid of such rules and regulations.0
Myth10:
I must leave USA after my studies: Many students think that they must leave USA after their studies. It is not true as it is sometime difficult to find job in USA but many students find their job and work visa. The only thing which is needed is proper planning and consultation with experienced persons.
X
FREE STUDY ABROAD

Free study abroad expert advice