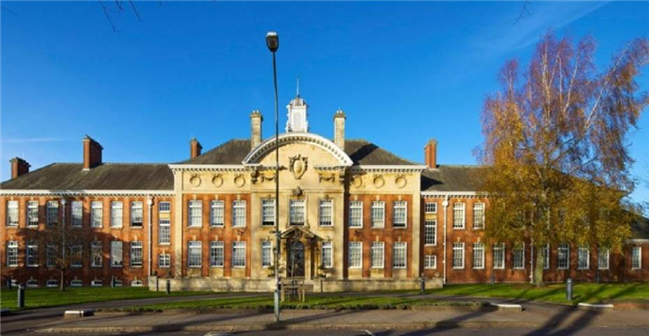 A delegation from University of Northhampton calls on Federal Minister for Law and Justice Dr. Barrister Muhammad Farogh Naseem in Islamabad. The delegation is here to sign a collaboration agreement between University of Northhampton and Shaheed Zulfiqar Ali Bhutto University of Law (SZABUL). The agreement is expected to be finalized soon.
Prof. Hastings McKenzie, Dean Academic Partnerships along with the delegation of (UoN) and Justice (R) Qazi Khalid Ali, Vice Chancellor-SZABUL attended the meeting. According to details of agreement revealed to the press, University will collaborate with SZABUL in providing quality education to Pakistani students of LLB and LLM.
In this 3 year agreement, LLM program is expected to start in June and LLB in September next year. Students will have an option of studying one year of this course in UK University. For the students who would to study in UK after the one year program, an additional six months visa will be granted.
Prof. McKenzie also assured that this scholarship program will be more financially accommodating than those offered in the past. The Federal Minister for law appraised the efforts of the delegation from UK University for introducing this program which will make the attainment of study visa for Pakistani students in UK easy.
University of Northhampton was established in 1999, but has gained a reputable position among top Universities of UK. It was ranked highly at Gold in the Teaching Excellence Framework (TEF). University of Northhampton was shortlisted for Outstanding International Strategy in November 2011 by Times Higher Education Leadership and Management Awards.
Pakistan law is still consisted of laws enacted by British Raj in subcontinent such as: The Code of Civil Procedure, 1908, The Income Tax Act, 1922, The Frontier Crimes Regulation, 1901, Companies Act, 1923, Contract Act, 1872, Charitable Endowment Act, 1890, Electricity Act, 1910, Destructive Insects and Pests Act, 1914 and Dramatic Performances Act, 1876. Therefore, for law Pakistani students the best foreign study destination can't be other than UK.
Margaret Thatcher, Benazir Bhutto, Barack Obama, Mahatma Gandhi and Quaid-e-Azam were all law graduates. If history is to be believed, the law graduates have reformed their countries for a better future. The lawyers uphold justice system of the country, there qualification and skill is matter of the nation.
Law is one of the oldest and most important academic fields. The need of quality education for future lawyers is necessary. Such collaborations are commendable initiatives, which can lead our nation to a better future.
According to The Guardian University League Tables 2018 and The Times University Rankings 2018, here is the list of Universities having best law departments:
Cambridge University
Oxford University
Queen Mary University
Durham University
London School of Economics and Political Science (LSE)
Dundee University
University of East Anglia (UEA)
Leeds University
York University
University College London (UCL)
King's College London (KCL)
Edinburgh Napier University
London South Bank University
Queen's University Belfast
Kent University
Manchester University
Nottingham University
Essex University
Glasgow University
Bristol University
Kent University
Sheffield University
X
FREE STUDY ABROAD

Free study abroad expert advice