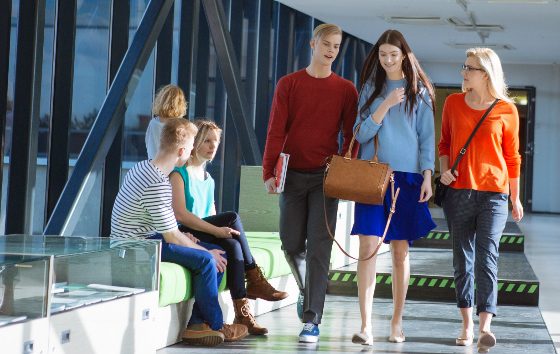 Studying in abroad is academically and personally enriching experience which opens multidimensional career paths for students. Estonia aka Silicon Valley of Europe is land of opportunities and well heeled country which is a European Union member and a Schengen State. Estonia has high standards of living, world's best air quality, affordable living cost, safe and sound environment and digitally advanced society. An average amount of 350 to 500 Euros is required for a student for his/her monthly expenses including residence, food and travel costs. Estonia's higher education institutes hold well esteemed reputation in Europe and countries beyond; the admission requirements of Estonian Universities are not much competitive either. Affordable cost of living merging with permission to work part time without needing any further permit besides student visa, studying abroad in Estonia is definitely an adequate decision. The students who are currently estimating the cost of study and living in Estonia can take information from this section:
Study Expenses in Estonia 2021 for Pakistani Students
The tuition fee for each study programme and academic level is different at Estonian Universities. The medicine, veterinary, law and business administration courses are most expensive courses whereas the arts related courses are least expensive. The courses offered in Estonian language are low cost whereas English taught courses are high cost. Doctoral studies in Estonia are totally free of charge in fact the PhD students are granted monthly stipend and other benefits for their duration of study programme in Estonia. The tuition fee is also different for EU natives and Non-EU natives. The average tuition fees in Estonian Universities at various academic levels are as follows:
Under Graduate Study Programmes Fee in Estonia:
Business Administration Study Programme: 1700 Euros per semester

Innovation and Technology Management: 1700 Euros per semester

Quantitative Economics : 1870 Euros per semester

Liberal Arts and Social Sciences: 1500 Euros per semester

Film and Media: 1900 Euros per semester

Law: 2176 Euros per semester

Liberal Arts and Humanities: 1500 Euros per semester

Medicine: 5500 Euro per semester
Post Graduate (Masters) Study Programmes Fee in Estonia:
Anthropology: 830 Euros per semester

Software Engineering: 6000 Euros per year

Literature, visual culture and film studies: 830 Euros per semester

Computer Science: 3000 Euros per semester

International Relations: 1480 Euros per semester

Law: 1750 Euros per semester
Post Graduate (PhD) Study Programmes Fee in Estonia:
PhD courses are totally free of cost in Estonia regardless of student's nationality. A monthly amount of around 380 Euros is granted to PhD students in Estonia.
Living Expenses in Estonia for Foreign Students 2021
Estonia is beautiful country that has vibrant cities and modern day living culture. It has population of around 1.3 million one third of which are habituated in its capital city Tallinn. The monthly amount required to be shown in bank statement as proof of finances for a foreign student taking admission in Estonia is 380 Euros per month. An amount of 380 to 450 Euros per month is required by one person to stay in Estonia including residence, food, entertainment, and other necessities and travelling. Estonia which is the northern most country among Baltic States has purest and cleanest air quality in the world and has plenty of adventure destinations for students to visit during weekends and seasonal holidays. Moreover, due to affordable cost of living and part time working permission, students can save a substantial amount of money for their tuition fee payment and travel tourist and adventure spots at the same time. The minimum monthly wage in Estonia is 580 Euros per month so by this average it is an inexpensive country for foreign students.
Accommodation:
Majority of international students studying abroad in Estonia reside in university provided accommodation which is near central cities, university campus and public transport and the most affordable option. Private accommodation options have different monthly cots based on location and facilities. The average accommodation cost in Estonia is estimated as:
University Dormitories: 120 – 250 EUR per month

Two rooms apartment near central city: 300 to 400 Euros per month

Two rooms apartment outside city center: 300 Euros per month

Three bedrooms apartment outside city center: 520 Euros per month

Three bedrooms apartment near central city: 800 Euros per month
Food:
Basic menu meal for one person in an expensive restaurant: 7.25 Euros

Basic menu meal for two persons at mid-range restaurant: 40 Euros

Combo meal for one person at fast food restaurants as McDonalds and McMeal: 6 Euros

Half liter water bottle: 1.13 Euros

1 liter milk bottle: 0.73 Euros

Loaf of fresh white bread: 0.71 Euros

1 Kg White Rice: 1.18 Euros

Dozen eggs: 1.37 Euros

1 Kg Local Cheese: 6.88 Euros

1 Kg Boneless Chicken Breast: 5.29 Euros

1 Kg Beef Meat: 7.34 Euros

1 Kg Apples: 0.93 Euros

1 Kg Bananas: 1.75 Euros

1 Kg Oranges: 1.34 Euros

1 Kg Tomatoes: 1.79 Euros

1 Kg Potatoes: 0.40 Euros

1 Kg Onions: 0.44 Euros

1 Kg Flour: 0.6 Euros
Transportation:
One way ticket of public transport: 1.50 Euros

Monthly travel pass of local public transport: 23 Euros

Taxi Tariff of 1 km travel: 0.60 Euros

Taxi 1 hour waiting tariff: 11 Euros
Other Expenses:
Utility bills (Electricity, gas, water, heating): 172 Euros

Internet 60Mbps speed connection: 21.94 Euros

1 min call tariff of prepaid card: 0.4 Euros

Cinema ticket for one person: 7 Euros

Fitness club membership for one person monthly cost: 42.96 Euros
Health Insurance Coverage:
A student intending to study in Estonia for a full time study programme has to purchase health insurance coverage before arriving to Estonia. The health insurance coverage can be purchased from your hosting university's sources or through private agencies. The health insurance coverage must be valid till your entire duration of stay in Estonia. For Temporary Resident Permit of Estonia for Study Purpose a student has to provide a proof of at least 30,000 Euros worth health insurance purchased package.
X
FREE STUDY ABROAD

Free study abroad expert advice