Study abroad in Estonia for Pakistani students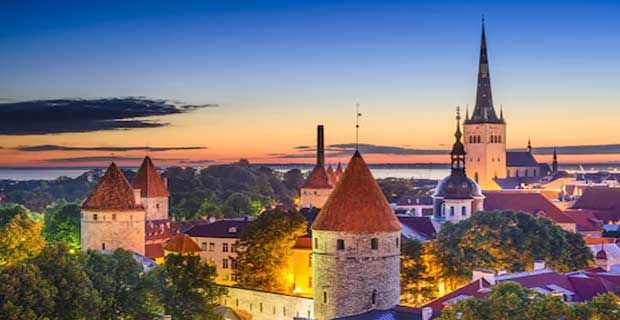 What are the Covid Updates in Estonia for the Students
Once the Coronavirus situation comes to an end, the border crossing procedures in order to reach Estonia will be way easier.
In recent years, Estonia has emerged as a popular and top rated study abroad destination for foreign students in Europe. Estonia has eagerly upgraded the standards of its education system through massive investments and by improving overall performance. The Estonian universities have state of the art facilities, high standard curriculum design, qualified faculty and worldwide degree recognition. In spite of the fact that it is quite small country by area and has population of just 1.3 million, it has developed rapidly and now counted as one of the world's highest performing economies. The OECD has ranked Estonia's education quality as 13th best in the world and Estonian nation is classified as one of the world's most innovative and intelligent population. About 54% of Estonia's population hold high school degrees and it is home to world's highest number of start- up companies per person. International students have right to stay in Estonia for more 270 days after graduating from Estonian Universities for employment search. The general requirements to study abroad in Estonia are as follows:
Admission Requirements of Estonian Universities 2021 for Pakistani Students
The admission requirements in Estonian Universities are different for EU and Non-EU students. The students coming from Non-EU countries have to fulfill language requirements and subject wise grading requirements for admission in certain study programmes. First of all you have to choose a right study programme and right university in Estonia and check their admission requirements. Generally the Estonian universities have set following criterion for admissions:
Under Graduate Study Programmes:
For under graduate study programme admission the students will have to take an entry test and attend Skype interview. The student must have passed a Higher Secondary School Diploma in good grades. The subject wise minimum grades are set as merit for admission in certain study programmes. For example for BBA course, the student must have acquired 70% marks at least in Mathematics in high school and for admission in medical course, the students is must have acquired 90% marks in Biology in high school. IELTS or TOEFL Test passed certificate for admission in English taught courses.
Post Graduate (Masters) Study Programmes:
For admission in post graduate (Masters) study programme the student must have passed Bachelors (4 years) degree from a recognized institute of their country and passed it in good grades (with at least 180 ECTs). Skype interview is a perquisite for admission; motivation letter is required in place of entry test. IELTS, TOEFL Test passed certificate for admission in English taught courses.
Post Graduate (PhD) Study Programmes:
Bachelors and Masters Degrees attained from recognized institutes with good grades. Research proposal, Updated CV, Research Experience, Recommendation Letters and Skype Interview are admission requirements. IELTS, TOEFL Test passed certificate for admission in English taught courses.
Temporary Resident Permit of Estonia for Study Purpose
There are two types of student visas of Estonia based on duration of study programme. The students, who have taken admission in Estonian University in a study programme that ends in 90 days duration, shall apply for C type visa. The students, who have taken admission in Estonian University in a study programme that ends in more than 90 days duration, shall apply for D Type Visa. For D Type visa for long term study programmes, the students also have to apply for TRP. To get TRP of Estonia the students are required to provide following documents:
Valid Passport

Original Acceptance Letter from Estonian University

Proof of Sufficient Finances (The students are required to prove that they have enough finances that can cover 380 Euros per month expenses for their stay in Estonia).

Health insurance coverage (30,000 Euros health insurance package to be purchased before your travel to Estonia. This health insurance shall cover the medical expenses for your entire duration of stay in Estonia)

Proof of Accommodation (rental contract, residential address, booking documents)

Verified transcripts of academic records

Language proficiency test certificate

NOC (non objection letter from student's home university, college, institute)

Receipt of Visa application fee (it will be around 80 Euros)

Statement of Purpose (written by student explaining study programme course, duration, lectures details)

Form B, Birth Certificate
Permanent Residency Visa of Estonia Requirements
The permanent residency visa of Estonia is granted to a foreign national after 5 years of continuous stay in the country. At first the students can search employment and attain temporary resident permit card for purpose of work. For job search, the students have 270 days allowed in their TRP for study purpose card. In this duration they can find employment and covert their visa to work purpose. The students have to show that they have an employment contract, accommodation and sufficient income to cover their expenses. The duration of study years of foreign students are also counted in 5 years average duration of PR visa condition. Permanent residency of Estonia can also be attained by marriage, by birth and by descent.(Read Complete Details about PR Visa Process of Estonia Here).
Estimated Study and Living Expenses in Estonia for pakistani Students
Estonia is not an expensive country to live for foreign students. An average amount of 380 to 500 Euros is estimated to be required to afford living expenses of one person in Estonia. The students have permission to work part time without requiring an additional document in Estonia therefore the living and study expenses can be managed quite well. The accommodation rent per room in Estonia is not expensive either in fact it is one of the least expensive in all European states. The living expenses are always directly dependent on person's lifestyle and spending habits, by making a proper budget and by avoid spending on needless commodities and shopping, the students can save their part time work salary and pay their tuition fee. The estimate of living expenses, accommodation rent, food, transport, tuition fee and other expenditure in Estonia is as follows:
Under Graduate Study Programme Tuition Fee: 1700 to 5500 Euros per semester (it is different for each study programme)

Post Graduate (Masters) Study Programme Tuition Fee: 830 to 1450 Euros per semester (it is different for each study programme)

Post Graduate (PhD) Study Programme Tuition Fee: All PhD courses are totally free of cost for students belonging from any nationality in Estonia. The universities pay monthly allowance of 400 Euros to PhD students along with accommodation and other expenses.
Living Expenses:
University Accommodation: 120 to 250 Euros per month

Studio Apartment in Central City Area of Estonia: 450 to 550 Euros per month

Flat Shares: 250 to 350 Euros per month

2 Bedrooms Flat in Central City Area of Estonia: 300 to 400 Euros per month
Food and Other Expenses:
Basic menu meal for two persons at mid-range restaurant: 40 Euros

Combo meal for one person at fast food restaurants as McDonalds and McMeal: 6 Euros

Half liter water bottle: 1.13 Euros

1 liter milk bottle: 0.73 Euros

Loaf of fresh white bread: 0.71 Euros

1 Kg White Rice: 1.18 Euros

Dozen eggs: 1.37 Euros

1 Kg Local Cheese: 6.88 Euros

1 Kg Boneless Chicken Breast: 5.29 Euros

1 Kg Beef Meat: 7.34 Euros

Monthly travel pass of local public transport: 23 Euros

Utility bills (Electricity, gas, water, heating): 172 Euros
Types of Accommodation in Estonia for Foreign Students 2021
Estonia is not densely populated country therefore is plenty of space to live and finding an apartment of your choice is not complex process. There are newspaper ads, websites, real estate agents that assist you in finding an apt accommodation in Estonia for your duration of stay. The most preferred accommodation for international students is university dormitories which are least expensive and highly facilitating. Besides university dormitories, there are flat shares, private renting apartments and home stay accommodation type and each has its own benefits and drawbacks. The students can choose any one of these accommodations according to their choice and preference. (Read Details about Types of Accommodation in Estonia Here).
Health Insurance for Foreigners in Estonia:
Health care in estonia is managed by the Ministry of Affairs. As a student you have to buy a health insurance before arrival to Estonia. You can check here the suitable health insurance package.
Latest Scholarships in estonia
International Tuition Fee Scholarships at University of Tartu, Estonia
For Bachelors in the fields of Art & Design
Apply by

05 Mar 2023

PhD International Positions in Chemical, Materials, and Energy Technology, Estonia
For PhD in the fields of Engineering&Technology
Apply by

30 Jun 2022

Fully-Funded PhD Position at Tallinn University of Technology in Estonia, 2021
For PhD,MPhil in the fields of Engineering&Technology
Apply by

16 Dec 2020
Study Abroad Consultants for estonia
| | | | |
| --- | --- | --- | --- |
| | Ed-Foreign | +92-321-4426607 | Lahore |
| | Abroad Begins | 03154544077 | Sialkot |
| | abroad begins | 03154544077 | Azad Kashmir |
X
FREE STUDY ABROAD

Free study abroad expert advice