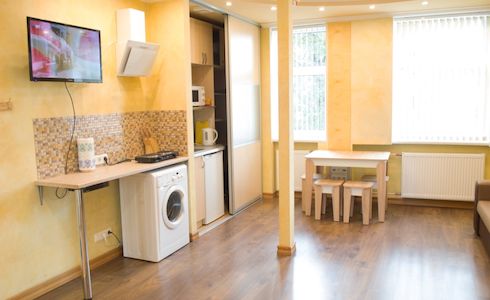 An apt and comfortable accommodation certainly contributes in easing the challenges and hurdles of study abroad years for students. The residence students choose to spend the few most crucial and memorable years of their lives has to be selected with contemplation of their preference and lifestyle. Latvia's culture is modern and vibrant with exquisite scenic views and clean and pure environment. Latvia's landscape is surrounded by beaches and forests; its architecture signifies history and multi cultural influence, there are cosmopolitan cities and European charm in the ambience. Latvia has modernly designed apartments and well spread and managed public transportation services. The idyllic temperature and laid back lifestyle of Latvia is nonetheless tempting and alluring but at the same time fast pacing and active as it a European business hub. While planning to study abroad in Latvia, a student has to gather information about the types of accommodation there with estimation of rents and available facilities. The following article is written to give an overview of accommodation in Latvia:
Types of Accommodation
University Dormitories
Most of the Latvian Universities offer on campus dormitories but not all. The universities that do not offer on campus housing have student services that assist in searching apt accommodation to foreign students. The foreign students however prefer to live in on campus residence for at least first few semesters of their study programme because of unfamiliarity with surroundings and unknown locations. If the university you have chosen in Latvia for your study programme offers on campus residence, you must book it as soon as possible after getting acceptance letter from university because the rooms are limited and are generally occupied earlier than expected. The university dormitories are most secure and most affordable residence for foreign students. To cater the recent day lifestyle and modern culture, the university dormitories have single or double bedroom facilities. In Latvia, students can book university dormitory for at least 5 months duration and if they wish to leave the dorm before this period they will have to pay rent if months anyway.
Facilities:
Furnished rooms with bed, mattress, closet, chair, desk and book shelves

Private bathroom with each room

Common kitchenette, laundry room

Common study room in each floor

Common Gym and Game Room

Parking Space

Security surveillance

Proximity to university campus and public transport stations
Cost:
The dormitories have serviced and self catering options for students. The services provided by dormitory administration including cleaning, weekly changing of bed sheets, providence of kitchen utensils, fridge in the room and free internet. The serviced dorm room will cost 200 Euros per month and the self catered dorm room will cost 100 to 150 Euros per month. Additional charges include entrance card payment when you arrive at dormitory which will be around 7 Euros.
Student Hotels/Apart-Hotels
The universities in Latvia that do not have on campus dormitories usually have arranged an off campus accommodation called student hotels. The student's hotels are located nearby university campus but managed by universities administrations. The student hotels are similar to university dormitories but a bit independent and less restrictive. There are double bedrooms and single bedrooms options and the student has to book it for minimum 3 months duration. The single room are however very limited and booked on first come first get rule. Most of the rooms are double bed and shared by two students. The Apart-hotels have students from different universities under one roof sharing facilities. The experience of living in such apart-hotels is generally broadening and wide.
Facilities:
Private bathroom with each room

Common sitting area with TV

Study rooms

Parking Space

24/7 Reception services (photocopy and fax machine, printer, Free Wi-Fi near reception)

Kitchenette in each room

Laundry room with washing machine in each floor for use of all students

Proximity to university campuses and public transport stations
Cost:
The student hotels or apart-hotels have different prices for single room and double room. The hotels also offer serviced options that include, cleaning once in week, changing bed sheets and free Wi-Fi. The utility bills such as electricity, water, gas are leveled in monthly rent. The administration of the hotel checks the condition of the rooms once in a month and the students are liable to pay for any damage that is being done by them. The cost of hotels is different based on location but on average it will cost 150 Euros for double room and 280 Euros for single room. For booking the international student office of your university will assist you and help you with signing rental contract.
Private Housing/Off Campus Residence
The presence of international students in Latvian universities is almost 30% out of total student strength. Evidently, you can find foreign students belonging from various countries of the world living in Latvia. Because of presence of such large numbers of international students which is increasing each year, the local land owners rent out their houses to foreign students. You can find a single studio apartment, two bedrooms flat, flat sharing accommodation and home stay in Latvia. The costs are different of each type of housing and in private accommodation the utility bills are usually not included in rent. The locality and condition of apartment also contributes in its price and affordability factor. The accommodation near central cities which are located around shopping malls, cafes and public transport stations are pricier. The accommodation located outside central cities will be cheap cost. Depending on your budget and preference, you can find an apartment or single room in Latvia quite easily. The private housing available for student renting can be approached through websites, news papers ads and real estate agents. The types of private housing in Latvia are:
Solo Flat/Studio Apartment
The individuals with shy nature and the one who prefer privacy can rent a solo flat. The solo flat is costly than other options but a rather comfortable and independent housing facility. The flats have furnished and non furnished option but renting a furnished accommodation is a better choice for students. You can find such apartment near to your university or work place, the flats will be modernly designed and contain all the facilities for modern day living. You will have your private kitchen, bathroom, sitting area, laundry space and a balcony. You have all the independence to decorate the place according to your style and convert it as you want. The furniture and kitchen equipment offered by land lords must be in similar condition as when it was handed over to you. The tenant is responsible for his own security and protection of his property.
Cost:
Depending on the area and facilities, the rent of solo flat must be around 250 to 350 Euros.
Flat Sharing
Flat shares are private housing but affordable and low cost because of rent and bills being divided by residents. A group of friends or university fellows rent a flat together in which each individual can have private room and share kitchen and sitting area. If not friends or university fellows, the land lords too rent their flat to two or three students separately. The real estate agents can help you find a room in flat share accommodation or you can find it yourself through websites and news paper ads. If you want to contact the land lords directly, websites are the best option for that. If you happen to be friends with Latvian students, it can be quite helpful for you to negotiate the rent and accumulate complete information about flat share accommodation. The flat share accommodation is although affordable but it can be risky especially when you don't know your room mates personally. Their lifestyle and habits can disrupt your peace and lifestyle. It is better to come up with some house rules and set some terms and conditions before signing the rental contract.
Cost:
The cost can be around 200 to 250 Euros per month.
Home Stay
Home stay housing is another option for students. The land lords mostly families rent out a spare room of their house to students or travelers. Some of the rooms in home stays have private entrance, kitchen and balcony and others have just a bedroom space. Home stay accommodation can be rented for long term stay or for just few nights as per the preference of students. It is a costly option especially in cities. In rural areas the rents are considerably low and affordable. The students who are planning to find a private housing after reaching in Latvia, for them home stay is best option. They can take some guideline and information about locations and best accommodation option from their hosting family and move to another private housing when they are settled. To book home stay accommodation, websites are the most appropriate source. Usually the land lords post pictures and list of available facilities in their home stay room on the website with per night price.
Cost:
The cost of single room in home stay accommodation might range from 17 to 24 Euros per night. Most of the families offer meals to tenants as well.
X
FREE STUDY ABROAD

Free study abroad expert advice