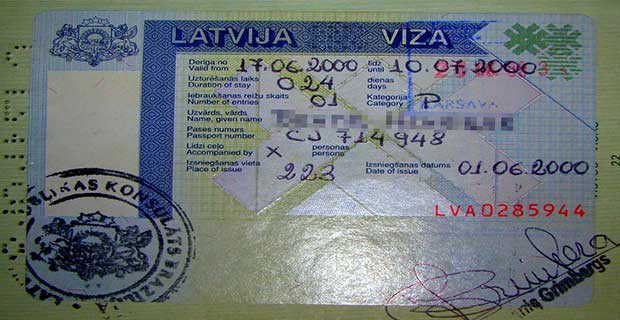 International students from all around the world desire to study abroad in European countries, Latvia is one particular European country that is least explored and talked about though it is equally fascinating and immensely benefitting for study abroad aspirants. It is located near Baltic Sea, has wonderful climate, multi-ethnic culturally, picturesque landscape, globally recognized higher education institutions, economic stability and high standards of living and low criminal rate. Students are allowed to part time work for 20 hours a week during semesters and full time during semester holiday without a work permit. The admission requirements of Latvian Universities are although meritorious but not highly competitive as compared to other European countries hence simple and accessible for majority of international students. The student visa process of Latvia is explained in this article step by step:
Admission Acceptance:
The student visa process will be started after getting acceptance letter from your chosen Latvian University. If you meet the academic and language requirements of Latvian University, the university will send you an invoice for tuition fee, security deposit fee and study contract. The students will pay the fee and get final admission letter/acceptance letter which they will bring along to Latvian Embassy located at their home country for student visa application. The student visa process might take almost 2 months or more therefore the students are advised to start process of arranging documents right after submitting their admission documents so that their visa process can be completed till commencement of study programme in Latvian University.
Visiting Latvian Embassy or Consulate in Pakistan:
In most of the cases, Latvian Universities assist student in submitting their visa application or students can submit visa application and required documents at Latvian Embassy on their own either way the visa application will be submitted at the Latvian Embassy located in your country. You will visit the Embassy and get visa application and list of required documents to be submitted along with it, you will have to pay visa application fee when submitting the application. The documents required for visa are country specific but in general following documents are required for Latvian student visa:
Documents Required of Latvian Student Visa Resident Permit for Pakistani Students 2021:
If your study programme completes within 90 days duration, you can stay in Latvia on visa but for the study programme that lasts longer than 90 days duration, you will apply for Latvian Resident Permit. There are some countries whose nationals need to attain both visa and resident permit to study abroad in Latvia, you can take complete information from your chosen Latvian university and Latvian Embassy located at your country.
Photocopies of applicant's academic transcripts that must be attested by granting authority (if the documents are other than English language, then it must be translated in English by certified translator)

Signed study contract and letter of acceptance from Latvian University(Must be originals)

Proof of paid tuition fee and security deposit fee (Documented Proof Issued by Receiving Latvian University the amount can be around 500 or 720 USD)

Recently Taken Passport Size Photographs

Valid Passport (it must be valid till the duration of study programme)

Filled and Signed Visa Application Form of Latvian Student Resident Permit

A letter issued by applicant's bank stating that he/she has sufficient amount in their account to afford living and study expenses in Latvia. The amount must be around 5160 Euros per year or 430 Euro per month in applicant's bank statement. The bank statement must be issued on applicant's name with same spellings as written in passport.

Bank Debt Card or Credit Card that can be used in Latvia while applicant's stay

Proof of accommodation (rental contract with address of residence if the applicant has rented a private accommodation and if rented a university offered accommodation, proof from university will be required). The bank statement must not be issued more than 15 days earlier when submitting at Embassy.

Document indicating that the applicant has paid state duty payment

Health Insurance Coverage (the student can purchase health insurance upon arrival in Latvia or purchase while in their home country. There are private insurance companies and even universities provide assistance to students in arranging health insurance coverage. The health insurance will be purchased for your entire duration of stay in Latvia).The minimum amount of health insurance coverage is 30 000 LVL.

X-Ray examination results

Medical Examination Certificate (only those medical certificates will be accepted that are attained from Latvian Embassy's Approved Institutions)

Clearance Letter from Local Police Station (stating the applicant has not committed any criminal offence proving his/her good conduct of character, the letter must not be issued 3 months earlier than visa application submission date). The letter must be verified and stamped by Ministry Of External Affairs of your country.

Visa application fee which will be around 120 USD (country specific it can be different for every country, it is not refundable)

After submission of all above documents, the Embassy might or might not invite student for face to face interview. In most of the cases interview is organized.

English Language Proficiency Test Certificate (IELTS, TOEFL) (Get Upcoming Test Dates of IELTS and TOEFL Here).
Top Study Abroad Consultants in Pakistan 2021:
The student visa process is tedious and time taking journey which needs to be started on time. The success of your visa application almost entirely depends on authentic documents and on time submission. Following the deadlines of admissions and arranging the documents at the same time can be extremely challenging as the universities might take your entrance examination and also Skype interview. By taking assistance of expert study abroad consultants you can take the load off your shoulders and go through visa process with ease. In fact, the registered study abroad consultants deal with visas and resident permits documentations on regular basis their services can increase your chances of visa attainability. Moreover, you can save your money and time by taking services of the professionals in study abroad field and save yourself from failure and delay. The registered study abroad consultants working in various cities of Pakistan are enlisted in section of our website.
X
FREE STUDY ABROAD

Free study abroad expert advice