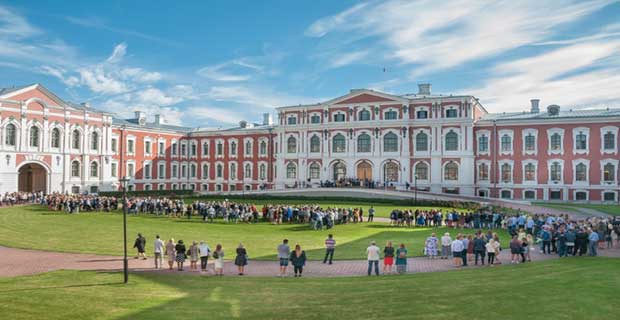 Latvia is although a small country with about 2 million populations, but its higher education sector has greatly evolved and progressed into one of the finest in Europe. Latvian institutions offer internationally recognized degrees in a quite affordable tuition fee structure with focus on broad based curriculum and professional coaching. Catering the demands of international students there are hundreds of English taught courses being offered by Latvian institutions. Though, Latvia has been subject to tumultuous occupation for several decades, the country is now independent and member of European Union, it has a vibrant and diverse culture, clean and peaceful academic environment and high standards of living with economic stability. For the students currently in process of assessing the admission requirements of universities in Latvia, we have sketched step by step process of admission at Latvian Universities in this article:
Choosing a University

Choosing a Study Programme

Academic Requirements

Language Requirements

Preparation of Required Documents

Admission Deadlines

Acceptance Letter
Choosing an Apt University in Latvia for Your Studies
Latvia has a few of the oldest universities of Europe. The University of Latvia (ranked at 47th position by QS world university rankings in 2016) is about a century old, University of Daugavpils was established in 1921 and Riga Technical University was established in 1862. Latvia's universities follow old academic traditions merged with modern day techniques and curriculum. The higher education institutions of Latvia are established and have forged international links with many top rated institutions. Especially, the engineering and IT related institutes of Latvia have high reputation and prestige for their quality education. The courses of Arts, Literature, Business Management and Medicine are Latvia's forte. To select an apt university for your higher education in Latvia ascertain if it offers the study programme you want to study, compare the tuition fee of one institution with others before finalizing one, ascertain if the location of the university is at Latvian city where you wish to reside, check admission requirements and availability of on campus residence.
Choosing a Study Programme
The study programme you chose in tertiary education leads you to your profession. Therefore, study programme must be selected after complete searching and thorough contemplation. First of all the study programme you choose must polish your existing set of skills and develop them further. The subjects you choose must be of your interest and in the language of your understanding, the education stream you choose must lead you to a professional career of your choice and preference. Higher education is mostly focus on developing skills and cognitive abilities of students which are only possible if you have passion for the subjects included in your curriculum. Therefore, commit to those set of subjects and study programme that not only have career scope but also derive your interest. After considering these factors and doing searching regarding career scope it is better to short list three study programmes, check if the university you have selected offers it in the language of your understanding, check subject wise merit requirements of your chosen study programme, entrance test compulsion, language requirements and overall admission eligibility.
Academic Requirements
The academic requirements are different for each study programme and academic level. The universities in Latvia set their own set of academic requirements and merit each year, therefore the specific requirements might differ university to university. Latvian universities grant admission to international students if their higher education degrees match Latvian standards or if the degrees are attained from institutions of your country that are recognized by Latvia. In general Latvian Universities have following academic requirements for admissions of international students:
For Admissions in Under Graduate Programmes:
Higher Secondary School Diploma (12th Pass) or 3 years duration polytechnic diploma with minimum 60% grades requirements overall. Entrance Exam: Latvian Universities take entrance examinations from international students to assess their academic capabilities, the examination will be set by university according to your chosen study programme (it can be based on motivation letter) and a Skype interview is also taken before granting admission to students.
For Admissions in Post Graduate (Masters) Programmes:
Bachelors Honors Degree (4 Years Duration) with minimum 60% grades from a recognized institution of your country, Bachelors of Art or Bachelors of General Science (2 Years Degree) is not acceptable for admission in Masters level. Entrance Exam: Universities in Latvia take entrance examination from international students before granting admission; the examination will be designed according to your chosen study programme. Skype interview and entrance examination results must be satisfactory, one of the faculty member of university related to your study programme will conduct he interview. After the results your admission will be finalized.
For Admission in Post Graduate (PhD) Programmes:
Bachelors Honors Degree (4 Year Duration), Masters Degree (2 Year Duration) attained from a recognized institute of your country with minimum grades of at least 60%. Research proposal and Skype Interview will be required.
As you submit you admission application, all the academic certificates, degrees and diplomas will be assessed by Academic Information Centre (AIC) for approval, the AIC issues statement of comparability to the university which then approves or disapproves your admission application.
Language Requirements
The international students applying for admission in Latvia need to prove their proficiency in English language through IELTS or TOEFL tests. The English Language Proficiency Tests are compulsory for all those students who belong to non English speaking countries. For admissions in under graduate or post graduate courses, the minimum grades in IELTS or TOEFL Tests required are:
IELTS: 6.5 bands overall
TOEFL Paper Based: Minimum 500 Scores
TOEFL internet Based IBT: 90 Score Minimum
Preparation of Required Documents
The international students can submit documents directly at university they have chosen for admission. The required documents are different for each study programme that can be attained from the university's website. The required documents must be prepared before admission intake deadline and with complete accuracy.
Completed and Signed Admission Application Form

Transcript of Academic Certificates, Diplomas, Degrees with additional documents demonstrating grading system of your institution

Motivation Letter (At least 2 to 3 Pages Written In English)

Language Proficient Test Certificate (IELTS, TOEFL)

Updated CV (for Post Graduate Research Study Programme)

Photocopy of Passport

Detailed Research Proposal (For Post Graduate Research Courses)

Recommendation Letters (From two of Applicant's Professors) For Post Graduate Courses

Passport Size Photographs

Application fee Receipt (not refundable) It will be around US$167.34/£132.33

All the documents should be translated in English language and certified copies
Receiving Acceptance Letter
After receiving the required documents your chosen university will submit the documents to Academic Information Centre (AIC) for approval. Entrance examination and Skype interview will be taken in this duration. If approved the university will send you an acceptance letter, study contract, invoice for tuition fee, invoice for security deposit (500-700 Euro will be received from student by university as security). After paying tuition fee, the students can apply for student visa. In case if the student visa gets rejected, the universities refund the amount taken. You shall carry all of your original documents for applying student visa of Latvia. Overall admission process will take one to two months.
Admission Deadline in Latvia for International Students 2021
The admission intakes in Latvian university can differ from one another. The students can confirm the exact month and date from their chosen university but in general the admissions intake of Latvian Universities is as follows:
Autumn Semester: The admission applications must be submitted till May to June.
Spring Semester: The admission applications must be submitted till January.
X
FREE STUDY ABROAD

Free study abroad expert advice