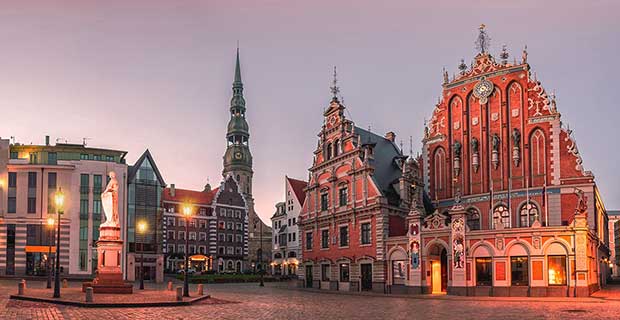 Latvia is a small country located on Baltic Sea which is being ruled over by Russians, Germans, Swedish and Polish people for centuries until it finally declared to be an independent state in 1991. In 2004, Latvia became part of European Union and it is regarded as one of highest income economies of Euro Zone. With temperate climate, historical sites, safe environment, scenic landscape and rich and vibrant culture, Latvia is an attractive cosmopolitan country to pursue your higher education. This multi-ethnic country has a well established education sector which is build on broad-based curriculum. Latvia's location joins east to west and north to south which has been reason of its occupation by Soviet Union and Sweden in the past. The modern day Latvia is merger of many cultures and unique environment that is hard to find anywhere in the world. If you are considering to study abroad in Latvia for your higher education, this article will unfold few most important factors making it a wise choice:
Latvia's World Recognized Higher Education Institutions 2020:
The higher education institutions of Latvia have made significant development towards improvement by initiating mergers and collaborations with international higher education institutes. The degrees offered by state and private universities of Latvia are recognized in all European states. Latvia has made remarkable advancement in Science and Technology, Latvia uses world's fourth fastest internet speed. Despite Latvia's land being under occupation of foreigners for centuries, the country has valued education and invested in building schools and universities. About 44% of Latvia's population holds higher education degrees. Latvia has expertise in education fields of IT, Social Sciences, Business Management, Medicine, Aviation, Arts, Education Science, Language Studies and Engineering.
Tuition Fee:
The tuition fee is around 1,000 Euros to 24,000 Euros per year at Post Graduation level in Latvian Universities.
Living Cost in Latvia:
Latvia is scarcely populated country with around 2 million people; the students can expect to spend around 400 USD per month to manage their living cost there. It is an inexpensive country in terms of living cost.
English Taught Courses:
Although the national language of Latvia is Latvian but Russian and English are widely spoken. About, 5,000 international students travel each year to Latvia for studying in its universities, there are plenty of English taught courses in all universities whether public or private.
Working Permission While You Study in Latvia
Part time working permission is predominantly basic factor affecting international students to study abroad in Latvia. Latvia allows international students to work 20 hours a week in the country without any work permit during semesters and 40 hours a week during semester holidays. Internship programmes are offered to students in summer holidays to deliver professional experience as Latvia's IT and engineering industries are booming, the related students get a significant and beneficial professional experience and exposure of job market in their academic years.
Post Graduation Work Opportunities in Latvia
Latvia allows students to work in the country after getting graduated successfully from Latvian university but in case of attaining an employment contract. The employer will apply for work permit on worker's behalf by taking permission from Government and showing required company registration documents. Most of the Latvian Universities have specific units in their administration that specifically help international students to find employment in Latvia after graduation. The students can take information about availability of university offered internship programme and post graduation employment assistance before taking admission in Latvian universities.
Life in Latvia as a Foreign Student
When living in multicultural and rich historical country like Latvia the potential of personal growth and learning is immense. The ambience and lifestyle of Latvia is vibrant and colorful, because of being ruled over by different civilizations, the Latvian cuisines have fusion of Russian and Swedish dishes. About 50% of Latvia's area is surrounded by forests and mountains, it is a beautiful country located on Baltic Sea, the climate is idyllic and landscape is exceptionally beautiful. The main cities have plenty of coffee shops, cafes, restaurants and hotels for eating out on Saturday night, for adventures you can go water- skiing, wind-surfing and mountain climbing. There is so much to learn from Latvian people who have endured centuries of struggle to gain an independence state for themselves. The century's old Latvian heritage and literature will be worth exploring during your studies years that include national events, festivals, opera halls, art galleries and museums.
X
FREE STUDY ABROAD

Free study abroad expert advice