Study abroad in Netherlands for Pakistani students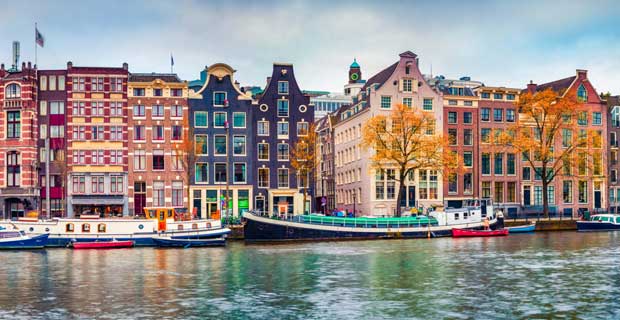 Netherlands has globally renowned and recognized higher education institutes which rank high at QS and Shanghai lists. The unique teaching methodologies, state of the art facilities, research based education and plethora of English taught programmes are forte of Dutch universities. Along with attaining education from world's best institutions in Netherlands, the foreign students can experience the true essence of European culture, tradition and customs there and enjoy its picturesque landscape, flowery fields, lakes, canals and breathe in world's cleanest air.
Geographically, Netherlands lies at central European land, which makes travel to other European countries such as France, Belgium, Germany and Switzerland in few hours duration. Netherlands is one of our favorite study abroad destinations and highly recommended because of numerous beneficial reasons, the general requirements of study abroad in Netherlands for foreign students are explained here:
Study In Netherlands Admission Requirements
The Pakistani students considering to study abroad in Netherlands have to meet merit based academic requirements to take admission in Dutch Universities. Each study programme has its own set of merit requirements based on minimum grades, subjects and entry examination results. The foreign qualifications are evaluated by Nuffic which is an independent organization which partners with Dutch Ministry of Education, Culture & Science for admissions in Dutch Universities. According to different academic levels of higher education, the eligibility criterion for admission in Dutch Universities is as follows:
For admission in Under Graduate Study Programmes:
Higher secondary School Diploma or equivalent Degree passed with at least C grades. For some study programmes related to IT, Engineering and Medicine, minimum grades requirements would be higher. If the students do not meet degree requirements, they can take entry examination of Dutch University which will ascertain their academic capability for admission at certain study programme.
For admission in Post Graduate (Masters) Study Programmes:
Pakistani students must have done Bachelors Honors Degree (4 Years Duration Course) in good grades for admission at Masters Level study programme in Dutch University. Entry examination is not a requirement if the student has attained good grades but some universities assess academic capability through motivation letter. If the students do not meet academic eligibility, the can either take entry examination or take admission in one year preparatory course for admission in Masters Level.
For admission in Post Graduate (PhD) Study Programme:
Bachelors Honors (4 Years Duration Course) and Masters Degree (2 Years Duration Course) is required for admission at PhD study programmes in Dutch Universities. For academic requirements, the university will require research proposal, motivation letter, recommendation letters and study plan. If the research supervisor assigned to the student is satisfied by aforementioned documents, the admission will be granted. An interview will also be taken before granting admission.
Netherlands Study Visa From Pakistan
The type of Dutch student visa applicable for you depends on duration of your study programme. If your study programme has less than 90 days duration, you will apply for Schengen visa but if your study programme has more than 90 days duration, you will apply for MVV (Long Term Visa) for Netherlands. For either of visa type, you must first attain letter of acceptance from an accredited university of Netherlands. After that you will visit the Embassy or Consulate of Netherlands located in your country for submitting your visa application. To submit visa application, the following documents would be required:
Bank Statement (as proof of finances that you can spend 870 Euros per month while your stay in Netherlands)

Valid passport

Health Examination Certificate (stating that you are in god health to stay in Netherlands and are not suffering from HIV, Hepatitis B, C, Tuberculoses etc)

Health Insurance Coverage

Original Letter of Acceptance from Dutch University

Transcripts of Academic Records, Photocopies of Degrees and Diplomas (attested by granting authority and Ministry of Foreign Affairs)

Recent Photographs, Travel Ticket, Proof of Accommodation in Netherlands
Working While Studying and after Studying in Netherlands for Non EU Students
Part Time Work While Study in Netherlands for Pakistani Students:
Netherlands is a economically well heeled state with plenty of employment opportunities. For foreign students belonging from Non-EU/EEA countries including Pakistani students, the part time working permission comes with certain restrictions. The employer willing to hire a Non-EU national as its employee will apply for a TWV work permit at IND. If the permit is granted, the student can work 10 hours a week with no further restriction. If the students want to change the job, the other employer hiring them will apply for TWV work permit again on employee's behalf. In semester holidays lasting from June to August, the students have permission to work 40 hours a day without restriction.
Working in Netherlands after Study :
After study work permits are rather easy to attain in Netherlands for foreign students. They can apply for search year permit (zoekjaar) for graduates in the Netherlands before their student permit expires. In this one year duration, the students can search for job according to their qualification and skills and after finding one they can shift their work permit to highly skilled migrant permit without leaving the country. But if in this year, the students are unable to find an appropriate job, they are bound to leave the country and no further extension of visa will be granted. (For further details read part time and post study work permission in Netherlands for foreign students article here)
Netherlands Permanent Residence Visa:
After residing in Netherlands for 5 years continuously, the individuals are eligible to apply for permanent residency of Netherlands. But to apply for PR visa, the individuals are required to prove they have a sufficient and legit source of income (at least 1,152 Euros per person income is minimum requirement), proper accommodation for their family members, health insurance coverage, knowledge of Netherlands's constitution and society, ability to speak, write and read Dutch language and prove that your stay was legal and consecutive in past five years with in duration in between you were over stay and illegal.
Netherlands Study Cost
Study expenses:
Each of the Dutch University has different tuition fee than the other. The tuition fee also varies according to academic level and study programme. The Non-EU/EEA national including Pakistani students have to pay a higher tuition fee amount than EU nationals. The average tuition fee for each academic level of higher education in Dutch Universities is follows:
Under graduate study programmes: 5000 to 7000 Euros per academic year.

Post Graduate (Masters) study programmes: 2,000 to 7,000 Euros per academic year.

Post Graduate (PhD) study programmes: it would be around 11,000 Euros per academic year.
Living Expenses
Living in Netherlands is not affordable if you are totally depending on your bank account. You will have to do part time job to support your living expenses. On average 800 to 1100 Euros are required for accommodation, food, travelling and basic expenditures in Netherlands for foreign students. Based on your spending habits and lifestyle this amount can be lessened or raised.
Accommodation
If you choose to live in a central city area, the rents will e higher than expected as Netherlands is densely populated and hosts a rather large number of expats and visitors than other European countries because of its charming landscape and tourist's spots. But on average the cost of accommodation is as:
University Dorm Room: 350 to 500 Euros per month

A Room in Shared accommodation: 500 to 600 Euros per month

Studio Apartment: 700 to 900 Euros per month

Home Stay: 500 to 700 Euros per month
Netherlands Healh Declaration Form
In Netherlands it is compulsaory for every one to have a health insurance. Every person in netherlands has health insurance called Basic health insurance. So International students who are planing to study in Netherlands must have insurance. Its a basic need. If you want the affordable insurance Packages that cover all your medical emergencies then have the following health care insurance packages.
Latest Scholarships in netherlands
International PhD Positions in Home Care Innovation Capacity Building, Netherlands
For Bachelors in the fields of Engineering&Technology
Apply by

08 Dec 2023

Utrecht Excellence Scholarships for International Students
For Masters in the fields of Social Sciences
Apply by

01 Feb 2024

Maastricht University NL-High Potential Scholarships for International Students
For Masters in the fields of Social Sciences
Apply by

01 Feb 2024
Study Abroad Consultants for netherlands
| | | | |
| --- | --- | --- | --- |
| | BMR Consultants | 03054646329 or 03164363329 | Lahore |
| | Career O'clock | +923335414478 | Islamabad |
| | Ed-Foreign | +92-321-4426607 | Lahore |
X
FREE STUDY ABROAD

Free study abroad expert advice