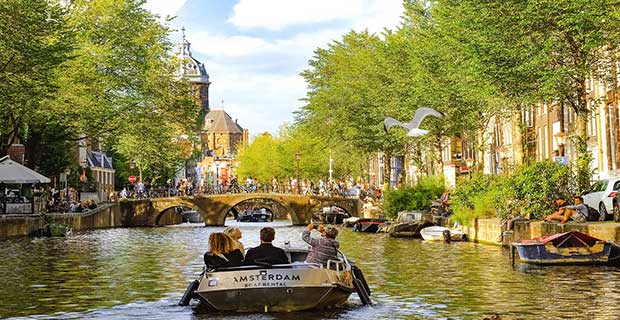 Netherlands is a popular study abroad destination with presence of thousands of international students from 162 countries enrolled in its higher education institutes. There is certain charisma about its natural landscape, the lakes, canals, tropical beaches, moderate climate and green forests found there that never fails to amaze sightseers. Living and working there is extremely convenient for international students in Netherlands because it has multicultural and open minded society that welcomes outsiders and practices tolerance. The higher education institutions of Netherland are globally acclaimed and offer a wide range of English taught programmes. Moreover, Netherlands has gender equality, security, economical stability and highly accommodating living standards which ensure an enriching and enlightening study abroad experience to international students. We have sketched the following article to elaborate, what factors contribute to make Netherland a top study abroad destination;
1. Innovative and Ultra-Modern Teaching Techniques:
The Dutch Universities have highly modernized teaching techniques that involve innovation and research. The teaching methods consists of class room interactions, utilizing state of the art facilities, broad based courses, tutorials and seminars, group works and presentations focusing on developing cognitive and problem solving skills of students. The universities prefer engaging students in practical elements of the courses with emphasis on creating novel ideas and uniqueness in work of each student. Moreover, the Dutch Universities put keen emphasis on relevancy and effectiveness of research work and offers high quality and globally acclaimed specialized studies.
2. Globally Recognized Degrees But At Much Affordable Cost:
Despite possessing high prestige and estimation at international level, the Dutch Universities are not as expensive as UK's or US's Universities but in fact they are affordable. Netherlands government truly value people's money and it shows from average tuition fee cost of its public universities which is around 2,000 to 6,000 Euros per year for non-EU students. The Dutch Universities hold top positions at renowned QS world university rankings list:
Delft University of Technology (TU Delft) (52nd in the world)

University of Amsterdam (57th in the world)

Eindhoven University of Technology (99th in the world)

Leiden University (122nd in the world)

Utrecht University (124th in the world)
3.Reasonable Living Costs:
Living cost is the most essential factor to be considered while selecting a study abroad destination. Netherlands is not an inexpensive country in terms of living costs but it has reasonable living costs. As per the estimation, for a student 800 to 1100 Euros per month are required to pay for day to day living expenses including accommodation, food, utility bills, travelling and miscellaneous expenses in Netherlands. At cosmopolitan cities of Netherlands the costs of living are relatively higher than less populated cities of the country. For instance: In Enschede; the cost is around 650 to 920 Euros per month, in Eindhoven; the cost is around 850 to 1,350 Euros per month, In Amsterdam; the cost is nearly 1,000 to 1,500 Euros per month, In Delft; the cost is around 780 to 1,200 Euros per month and In Rotterdam: the cost is around 760 to 1,250 Euros per month.
4. Working Permission While Studying in Netherlands 2020 for Pakistani Students Criteria:
Netherlands allows Non-EU students to work 16 hours per week during semesters and 40 hours a week during semester holidays that is in June, July and August. But part time working outside the campus is only allowed if any local employer files a work permit (TMV) request on your behalf to immigration office and seeks their permission but if your hosting university in Netherlands finds an internship post related to your study programme for you at a local firm or company or inside the campus then no work permit is required. Minimum per hour wage in Netherlands as estimated in 2018 was £7.50 to £7.83 per hour. By this average a student can earn 512 Euros per month during their semesters and 1280 Euros during semester holidays by doing part time work in Netherlands.
5. Opportunity of Visa Extension After Graduation From Netherlands
Another most attractive feature for international students in Netherlands is opportunity to attain an orientation year visa to stay in Netherlands for job search after you have graduated. The Orientation year (zoekjaar) visa will be granted to students for one year duration if they have done an under graduate or post graduate degree from any university there. The students can apply for Orientation year (zoekjaar) visa within three days after getting their degree from university accredited by NVAO and for that they have to pay €285 amount as application fee.
6. Netherlands; A Gateway to Europe:
Netherlands is blessed with central geographical location in Europe. Amsterdam the capital city of Netherlands is one of the most visited cities of world and an avidly famous tourist destination. You can visit Paris, Berlin, London and Brussels by train or by air from Amsterdam and return back till your holidays end. Netherlands has a well developed and managed transportation system, students can get discount and make their trips affordable by availing student discounts. Moreover if you do part time work 36 hours a month, you can get your student OV-Chipkaart through which your travelling on public transportation is totally free of cost in Netherlands.
7. Adding Worth to Your Resume:
The Dutch Universities are highly praised and esteemed for their research quality and teaching standards. At both national and international levels, the Dutch University's degree holders are preferred by recruiters. Whether you will like to settle in Netherlands or any other country of Europe or want to return back to your own native land, your career will get boastful start because of degree earned from a Dutch University. Because of long standing tradition of valuing education in Netherlands, the Dutch Universities have carried along old teaching methods merging it with modern techniques and developed a highly integrated and effective project based learning system for students that train them according to professional demands of job markets and recruiters.
X
FREE STUDY ABROAD

Free study abroad expert advice