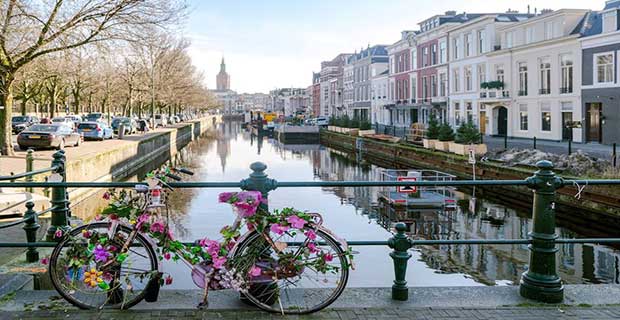 Netherlands is considered as one of the most charming and enchanting countries of Europe in terms of landscape but it has dense population and small area. Searching for an apt and desirable accommodation in the Netherlands can be challenging especially in its capital city Amsterdam which hosts thousands of internationals and visitors each year. Staying in university dormitories is not common in Netherlands; in fact majority of students rent a private or apartment which is obviously expensive. If you are planning to study abroad in Netherlands, the following guide will help in evaluating types of accommodation and their cost before your intended travel:
On Campus Accommodation:
On campus residence is rare to find in Netherlands. The Dutch Universities do not typically offer on campus dormitory but their international office assist students in finding and booking an accommodation outside the campus. However, there are a very few universities in Netherlands that offer on campus dorm room to international students but that will not be for a long stay. Your hosting university will provide you a list of accommodation option as soon as you get enrollment and pay your tuition fee. If the university you have chosen does offer on campus accommodation, you must book it right away or the place will be occupied almost immediately. For instance, the University of Twente and University of Leiden offer on campus dormitory which consists of 300 rooms. The dormitory will have following facility:
Facilities:
Private or Shared Room

Furnished Rooms with Necessary Furniture ( Bed, Chair, Table, Book Shelves, Closet)

Attached Bathroom with Each Room

Shared Kitchen (Equipped with Necessary Utensils, Stove, Micro Wave, Fridge)on Each Floor

Laundry Room at Each Floor

24/7 Security Surveillance

Parking Space for Bicycles
Cost:
The cost depends on the size of the room and shared or private facility, per month rent can be around 300 to 600 Euros.
Off Campus Accommodation:
Off campus accommodation is popular among international students in Netherlands. The Dutch Universities usually have housing offices for assistance of international students in finding apartment or room of their choice before their arrival. The housing offices take specific fee for their services and provide list of accommodation option with cost to students to choose from. If the students do not want to avail housing services of universities, the can contact real estate agents or consult housing websites for details. The rents of accommodation vary from location to location and also according to the facilities. Make sure to keep your student visa/student permit of Netherlands with you while finding private accommodation because you can rent a house without showing it to landlords and also inform the IND if you change the address. The types of private accommodation available in Netherlands for students are:
The Student Hotels:
The student hotels are more like dormitories but have more independence and privacy. The student hotels are mostly located nearest to the university areas or local transport so that students will have no trouble reaching their lectures on time. Your hosting university can book a room for you at one of the student hotels near to their campus or you can find one yourself through internet searching. The student hotels are specifically designed to cater the demands and needs of international students having private room, shared room, suit and studio apartment facility within its premises. Your neighbors in student hotels will be other students from different universities. The environment in the hotel will be multicultural, vibrant and independent yet disciplined with security.
Facility:
Fully furnished rooms and suits

Free Wi-Fi and Room Cleaning Services

Bicycle Parking Area and Students Can Borrow a Bike from the Management for Their Day to Day Use

Gaming lounge, Pool Area, Gym

Private Kitchen with Each Suit

Shared Kitchen in Every Floor with necessary equipment.

Laundry Room at each floor of the hotel

Common Sitting Area

Study Area

Daily Meals Facility (Students can take the facility or not)

Security Cameras Surveillance, Management Team Available at Ground Floor

Proximity to public transport, city center and main universities
Cost:
The student hotels have standard, standard plus, corner and executive room types for the students. Each type of room has its own rent. The cost varies for each. The monthly amount can be around 500 to 700 Euros.
Studio Apartment/One Bed Room Flat
The studio apartment is the most fanciful and luxurious type of accommodation for students but it comes with a lofty price tag. The rent will vary tremendously from location to location. If you want to have perks of privacy, a space for your own, silence and no distraction, studio apartment is the right choice for you.
Facilities:
Furnished apartment

Sitting Area with LED TV

Private Kitchen Equipped with Required Utensils, Stove, Micro Wave, Fridge

Large Bed Room

Laundry Area

Balcony
Cost:
The rents in the central city areas of Netherlands will be higher than outside city areas. The monthly rent can be around 900 to 1100 Euros depending on the location of the city.
Shared Rooms:
Shared rooms are affordable and convenient residential option for students. University students who happen to be friends or share camaraderie rent three bedrooms or four bed rooms apartments together and share facilities and cost. That way, students spend their time in congenial manner and share home chores and kitchen duties, help each other in the time of need and enjoy privacy and independence at the same time. If not with your friends, you can rent a spare room at accommodation of other university fellows advertised by landlords or residents. The cost of shared room is quite affordable as it is divided between three or four residents.
Facilities:
Furnished Rooms with attached bathroom

Private Kitchen (with stove, fridge, micro wave, basic utensils)

Balcony

Sitting Area with LED TV

Laundry Area
Cost:
Since the cost of shared room is divided between three or four resident deeding on the accommodation size. A four bedroom apartment might cost 1600 to 2000 Euros per month and by dividing the rent for each resident, it will be around 500 Euros per month. The utility bills such as electricity, water and gas are not usually included in the monthly rent.
Landlord Hosting/Home Stay
The landlord hosting or home stay is common residential option in all around Europe for international and local students. It gives families a chance to earn some extra amount of money by renting a spare room available at their house and a family oriented atmosphere to students who long for home like environment. Some families might offer cooked meals and room cleaning services and others don't it depends on your personal demand. Depending on the location and facilities the rent will be different. It is quite easy to find a landlord housing in Netherlands through website advertisements or through your university's housing office.
Facilities:
Furnished Room with attached bathroom

Shared Kitchen

Shared Laundry Area

The tenant can use garden or balcony

Cooked meals facility (if the family offers)
Cost:
The cost will be around 500 to 700 Euros per month (utility bills included) for a room in landlord housing accommodation.
Tips on Finding an Apt Accommodation in Netherlands for Foreign Students
Before finalizing any accommodation option, search thoroughly and consider the pros and cons of each option.

Before signing the rental contract, read the entire clause and ascertain there are no hidden charges involved.

Ask for discount and rent cost negotiation.

If you are opting for a shared accommodation, try to meet the roommates first, visit the accommodation and ascertain if you adjust in the environment.

It is better to enter three months or six months rental contract, you can always renew it after experiencing the atmosphere.

If you are outside Netherlands, book a hotel room or short stay accommodation for a month or two and look for accommodation options in person rather than believing the pictorial survey if you can.

The real estate agents charge a specific fee for booking and finding an apartment, so it is better to take services of websites or consulting your local friends for accommodation search.

Compare the rents of as many accommodation options as possible and don't hurry to pay off rent on accommodation that crosses your eyes first on web.

Taking assistance of university's housing office is better than taking assistance of real estate agents.

Ascertain there are no security threats for expats in your chosen area of accommodation.

Check the condition of furniture and facilities provided by landlords to you, show them if anything is already damaged because when you leave the place your landlords will charge certain amount for furniture damage.

Choose a location that has vicinity with your university or public transport.

For renting any private housing in Netherlands, the students will need to pay three months ret in advance, so must keep that arrangement beforehand.
X
FREE STUDY ABROAD

Free study abroad expert advice